Kristin Larkin - Waking Up
Medicine Show Records
****
Singer-songwriter Kristin Larkin, former vocalist and songwriter with South Florida folk/rock group Remember The Ocean, relocated to Nashville several years ago and that is where she recorded this latest album. A collection of country ballads and sad-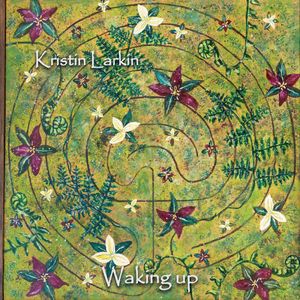 eyed folk songs that explore everything from her upbringing to romantic entanglements reaching deep inside herself for deeply personal narratives. Her voice is a tender, tremulous thing….soft and steely, wracked and wrought ... this is songcraft of the highest order. Although it's only her second solo album she demonstrates both an eloquence and experience that belies her lack of greater public awareness. She sings about the love between people whose twenties and teen years are well in the rearview. Indeed, on this record, love isn't some vague, lofty ideal that happens in a vacuum, but a tangible aspect of everyday life as she sings about love between people damaged by time and hard lives.
As We Go Along tackles  finding a balance in love, letting go of the extremes of a past relationship and opening yourself up to a new, better experience, reminding us that when we open ourselves up to the love of others, we can face anything. She continues the theme of a woman claiming her independence into Gone in which she liberates herself from a toxic relationship, rejecting the notion of 'better to have loved and lost than never to have loved at all'. In equal measure, both are resolute and resilient, indicative of deeper purpose and a more passionate pursuit. Ditto the beautiful ballad Tread Lightly, one of many highlights, which opens the album and is further proof of Kristin's savvy and skill.
Supple and soothing That's Beautiful is a delicate expression of enduring devotion to a friend who is suffering from cancer and is brave enough to face her illness head on. Starkly emotive and richly melodic this song lingers long and nestles deep. The bluesy When You're Lying features crunchy guitar snaking through the song as she boldly confronts her partner and is firmly in control of her destiny. No passive recipient of sweet lies here. Fiddle sets the scene for the jaunty Like A Country Song followed by tinkling piano, weeping steel and an irresistible singalong chorus—though, like any good country song, it's all about leaving a bad relationship through the drive and determination expressed in the caustic lyrics. She offers sage advice to a rambling lover in Little Cowboy, a sorrowful rumination on betrayal and childish behaviour in which she feels that maybe she will be better off without a burdensome relationship.
She has an incredible array of assault weapons. A curling, insinuating voice at once coy and confessional, a natural storyteller's way with dynamics and words that stand by themselves as intimate snapshots of family, friendship and love won, lost, missed and regretted and Kirstin Larkin has delivered a compelling album that stands up to repeated listens.
February 2021