Hideaway Records
****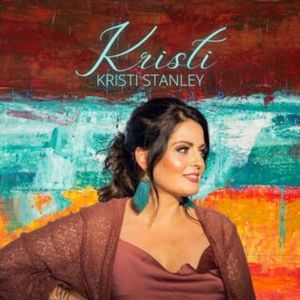 For years there has been a growing trend to turn our backs on traditional music and values and to embrace the new and hip styles. But no matter how far you hurtle into the technological age, the traditional ways of the past will not simply disappear. They will continue to make a valuable contribution to our lives. This is very apparent in music, more specifically country music. As we've seen over the recent decades, country music has evolved by openly embracing heavy rock, hip-hop, rap and whatever new sounds come down the pike, in a never-ending chase to find the next new thing, while attempting to reconcile with the classic sounds that have come before. This is so true of Kentucky-born Kristi Stanley's latest album. Though she comes from bluegrass royalty—she's married to Ralph Stanley II, making her part of the Stanley Brothers bluegrass dynasty—this is not a bluegrass album. It is chock-full of inspirational and hopeful songs that blend a range of genres into a cohesive, engaging whole. As a result, the album offers a broad embrace. While its origins may have evolved from a vintage vantage point, the music evokes universal feelings and a genuine sense of shared celebration. Flush with wistful reflection, soul-baring revelations and heartbreaking tales, it is, by all measure, an album for the ages, and one that ought to allow Kristi and her talented group of studio musicians to embrace their shared sense of pride.
Kristi Stanley is a special voice in Americana right now. A talent to be watched carefully, her voice grabs you instantly with its purity. From the first note of Diggin' I had chills. A fresh sound to country and bluegrass, her delivery has a soulful country feel and is one that can be easily compared to Bobbie Gentry, Patty Loveless and Trisha Yearwood without coming close to hitting the nail on the head. For once while listening, I did not read the credits, who wrote what or who's playing what; I let myself get lost in the vocals. These are vocals that take you to the other side of the mountain, where renewal reigns supreme. Forty Miles Of Bad Road, penned by Irene Kelley with BlackHawk's Dave Robbins and Van Stephenson, may be full of heartbreak, but there's also an unexpected element of anticipation and hope of better times ahead. Credit the musicians—Blake Young (mandolin), Glen Grain (Resonator guitar), Deanie Richardson (fiddle), Michael Branch (acoustic bass), Andrew Crawford (acoustic guitar) and Steve Wilson (banjo)—for mining this burnished hue with such restraint and skill.
Comparisons to Bonnie may ring true for Kristi's version of John Prine's Angel From Montgomery, yet what ultimately impresses is the intimacy and emotion etched in her evocative vocal and Aaron Bowen's churchy organ that affirms its beguiling appeal without any attempt to deviate from the original. She further demonstrates her skill at interpreting a distressing saga with the harrowing tale of Just A Little Girl. A heartbreaking lament that could have been borne out of the backwoods and then passed along as a family tradition that had everyone picking on a porch and sharing stories of days gone by … it's definitely one you'll want to stay with for a while. Cheatin' songs have long played a pivotal role in the country music canon, and they don't come much better than Did You Tell Her All About Me. It has that sad, slow and distinctly Southern voice that makes it all seem so real, as you picture the wife in the kitchen, wringing her hands with unrestrained anger and disbelief. In contrast, the alcohol-soaked beauty of She Is A Flower is a light-footed trip back into the back hollers as a middle-aged woman downs another glass and reflects on her wasted life. Dressed in a fiddle-led musical arrangement, it allows for Kristi to showcase another side of her vocal skills with a brighter tone shining through. She closes with the fervent Nothing Can Hold Me Here, a toe-tapping, gospel tune to put a smile on the face of all listeners …. believers and non-believers alike.
Full of rough-hewn jewels, this album communicates a true poignancy and passion for the mountain style. Ultimately, it's the authenticity that seems to come effortlessly indeed.
May 2022