Kris Tyler - Under The Spotlight
First Published in Country Music International – March 1998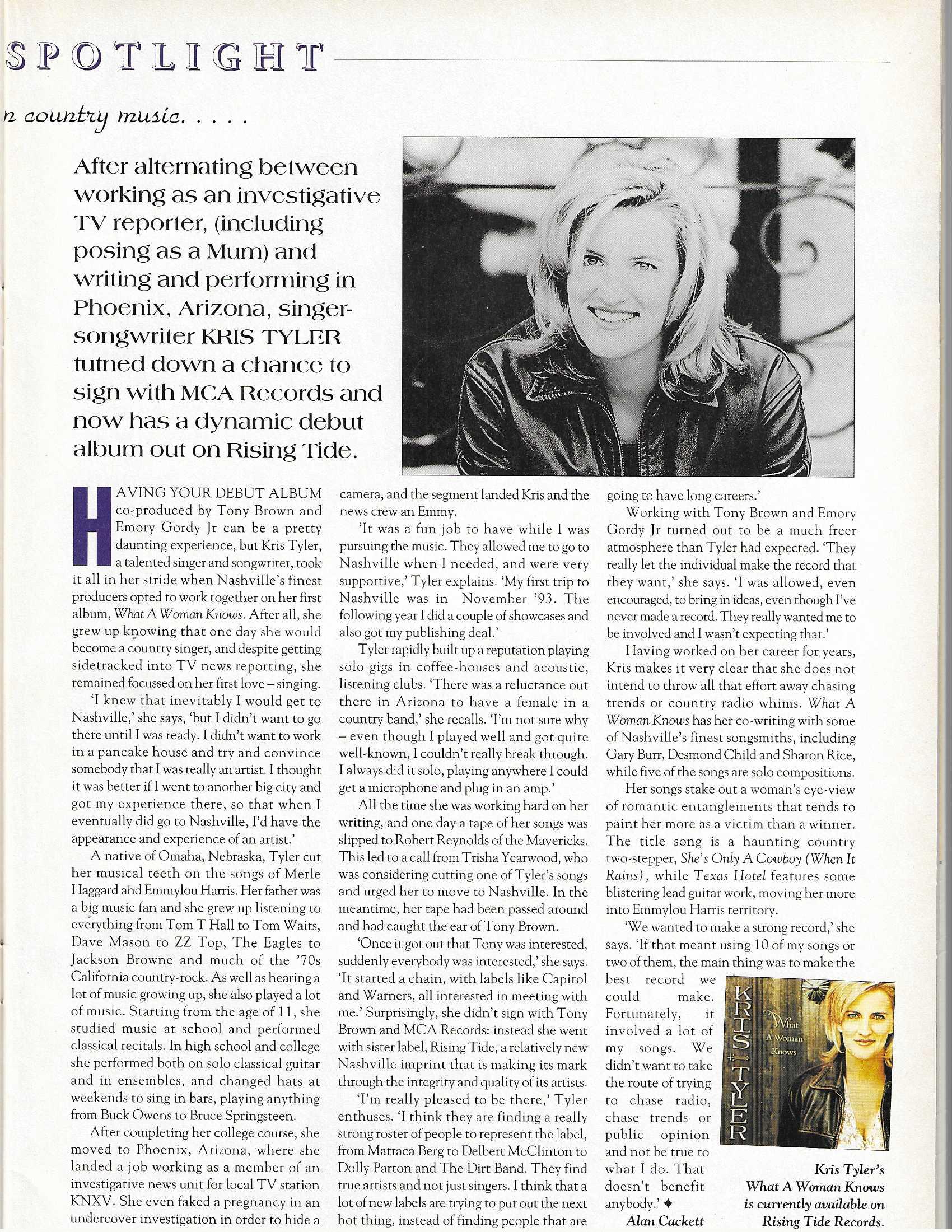 Having your debut album co-produced by Tony Brown and Emory Gordy Jr can be a pretty daunting experience, but Kris Tyler, a talented singer and songwriter, took it all in her stride when Nashville's finest producers opted to work together on her first album, WHAT A WOMAN KNOWS. After all, she grew up knowing that one day she would become a country singer, and despite getting sidetracked into TV news reporting, she remained focus on her first love—singing. "I knew that inevitably I would get to Nashville," she says, "but I didn't want to go there until I was ready. I didn't want to work in a pancake house and try and convince somebody that I was really an artist. I thought it was better if I went to another big city and got my experience there, so that when I eventually did go to Nashville, I'd have the appearance and experience of an artist."
A native of Omaha, Nebraska, Tyler cut her musical teeth on the songs of Merle Haggard and Emmylou Harris. Her father was a big music fan and she grew up listening to everything from Tom T Hall to Tom Waits, Dave Mason to ZZ Top, the Eagles to Jackson Browne and much of the 1970s California country-rock. As well as hearing a lot of music growing up, she also played a lot of music. Starting from the age of 11, she studied music at school and performed classical recitals. In high school and college she performed both on solo classical guitar and in ensembles, and changed hats at weekends to sing in bars, playing anything from Buck Owens to Bruce Springsteen.
After completing her college course, she moved to Phoenix, Arizona, where she landed a job working as a member of an investigative news unit for local TV station KNXV. She even faked a pregnancy in an undercover investigation in order to hide a camera, and the segment landed Kris and the news crew an Emmy.
"It was a fun job to have while I was pursuing the music. They allowed me to go to Nashville when I needed, and were very supportive," Tyler explains. "My first trip to Nashville was in November '93. The following year I did a couple of showcases and also got my publishing deal."
Tyler rapidly built up a reputation playing solo gigs in coffee-houses and acoustic, listening clubs. "There was a reluctance out there in Arizona to have a female in a country band," she recalls. "I'm not sure why—even though I played well and got quite well-known, I couldn't really break through. I always did it solo, playing anywhere I could get a microphone and plug in an amp."
All the time she was working hard on her writing, and one day a tape of her songs was slipped to Robert Reynolds of the Mavericks. This led to a call from Trisha Yearwood, who was considering cutting one of Tyler's songs and urged her to move to Nashville. In the meantime, her tape had been passed around and had caught the ear of Tony Brown.
"Once it got out that Tony was interested, suddenly everybody was interested," she says. "It started a chain, with labels like Capitol and Warners, all interested in meeting with me." Surprisingly, she didn't sign with Tony Brown and MCA Records: instead she went with sister label, Rising Tide, a relatively new Nashville imprint that is making its mark through the integrity and quality of its artists. "I'm really pleased to be there," Tyler enthuses. "I think they are finding a really strong roster of people to represent the label, from Matraca Berg to Delbert McClinton to Dolly Parton and the Dirt Band. They find true artists and not just singers. I think that a lot of new labels are trying to put out the next hot thing, instead of finding people that are going to have long careers."
Working with Tony Brown and Emory Gordy Jr turned out to be a much freer atmosphere than Tyler had expected. "They really let the individual make the record that they want," she says. "I was allowed, even encouraged, to bring in ideas, even though I've never made a record. They really wanted me to be involved and I wasn't expecting that."
Having worked on her career for years, Kris makes it very clear that she does not intend to throw all that effort away chasing trends or country radio whims. WHAT A WOMAN KNOWS has her co-writing with some of Nashville's finest songsmiths, including Gary Burr, Desmond Child and Sharon Rice, while five of the songs are solo compositions. Her songs stake out a woman's eye-view of romantic entanglements that tends to paint her more as a victim than a winner. The title song is a haunting ballad, then there's country two-stepper, She's Only A Cowboy (When Iit Rains), while Texas Hotel features some blistering lead guitar work, moving her more into Emmylou Harris territory.
"We wanted to make a strong record," she says. "If that meant using 10 of my songs or two of them, the main thing was to make the best record we could make. Fortunately, it involved a lot of my songs. We didn't' want to take the route of trying to chase radio, chase trends or public opinion and not be true to what I do. That doesn't benefit anybody."