Kippi Brannon - Whatever Happened To.....
First Published in Country Music International, August 1997
Fifteen years after ducking the teen idol limelight in order to live 'a normal life', Kippi Brannon is back with a new album that speaks of adult concerns.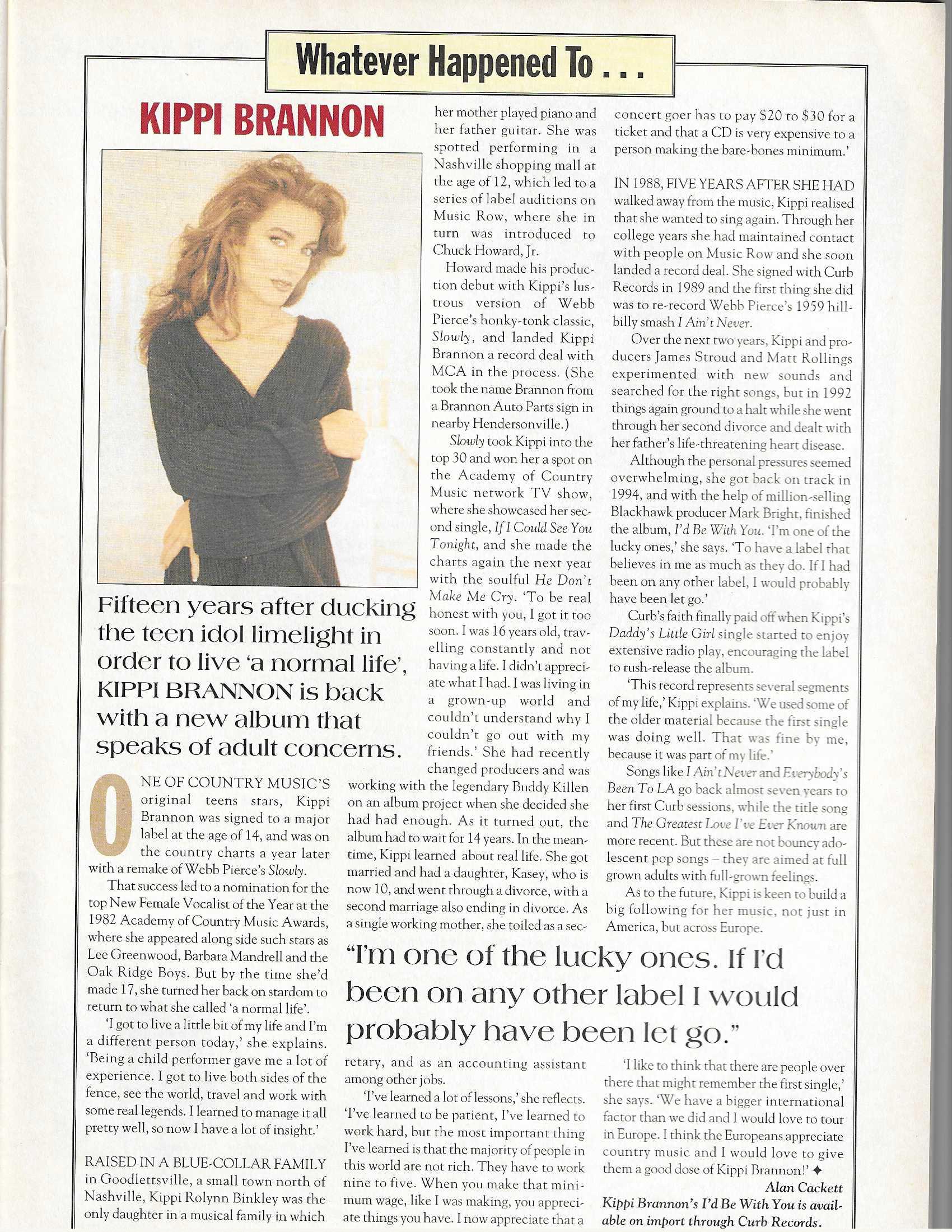 One of country music's original teen stars, Kippi Brannon was signed to a major label at the age of 14, and was on the country charts a year later with a remake of Webb Pierce's Slowly.
That success led to a nomination for the top New Female Vocalist of the Year at the 1982 Academy of Country Music Awards, where she appeared alongside such stars as Lee Greenwood, Barbara Mandrell and the Oak Ridge Boys. But by the time she'd made 17, she turned her back on stardom to return to what she called 'a normal life'.
"I got to live a little bit of my life and I'm a different person today," she explains. "Being a child performer gave me a lot of experience. I got to live both sides of the fence, see the world, travel and work with some real legends. I learned to manage it all pretty well, so now I have a lot of insight."
Raised in a blue-collar family in Goodlettsville, a small town north of Nashville, Kippi Rolynn Binkley was the one daughter in a musical family in which her mother played piano and her father guitar. She was spotted performing in a Nashville shopping mall at the age of 12, which led to a series of label auditions on Music Row, where she in turn was introduced to Chuck Howard Jr.
Howard made his production debut with Kippi's lustrous version of Webb Pierce's honky-tonk classic, Slowly, and landed Kippi Brannon a record deal with MCA in the process. (She took the name Brannon from a Brannon Auto Parts sign in nearby Hendersonville.)
Slowly took Kippi into the Top 30 and won her spot on the Academy of Country Music network TV show, where she showcased her second single, If I Could See You Tonight, and she made the charts again the next year with the soulful He Don't Make Me Cry. "To be real honest with you, I got it too soon. I was 16 years old, travelling constantly and not having a life. I didn't appreciate what I had. I was living in a grown-up world and couldn't understand why I couldn't go out with my friends." She had recently changed producers and was working with legendary Buddy Killen on an album project when she decided she had had enough. As it turned out, the album had to wait for 14 years. In the meantime, Kippi learned about real life. She got married and had a daughter, Kasey, who is now 10, and went through a divorce, with a second marriage also ending in divorce. As a single working mother, she toiled as a secretary, and as an accounting assistant among other jobs.
"I've learned a lot of lessons," she reflects. "I've learned to be patient, I've learned to work hard, but the most important thing I've learned is that the majority of people in this world are not rich. They have to work nine to five. When you make that minimum wage, like I was making, you appreciate things you have. I now appreciate that a concert goer has to pay $20 to $30 for a ticket and that a CD is very expensive to a person making the bare-bones minimum."
In 1988, five years after she had walked away from the music, Kippi realised that she wanted to sing again. Through her college years she had maintained contact with people on Music Row and she soon landed a record deal. She signed with Curb Records in 1989 and the first thing she did was re-record Webb Pierce's 1959 hillbilly smash I Ain't Never.
Over the next two years, Kippi and producers James Stroud and Matt Rollings experimented with new sounds and searched for the right songs, but in 1992 things again ground to a halt while she went through her second divorce and dealt with her father's life-threatening heart disease.
Although the personal pressures seemed overwhelming, she got back on track in 1994, and with the help of million-selling BlackHawk producer Mark Bright, finished the album, I'D BE WITH YOU. "I'm one of the lucky ones," she says. "To have a label that believes in me as much as they do. If I had been on any other label, I would probably have been let go."
Curb's faith finally paid off when Kippi's Daddy's Little Girl single started to enjoy extensive radio play, encouraging the label to rush-release the album.
"This record represents several segments of my life," Kippi explains. "We used some of the older material because the first single was doing well. That was fine by me, because it was part of my life."
Songs like I Ain't Never and Everybody's Been To LA go back almost seven years to her first Curb sessions, while the title song and The Greatest Love I've Ever Known are more recent. But these are not bouncy adolescent pop songs—they are aimed at full-grown adults with full-grown feelings.
As to the future, Kippi is keen to build a big following for her music, not just in America, but across Europe.
"I like to think that there are people over there that might remember the first single," she says. "We have a bigger international factor than we did and I would love to tour in Europe. I think Europeans appreciate country music and I would love to give them a good dose of Kippi Brannon!"