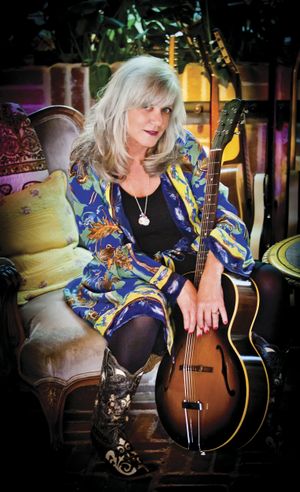 To those knowledgeable music fans, Kimmie Rhodes is a talented singer-songwriter deeply rooted in the Austin music scene. A singer-songwriter of extraordinary soul and grace, the talented Lubbock native is actually much more than just a cult-figure Americana performer. In a career stretching back almost forty years, she's recorded more than a dozen quality albums, not to mention the songs she has written that have been recorded by such diverse singers
as
Waylon Jennings, Wynonna, Willie Nelson, Trisha Yearwood, Amy Grant, CeCe Winans, Joe Ely, John Farnham, Peter Frampton, Mark Knopfler and Emmylou Harris. A creative and prolific artist, she has also written and produced musical plays, published books and worked on numerous films in various capacities in front of and behind the camera, acting, writing and singing and also working on set design, hair and wardrobe.
It was back in the early 1980s that I first became acquainted with Kimmie's music and the much-played KIMMIE RHODES AND THE JACKALOPE BROTHERS vinyl album that for many a year was rarely off my turntable. Though I first met Kimmie some ten years later at the old Weavers Arms and in more recent years promoted shows for her in Maidstone, it wasn't until March 2015 that I first sat down with this quietly spoken lady for an in-depth interview. It was backstage at London's O2 Arena for the annual Country To Country Festival. I ruefully thought to myself, as we sipped our coffee, that Kimmie and her music was like chalk and cheese, when compared to the country superstars due to pound our eardrums to dust a few hours later.  
Softly spoken, Kimmie is a somewhat unlikely star; the epitome of intimate yet groundbreaking Americana. Hailing from a family of musicians, she follows her heritage and natural-born calling with a deep-rooted vigour and passion. So what drives Kimmie Rhodes? In short, she has an unflinching desire to express herself combined with a daily dedication to her craft. In person, she exudes depth, grace and authenticity.
Firstly we chatted about her much-acclaimed COWGIRL BOUDOIR, a record full of finely drawn songs both sad and tough. A wonderfully warm and human record that features some of Kimmie's best writing to date, it is a thoughtful look at love and the ups and downs life can take. Amid the clamour of modern life, Kimmie and her select band of studio musicians created a space of peace and reflection, but it's by no means an idyll: she sings of loss and despair, always, though, there's a swelling, unquenchable rising of hope.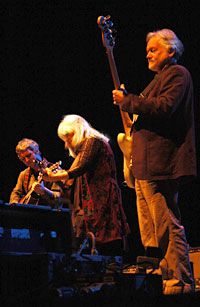 "I lost Joe Gracey, my husband, my muse, my bass player, my everything, a few years back," she confides quietly, "So this is the first record that I've made with my new songs since then. I've done the COVERS record, but time passed and I wanted to wait awhile and write songs that weren't so sad. COVERS kind of made a transition before I did it."
The COVERS album marked the first time that she had devoted an entire album to the songs of others. Produced by her son Gabriel Rhodes, it was much more than a hotch-potch of well-known songs. Kimmie had put together those songs that had shaped her life from a teenage infatuation with the Beatles through a love of Bob Dylan to Texas singer-songwriters like Townes Van Zandt and Rodney Crowell to later heroes Tom Petty and Mark Knopfler.
"My records have always been kind of about the journey of my life," she explains. "For the new album I got with Gabe, and a guy called Johnny Goudie who does a podcast around town and is a really great songwriter … Gabe and Johnny and I wrote some songs together. After working on a documentary with a guy called Eric Geadelman for the Country Music Hall Of Fame—it was to be a trilogy and now it's turned into five parts—a big deal. So, working on the music from my generation, starting from when I was just a kid with the Beatles to Bob Dylan and all that, I ended up in the whole Austin scene with all those guys and we ended up in a kind of Outlaw period with Willie and Waylon and those people. It's been kind of a musical journey for me, so I decided that it would be fun to kind of… you know I haven't always made country music … as a songwriter, I've followed all the genres and write for films and things … and so I decided it would be fun to mix them as much as I could, within musical reason."
"I took this handful of songs that me and Gabriel wrote … he's a brilliant musician and producer … and he helped me, and we called it COWGIRL BOUDOIR. When it leaned really country, he would say, that's really country, let's add some boudoir in there, or if it was a bit more pop-rock or a kind of folk thing, we'd say, let's get some country in there. So it's got everything from electric guitar to steel guitar and mandolins on it. We had a lot of fun doing it, out in the studio behind my house."
Like most of her previous albums, COWGIRL BOUDOIR was released in the spring of 2015 on her own Sunbird Records. The whole album is a profound and unassuming gem among the all-too-often hasty world of modern-day music releases. For years Kimmie has run not only the record label, but also her own Dancing Feet Music publishing company, initially with her late husband, but now she works closely with Gabe in running the various aspects of her diverse career. "I've been on labels from time to time, and certainly when I worked in Nashville a lot as a songwriter and when I worked out in LA writing for films and things. For the most part, though, I've always been happiest just going my own way and doing my own thing. I'd started singing when I was sixteen years old and it always just seemed, especially in the Nashville commercial area, that there needed to be a certain thing at a certain time and it wasn't necessarily what I was doing at that particular time. Sometimes the planets lined up and sometimes they didn't, but I've always been able to get my own music out."
For the past three decades, Kimmie has been quietly and consistently building a following and a career the old-fashioned way, song-by-song, album-by-album. Mapping the trajectory from one to the next, the thing that remains is her graceful, resigned tone and timeless songwriting, and how she uses both to disguise the profound in the simple. With each and every recording Kimmie finds new ways to make the colours of her songwriting palate sparkle and her dextrous skills as arranger, guitarist and singer seem to burst into even brighter bloom on each release. She has lived to tell all, and every little bit of experience has added its share to the heartfelt stories and soaring melodies she writes, but where did it all begin …
"That's a good question!" she says. "I grew up in Lubbock, you know a street kid in Lubbock in the sixties … you know the whole summer of love, freak revolution thing. I kind of burned out and moved onto the family farm in Texas and I had a lot of time to think. Sometimes I will look back and I can't imagine having that much time to stare at the sky. I had chickens and sometimes I would sit for an hour and watch chickens, I can't even imagine that now, the world moves so fast with the internet and everything."
"I was living near a town called Dentwood, where they have a big music school. I got a guitar and so I started taking music theory and guitar lessons from one of the guys, who was actually doing a masters degree in guitar. They liked me because I could just make things up in thin air, they thought that they had to have it all down on paper first, so we had this kind of interesting relationship. I would drive into Dentwood and take my weekly guitar lesson. I had started writing poetry and I just started naturally kind of making up songs."
"I've been singing since I was just a kid," Kimmie continues. "I had a gospel trio of me, my dad and brother, but I never imagined myself as a singer-songwriter. I never thought: 'Oh I'm going to be a songwriter.' It just kind of happened, and even after I'd written my first songs, I wouldn't call myself a songwriter until I felt that I had written something that was worthy of that. To be able to call yourself a songwriter was a kind of awesome thing that happened to other people. So I wouldn't have called myself a songwriter until I came to Austin in '79 and I met Joe Gracey and Bobby Earl Smith."
"We formed my first band, The Jackalope Brothers, and I had my first ever handful of songs when I first went and recorded in Austin at Nick Gracey's studio called Electric Graceyland. Even after writing those songs, I didn't call myself a songwriter. Then I wrote this song called
I Just Drove By
. I was just tempted to write a really good song that day and I rewrote that song for seven years. I mean, I cared, I really cared for that song."
"I was hanging out with Willie Nelson in his office in his studio. I think I was on my third record, and I think that I'd started to think of myself as a songwriter then, but the day I heard Willie Nelson say to my coach Deryl Royal that's a great song, I thought: 'Okay, I'm songwriter now, if Willie Nelson says that, I must be.' I'd been singing for a long time at that point and it just seemed really wonderful to be part of the music business as a songwriter, so I kind of moved to that side of the boat and worked there for a while, but I never quit making my own records."
Several performers started to cover Kimmie's songs, with one of the most notable being Wynonna Judd, who included
I Just Drove By
on her multi-platinum selling 1993 TELL ME WHY album, some seven or eight years after Kimmie had written the song. That high profile recording led to Kimmie gaining well-deserved wider recognition for her songwriting.
"I started to think of myself as a singer-songwriter, but I think I really started to weigh heavy on the songwriter part of it at that point, and my passion kind of shifted. You know things kind of change in the music business, and it comes in flows and sometimes you're on and sometimes you're not, so I just follow my own path and I do my thing."
Kimmie's independent streak was pivotal in building both personal and professional relationships with fellow Texans Willie Nelson and Waylon Jennings, both of whom were at the forefront of the Outlaw movement of the 1970s. Her working relationship with Willie Nelson is familiar to most and well-documented. She has recorded several duets with Nelson including
Love And Happiness, Love Me Like A Song
and
Rhinestone Highway
plus the PICTURE IN A FRAME collection of duets. But her long association with Waylon Jennings is all too often overlooked.  
"He was a big supporter of my music, but also was just a good friend … both of them really," she recalls. "I kind of came along at the tail end of the outlaw thing that they had going. They saw me as one of them. I never robbed a bank or anything, but I was outside the typical commercial country thing. I guess I'm what they call Americana now, they didn't use to have a name for it and now they do. They liked my songs and my writing and befriended me."
"I came home one day and there was a message on my answer phone machine from Waylon and we became friends. We recorded together and wrote songs together … I mean he was so sweet. He would even call my daughter, Jolie, and wish her a happy birthday or just talk to her. I would answer the phone and he would say: 'Hi Kimmie, how you doing? Can I speak to Jolie?' She was just a little kid … he loved kids, he was just a big kid.  His first single, his first 45, was the song
Jolie Blonde
, it was produced by Buddy Holly. I'd named my daughter after that song, so he crawled all over his house one day, while I waited downstairs, and he finally found a 45 of his record
Jolie Blonde
, and autographed it to Jolie."
Over the years Kimmie has worked with and for many well-known musicians, singers and industry people. As a songwriter she was signed to Rondor Music, a publishing company set up by Jerry Moss and Herb Alpert, the joint owners of A&M Records. That was the label that signed a young Waylon Jennings to a recording contract in 1964. When she started making her own recordings, Kimmie licensed her recordings to Round Tower Records in the UK and in the 1990s was signed to Houston-based Justice Records, which was also home to Willie Nelson, Waylon Jennings and Billy Joe Shaver.
"I came over here to the UK and played country shows and did a lot of things, then I went back home and started working as a writer a lot. I was really into it, for about 10 years I wrote music and my own songs. I was on the label with Willie and Waylon and some of those guys for a while. I could always put my own music out. I didn't like having to think about, will I have a record deal and being driven to making a record and whether or not I'll have a record deal. It's been the same for books; I'm writing books now and I just do the work and I find that with that, it comes to me and it always does. I think, because I just went my own way and did my own thing, I've had a really great life and a long career. I've made music all my life and I feel my success has been an opportunity to do what I want to do and survive. I've had a really long ride because I just stuck to my path."
Kimmie is now justifiably considered one of the premier singer-songwriter troubadours. She has remained a searingly truthful songwriter, notable as much for her lyricism—which can be caustic and emotional or wryly humorous—as for her deft musicianship which draws from folk, rock, bluegrass, and country. Her intimacy with audiences, sincerity, and approachability has seen her exponentially growing an avid base of fans, supporters, and colleagues, driven by her belief in music being self-subsisting and without boundaries.
"Yeah! They call me legend," she smiles demurely, "and I think that when they start to call you a legend it makes you old, but I'm not! I'm still writing new songs and playing and touring and it is funny to look up and see how much time's gone by. A lot of good people have come and gone, a lot of good people are still here. It's just unspeakable how great a life it is with music and doing whatever you want to do, and write whatever you want to write. When I was with the publisher, I didn't have as many big hits as a lot of people did, but my focus was on writing really good songs. I love the different projects, I love writing for films and so I always really stayed under the radar, but they always kept me around, because a circus needs all kinds of acts and they need 'under the radar' acts too."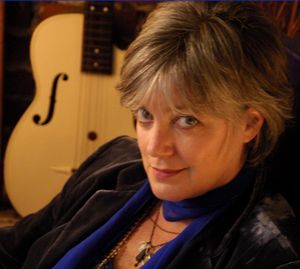 "There's nothing like going to your mail box and have a cheque every month when you have a family to keep a roof over their head and send the kids to college. I was able to focus because I could just pick it up and write everyday. It was glorious, and you know, they were wonderful as an independent publisher, but they were a big independent publisher. They supported me completely and I never let them down. I mean, if they had a film or an emergency for something, then I would always go into my room, close the door and focus until I'd turned in something that was good. I really benefited from that association and a lot of the opportunities it brought me."
"I got to write with Peter Frampton because of the South by South West Film Festival. I can't stress enough about how much I love working in the film department. I love music and I love to write songs and to make records, but also I love the visual aspect of underscoring things that are going on in films, or actors on a stage and all that … I like to get my hands into different things."
It should come as no surprise to hear that Kimmie enjoys being involved in all aspects of films. Most of her songs are visual creations; soundscapes or stories in songs. She has always been adept at creating word pictures or songs that lyrically depict an unfolding story that's deeply rooted in ancient folklore but with modern twists.
"I write in pictures a lot and that was one of the reasons, early on in my affiliation with Round Tower Music, when I was having a lot of success in Nashville, Lance said, when this dies down we want to get you out to LA to write because your songs are really picturesque. I think that you would be good for writing for films. Sometimes, just magically, they would send a script and when you've written that many songs, often I would go to find a song that I had and it worked and I didn't have to work from the script. It's always nice to marry that. I've worked in films in different aspects of it. I've worked on both sides of the camera. I've done music for films and sung in films and played various B roles, but I've also worked in hair and make-up and wardrobe and set design. I just like the whole thing, the whole picture."
Throughout her career, Kimmie was always supported by Joe Gracey her soul mate, husband and life partner. Each time I saw the pair of them together, you could see and feel the passion and devotion that they shared with each other. After Joe's passing, there must have been times when Kimmie would have thought to herself, can I really go on by myself. Somehow, she has picked herself up and managed to positively continue with her life and music with an optimistic air shrouded in sadness.
"That really shows that you've been through the experience to know that," she says quietly. "When I met him, my life really took off. I entered this music world where I was around a lot of other musicians and artists, but he introduced me to Willie and he really gave me a leg up and our world really began at that point. It was wonderful. We'd been together for 30 years and it was just constant companions and in everything, he just supported me. It was very difficult during his illness, he went through nine major operations at this big cancer hospital down in Houston, basically I never left his side. Somehow I managed to put out two records during that time period."
"There was a Christmas record that I did, and that seemed like a very healing thing to do. I got with Gabe and it was at Christmas time when we recorded the songs and then we released it the next Christmas, because I didn't want to make a Christmas record in July. Then about two and half years into his recurrence of the cancer, we were in this struggle, I wrote a record called DREAMS OF FLYING, that was pretty dark. It had some light in it, too, but I was trying to find my way through what was going on and what was happening."
As Kimmie spoke, memories of her touring with Joe flashed through my mind and the closeness that they shared. Towards the end, the cancer had cruelly taken Joe's voice, so not only could he no longer add harmonies to Kimmie's singing, but he had to write everything down. It took lots of patience, love and understanding for both of them, and I always marvelled at how they both coped when they played gigs for me in Maidstone.
"I was so close to him, and then after we lost him, I wasn't sure how I was going to find a way forward. There's a song called
New Way Through The World
that's a bit about that … you know life goes on. I sort of felt a responsibility of people, and sometimes you don't do for yourself but will do for other people.  For my children's sake and my grandchildren and for the sake of the people who loved me and for my fans, who were really supportive and good to me, so it's been a pleasure to find my way back into it."
"There's a song on the new record called
Me Again
, that's very personal that I wrote with my son Gabe. He has been on this whole journey and we were sitting out on his balcony at midnight and by then we had already written two other songs. I said the only thing that's missing from this record, is that one thought, after everything and everything that I had been through, I finally feel like me again. I feel more like me than I have since I was a little kid. So we wrote
Me Again
that I just love and we finally finished it at four in the morning—exhausted! That record really does say a lot about the journey."
Throughout our conversation, Kimmie often referred to her son Gabe Rhodes. He's long been associated with her career, especially her recordings, on which he's often worked as producer and also provided instrumental and vocal support. He's also been out on the road touring with her, sometimes in a trio format with Joe Gracey and occasionally been involved in co-writing sessions. Since Joe's passing, Gabe's been working ever closer with Kimmie, as much as anything, acting as a sounding board and spiritual supporter
"It's been wonderful to watch him grow," she says proudly. "I've always just been in awe of him, as he is such a better musician than I am. He is totally focussed. He practises more than anyone I've ever known. Even when he was a kid, I noticed that he had an aptitude to play different instruments. In our house, upstairs, there is a loft and you can hear the music coming down into the kitchen area. Just as a little experiment, I would buy him instruments at the music store and just leave them on the dining room table. One time, I bought him a violin, but he didn't go for the violin much, but small instruments—mandolins, ukuleles—it's like feeding birds or something, it would be gone and you would hear him up there playing around on it."
"I read an interview he did not long ago, and he's always asked the same question: 'What's it like being in your mum's band,' and we would always make jokes about that. He said: 'Well, when we're on the road, she's not my mother.' When we're working, it's really that way. I'll always be his mother and I'll always be there for him, but when we're working, it's like working with anybody else. First and foremost he looks at me like his artist, because I was playing music before he was born. He grew up in a world of music with Willie and Waylon and all these different people in and out of the house, and I've always gotten him involved in the music. Our relationship it will always be a mother-son relationship, but I think it really weighs heavier on the artist-musician side; there's a common artistry that is unique."
Inevitably, we lead on to the age old artist question, what does the future hold for Kimmie Rhodes and her multi-dimensional career and what new projects is she working on.
"Musically, in terms of what I'm going to create next, you know I've got a few songs started and things like that, but my focus is on writing a book—Radio Dreams. Joe Gracey left a lot of writing behind. He was a very good writer and his life story was very interesting. He grew up in Fort Worth and I was in Austin and then he was very instrumental in that Austin thing that happened that really changed country music. The country thing with all the hippies and the rednecks and the outlaws and the what-evers that became one big melange explosion of music that left behind a big new group of songwriters, with Willie coming to town in the 1970s and all that."
"Along the way he wrote little memoirs of things and always wanted to write a book called Radio Dreams. I tried getting him on it, but him being the world's biggest procrastinator, but it worked out how it was supposed to because he left a lot of that behind. Then, I have a really interesting story from my childhood, as I was basically raised by two orphans that were abandoned by their parents that came together and were my mother and father. All these different things that happened in our life together, and then his journey through cancer, my journey through grieving and reinvention after that. It's something that I needed to do, so there has been a lot of focus on writing."
"So I'm focusing on a lot of things that don't really rhyme. With that, I want to put out a retrospective of my career and songs, to underscore the stories in the book. So probably what's next for me is an album and a book called Radio Dreams and to continue to tell stories and promote music and just be a storyteller."
A singer-songwriter with a mastery of lyrics, a sweet voice, and an angle on life that will make you think even as you hum and smile, Kimmie Rhodes
is an observer with wide-open eyes, along with undeniable talent as singer, instrumentalist, and above all, writer of songs that hook both the mind and the heart. COWGIRL BOUDOIR is one of the best Americana releases of 2015. A quietly spare, self-revelatory record that has a soulful, subtle grace in the music allowing Kimmie the opportunity to show the truly remarkable beauty of her voice. A genuine Texas lady who continues to humbly take her music to those who want to listen.