Kevin Sharp - Under The Spotlight
First Published Country Music International, March 1997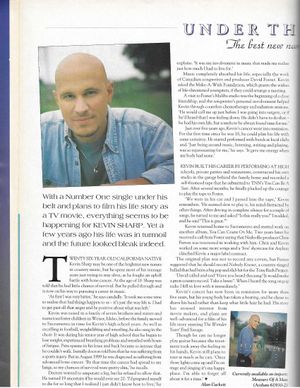 With a Number One single under his belt and plans to film his life story as a TV movie, everything seems to be happening for Kevin Sharp. Yet a few years ago his life was in turmoil and the future looked bleak indeed.
Twenty six year-old California native Kevin Sharp may be one of the brightest new names in country music, but he spent most of his teenage years just trying to stay alive, as he fought an uphill battle with bone cancer. At the age of 18 Sharp was told that he had little chance of survival. But he pulled through and is now on his way to pursuing a career in music.
"At first I was very bitter," he says candidly. "It took some time to realise that bad things happen to us—it's just the way life is. I had to get past all that anger and be positive about what was left."
Kevin was raised in a family of seven brothers and sisters and numerous foster children in Weiser, Idaho, before the family moved to Sacramento in time for Kevin's high school years. As well as excelling in football, weightlifting, he also sang in the choir. It was during his senior year of high school that he began to lose weight, experienced breathing problems and wrestled with bouts of fatigue. Pain spasms in his knees and back became so intense that he couldn't walk. Initially doctors told him that he was suffering from a sports injury. But in August 1989 he was diagnosed as suffering from advanced bone cancer. "By that time the cancer had spread to my lungs, so my chances of survival were pretty slim," he recalls.
Doctors wanted to amputate a leg, but he refused to allow that. He turned 19 uncertain if he would ever see 20. "I'd prepared myself to die for so long that I realised I just didn't know how to live," he explains. "It was my involvement in music that made me realise just how much I had to live for."
Music completely absorbed his life, especially the work of Canadian songwriter and producer David Foster. Kevin asked the Make-A-Wish Foundation, which grants the wishes of life-threatened youngsters, if they could arrange a meeting.
A visit to Foster's Malibu studio was the beginning of a close friendship, and the songwriter's personal involvement helped Kevin through countless chemotherapy and radiation sessions. "He would call me up just before I was going into surgery, or if he'd heard that I was feeling down. He didn't have to do that—he had his own life, but somehow he always found time for me."
Just over five years ago, Kevin's cancer went into remission. For the first time since he was 18, he could plan his life with some certainty. He started performing with bands at local clubs and. "Just being around music, listening, writing and playing, was so rejuvenating for me," he says. "It gave me energy when my body had none."
Kevin built his career by performing at high schools, private parties and restaurants, constructed his own studio in the garage behind the family home and recorded a self-financed tape that he submitted to TNN's You Can Be A Star. After several months, he finally plucked up the courage to play the tape to Foster.
"We were in his car and I passed him the tape," Kevin remembers. "He seemed slow to play it, his mind distracted by other things. After driving in complete silence for a couple of songs, he turned to me and asked, 'Is this really you?' I nodded, and he said: 'This is great.'"
Kevin returned home to Sacramento and started to work on another album, YOU CAN COUNT ON ME. Two years later he received a call from Foster saying that Nashville producer Chris Farren was interested in working with him. Chris and Kevin worked on some more songs and a 'live' showcase for Asylum clinched Kevin a major label contract.
The original plan was not to record any covers, but Foster suggested that he should record Nobody Knows, a country-tinged ballad that had been a big pop and r&b hit for the Tony Rich Project.
"David called and said: 'Have you heard this song? It would make a great country record. Take a listen.' When I heard the song on pop radio I fell in love with it immediately."
Kevin's cancer has now been in remission for more than five years, but his young body has taken a beating, and he chose to shave his head rather than keep the hair he had. His story has aroused interest from movie makers, and plans are well-advanced for a film of his life story starring The Wonder Years' Fred Savage.
Though he can no longer play guitar because the treatment took away the feeling in his hands, Kevin still plans to tour as much as he can. "Once those lights come up and I'm on stage and singing it's my happy place. I'm able to forget all about it for a time."