Kenny Shore - Time Stands Still
Self-released
****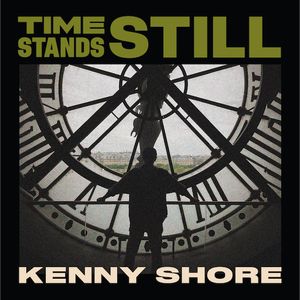 North Carolina troubadour Kenny Shore showcases both his soft-rock singer-songwriter side and his more soulful with high octave vocals and on-the-mark harmonies, bringing to mind the quieter side of John Prine with a rootsy rock sensibility. A seamless blend of sounds. Kenny effortlessly blends elements of New Orleans jazz, Muscle Shoals soul, Carolina bluegrass romps and classic rock into a sound that is a dream for fans who grew up with the guitar-preponderate rock of the 1970s. He again proves that he's a true artist with the ability to tell his story in a compelling way. He not only sketches his characters with an astute eye, but he also describes his world with an unflinching clarity. The songs flow into one another like a cinematic collection of short stories, images so rich that you can reach out and taste them. The spare singing of Kenny, together with the economy of his lyrics, which dwell on success and failure and the passing of time, brings a plainspoken vibe to emotional stories. His expressive voice, catchy, radio-worthy songs, canny songwriting, and the sheer pleasure of this music, certainly make TIME STANDS STILL essential.
Put Yourself In My Shoes serves as a nice introduction to Kenny's captivating sensibility towards a breakup. The sweeping, soul-tinged Hammond organ opening perfectly captures the sinking feeling of despair as he confronts the woman leaving him, letting her know that she's treated him badly, and how would she feel if the shoe was on the other foot. Not just his tone, but his words. Kenny has a gift for writing songs about the everyday experience of being human, and all the flaws, hardships, failures and heartache that come with it. Typical is Able To Try, a soulful duet with Taz Halloween. Danny Abrams baritone sax sets the mood as the pair trade give-and-take vocals straight out of a Harlem cellar club as they offer each other relationship advice. Other wisdom comes in hidden little nuggets.  Don't Ever Say My Name turns the spotlight on self centred people. Lyrics filled with vibrant metaphors and upbeat vocals offer a playful contrast to the pointed commentary on the not so fulfilling experience of getting trapped in unhealthy patterns.
There's a jaunty, good-timey country feel to Your Smiling Face, a heartfelt love song dedicated to his wife Kathy, who died of cancer in 2017.  With a brevity of lyrics and upbeat vocals that are clothed in attractive, melodic garb, this is ear candy of the highest quality and suitable for repeated plays without becoming tiresome. There's a shared consistency found in his deft delivery, be it the up-tempo jazzy sounds of Down In Louisiana, and the mandolin-driven Name 3 People, or the decidedly pensive approach explored in such songs as Everything We Needed and She's Broken, each of which shares a relatively wistful and more introspective attitude. He unfurls his own life story on moving day in the title song. Uplifting and affirming, it's couched in real-life scenarios of personal memories that anchor it to a healthy dose of reality, a feeling that the singer really sees what matters in his life.
Though Kenny plays some keyboards, bass and banjo, his primary instrument is guitar and vocals, and the dozen songs display considerable range in what can be fairly assessed as the sound of Southern roots. Producer Jerry Brown has done a good job, as have supporting musicians like Andrew Marlin (mandolin); Isaac Derr (bass, guitar); Joseph Terrell (guitar, lap steel); Robert Sledge (bass); Rob Ladd (drums); Joe MacPhail (piano, Hammond organ); Danny Abrams (baritone
sax); and Ron Poythress and Lizzie Rose on backing vocals.
 
October 2022