Kenny Rogers - Satisfied Mind
First Published in Country Music International January 1998
During more than 40 years in the business, country balladeer Kenny Rogers has had his share of ups and downs. But he's recently bounced back (again) with an album of love songs. "I'm not comfortable doing hoe-down music," he confides to toe-tappin'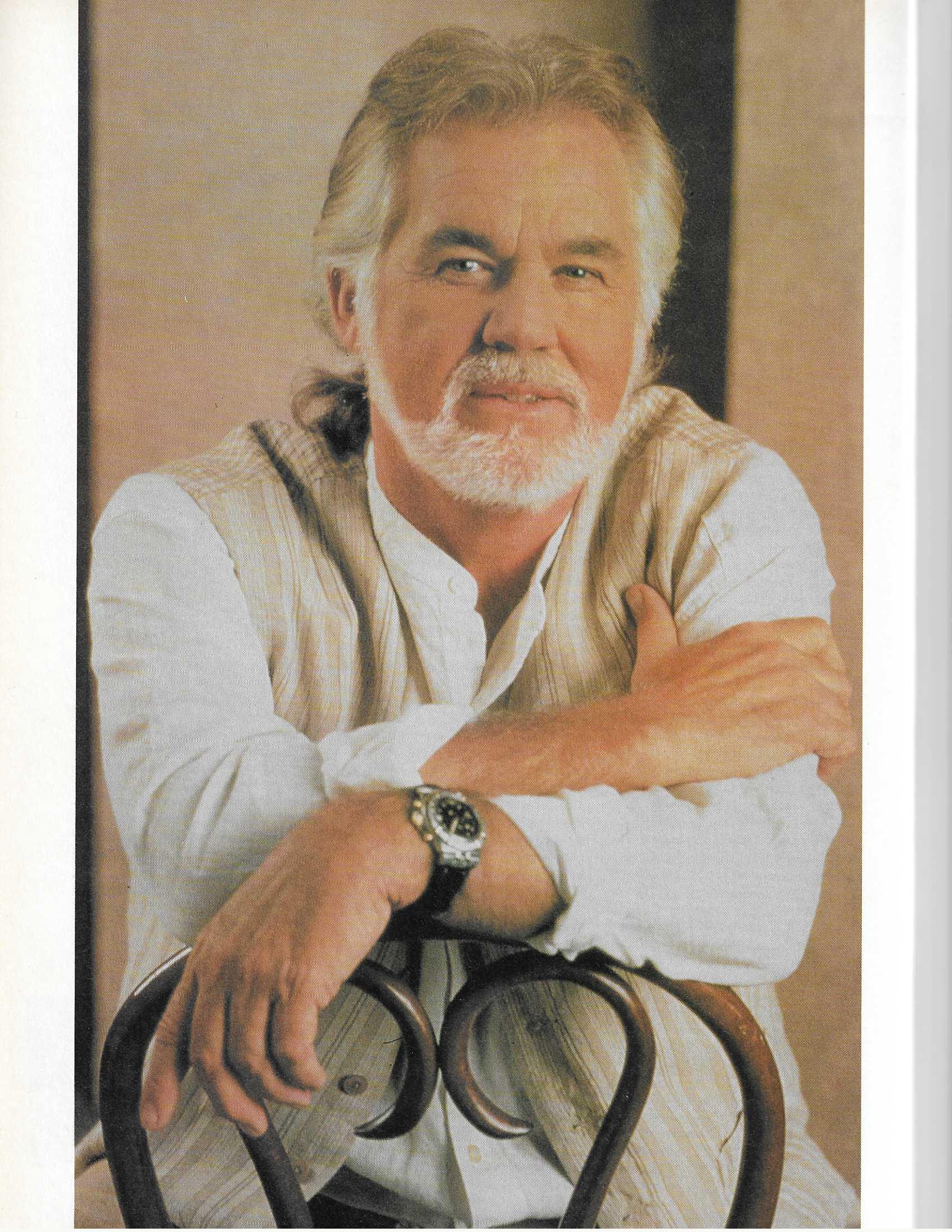 "Ruby was a controversial record, but in the States it's hard for me to believe that many people listen to the lyrics. I'm singing: 'It's hard to love a man whose legs are bent and paralysed', and they're clapping along. At the time it was misinterpreted by a lot of people. It wasn't really anti-war: what it did was reduce the tragedy of war to a one-on-one level. I think it may have changed some attitudes about war. But the thing to remember is that music is entertainment and audiences don't want to be preached at all the time."
Kenny Rogers has the look of a supremely satisfied man. Coming up to 40 years in the music business, he has achieved more than he ever imagined possible.
"The real trick in this business," he confides, "is to never let people think 'whatever happened to him'. As long as they know where you are ... I had a tremendous run—an average career is three years. You get three years at the top, then people get tired of hearing you. If you go back, historically, that's the way it is."
Okay, so Rogers has had his ups and downs. It's not all been that proverbial bed of roses. But perhaps part of his longevity reflects his eclectic approach to his music.
"Around the world I'm known as a country music artist," he explains. "It's really interesting, because in country music I'm not country enough, but everywhere else, I'm too country. I consider myself a country singer who's had a lot of other influences. When I was a kid my mom used to listen to hard-core country music – Hank Williams, Hank Locklin and Hank Thompson."
Rogers is in London to do some promotional work for his latest album, the TV advertised LOVE SONGS, released by Virgin Records, and despite the company's lack of track record in the country market, the singer is confident he's made the right choice. "We are aligning ourselves with Virgin Records because we believe they are a major force in this country," he explains.
Rogers has always had an eye for business, and his instincts are probably right. Having chalked up a score of country-pop hits during the late 1970s and early 1980s, he suddenly found himself out of favour with record buyers.
However, he made himself a constant fixture on the live circuit, and continued to gain regular attention from television and other media, despite the slow record sales.
He scored his first hit, Crazy Feeling, way back in 1958 with his Houston-based school band, the Scholars. He went on to work with a jazz trio, followed by a short stint with the New Christy Minstrels, before forming Kenny Rogers & the First Edition in 1967.
"It was kind of a country-rock group," he recalls. "If you look back at it historically, we were one of the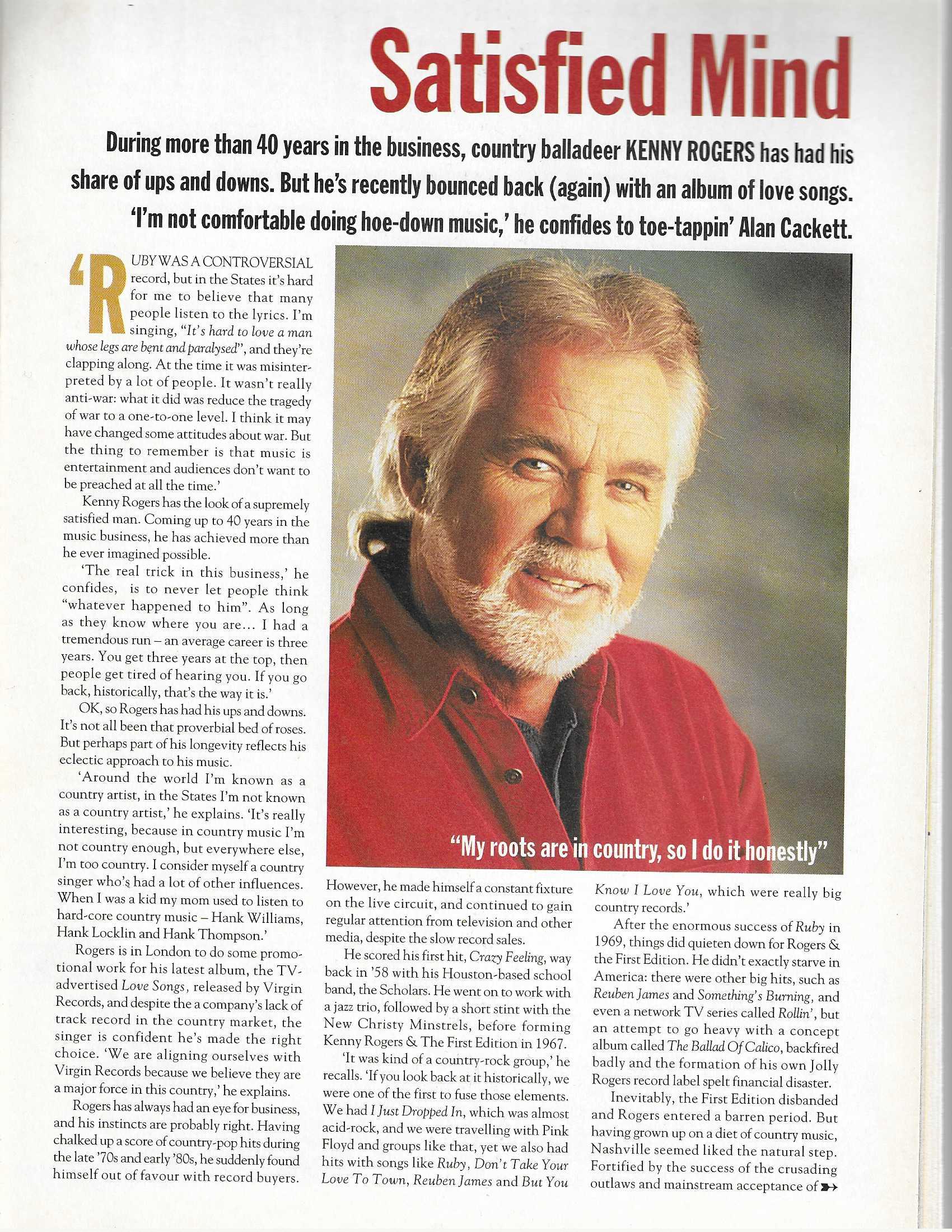 first to fuse those elements. We had I Just Dropped In, which was almost acid-rock, and we were travelling with Pink Floyd and groups like that, yet we also had hit songs like Ruby, Don't Take Your Love To Town, Reuben James and But You Know I Love You, which were really big country records."
After the enormous success of Ruby in 1969, things did quieten down for Rogers & the First Edition. He didn't exactly starve in America: there were other big hits such as Reuben James and Something's Burning, and even a network TV series called Rollin', but an attempt to go heavy with a concept album called THE BALLAD OF CALICO, backfired badly and the formation of his own Jolly Rogers record label spelt financial disaster.
Inevitably, the First Edition disbanded and Rogers entered a barren period. But having grown up on a diet of country music, Nashville seemed like the natural step. Fortified by the success of the crusading outlaws and mainstream acceptance of Linda Ronstadt, Emmylou Harris and Dolly Parton, Kenny resolved to jump on the commercial bandwagon.
"Charlie Rich was the big artist at the time, and he was singing love songs," Kenny recalls. "What happened? Larry Butler came along and said I could be doing the same, and I thought: 'Yeah, I could be comfortable with doing that. I'm not comfortable with doing hoe-down music, but I,m comfortable with sophisticated, contemporary country, that's a niche I could be happy in'. And we had tremendous success. Larry really was a life saver for me."
With Butler's help he landed a deal with United Artists Records and returned to his country roots. He made a solo album LOVE LIFTED ME, a top 10 country hit, and secured a position as a leading force in the genre with the release of Lucille in 1977. For the next seven years, he was hardly out of the American pop charts, scoring a dozen top 10 entries.
It was only natural that Rogers fitted so comfortably into the role of pop-country crooner. He never really cut it as the teenage idol—his music was always more adult oriented. He was a symbol not of sex and possibility, but of affluence and achievement. He strived to make the music palatable to the average middleclass rbanite. Producer Larry Butler surrounded him with strings, and at times he had to grapple haplessly with limp, dainty material like You Decorated My Life and She Believes In Me, but he found his market and, with Butler's help he exploited it.
"My roots were in country and I did it honestly," Rogers says. "People like myself, Dolly Parton and Barbara Mandrell, who had pop influences in our lives, just took country to a different place and really attracted a lot of people from places like New York and New Jersey, who would never have listened to country music otherwise."
"After Larry Butler and I had done six or seven albums, I went back and I listened to them and they were all beginning to like She Believes In Me and The Gambler, but the songs weren't as strong," he explains. "I knew I needed to make a move, to do something dramatic. One of my favourite albums of all time was the Ray Charles country album. So we got in touch with Lionel Riche. He cut r&b tracks and I sang country to them, and that's how we started moving in that direction."
Kenny and Lionel hit paydirt straight off the bat with Lady, a sophisticated country-soul ballad that spent six weeks at the top of the American pop charts in 1981. That success coincided with Richie's own solo career, so it was a case of looking around for someone else to work with, and it was Bee Gee Barry Gibb who came on board to produce the EYES THAT SEE IN THE DARK album.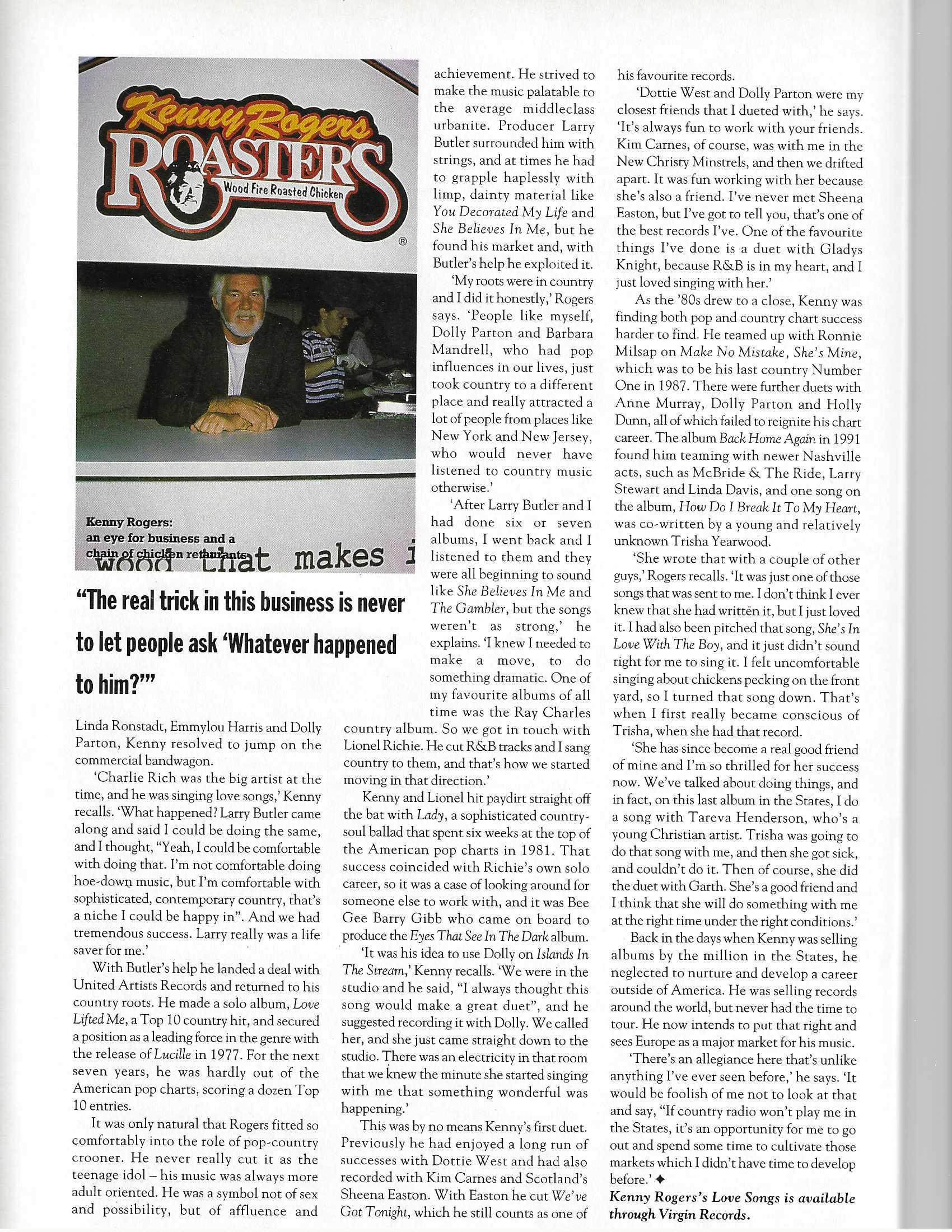 "It was his idea to use Dolly on Islands In The Stream," Kenny recalls. "We were in the studio and he said,:'I always thought this song would make a great duet,' and he suggested recording it with Dolly. We called her, and she came straight down to the studio. There was an electricity in that room that we knew the minute she started singing with me that something wonderful was happening."
This was by no means Kenny's first duet. Previously he had enjoyed a long run of success with Dottie West and had also recorded with Kim Carnes and Scotland's Sheena Easton. With Easton he cut We've Got Tonight, which he still counts as one of his favourite records.
Dottie West and Dolly Parton were my closest friends that I duetted with," he says. "It's always fun to work with your friends. Kim Carnes, of course, was with me in the New Christy Minstrels, and then we drifted apart. It was fun working with her because she's also a friend. I've never met Sheena Easton, but I've got to tell you, that's one of the best records. One of the favourite things I've done is a duet with Gladys Knight, because r&b is in my heart, and I loved singing with her."
As the 1980s drew to a close, Kenny was finding both pop and country chart success harder to find. He teamed up with Ronnie Milsap on Make No Mistakes, She's Mine, which was to be his last country number one in 1987. There were further duets with Anne Murray, Dolly Parton and Holly Dunn, all of which failed to reignite his chart career. The album BACK HOME AGAIN in 1991 found him teaming up with newer Nashville acts, such as McBride & The Ride, Larry Stewart and Linda Davis, and one song on the album, How do I Break It To My Heart, was co-written by a young and relatively unknown Trisha Yearwood.
"She wrote that with a couple of other guys," Rogers recalls. "It was just one of those songs that was sent to me. I don't think I ever knew that she had written it, but I just loved it. I had also been pitched that song, She's In Love With The Boy, and it just didn't sound right for me to sing it. I felt uncomfortable singing about chickens pecking on the front yard, so I turned that song down. That's when I first really became conscious of Trisha, when she had that record."
"She has since become a real good friend of mine and I'm so thrilled for her success now. We've talked about doing things, and in fact, on this latest album in the States, I do a song with Tareva Henderson, who's a young Christian artist. Trisha was going to do that song with me, and then she got sick, and couldn't do it. Then of course, she did the duet with Garth. She's a good friend and I think that she will do something with me at the right time under the right conditions."
Back in the days when Kenny was selling albums by millions in the States, he neglected to nurture and develop a career outside of America. He was selling records around the world, but never had the time to tour. He now intends to put that right and sees Europe as a major market for his music.
"There's an allegiance here that's unlike anything I've ever seen before," he says. "It would be foolish of me not to look at that and say: 'If country radio won't play me in the States, it's an opportunity for me to go out and spend some time to cultivate those markets which I didn't have time to develop before."