First published in Country Music People, July 1977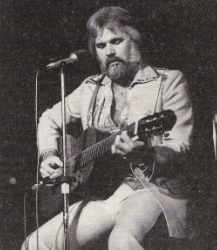 For a man who has made such a profound impression on the British record buying public, Kenny Rogers is very much of an 'unknown'. It was back in 1969 with his band, The First Edition, that he took
Ruby (Don't Take Your Love To Town)
high into the charts. It is a song that even today is well-favoured by both pop and country bands, and audiences instantly recognise the 'choppy' beat that was the trademark of the First Editions's version.
Now Kenny is back in the British charts, this time as a solo country artist with
Lucille
. It is a Roger Bowling song which topped the country Charts in April. An unusual record for Britain, it is almost under-sung for the first minute and a half, then it takes off powerfully into the heart-catching chorus. The vocal progression provides an effective contrast and the lyrics are strong enough to catch your attention, but it's a record that takes a few plays in order to register.
Kenny Rogers has always been closely associated with country music, both in his early childhood and in his music, so it came as quite a surprise to discover that he has never featured in Country Music People before. His story is the classic case of a country boy making an impression on the pop market, staying in that scene for a few years, then returning to his first love—country music.
One of the eight children born to Edward and Lucille Rogers of Houston, Texas, Kenny discovered how much he enjoyed music from the family ritual of singing in the choir on Sundays. By the time he reached high school he had decided that singing would be an integral part of his life. With a few of his school friends he formed a group called The Scholars. At first the boys concentrated solely on singing, but soon realised the need to be fully self-contained, and so took up instruments. Kenny decided on the bass, and still plays this instrument today, twenty years after his musical debut.
The Scholars became very popular around the Houston area and landed a recording contract with one of the small local labels. This resulted in
Crazy Feeling
being a big selling record around Texas, but as the group members were still at school, they were unable to follow-up and consolidate their success.
After graduation Kenny decided to pursue a career in music and joined the Bobby Doyle Trio, a nightclub/cabaret act that toured extensively supporting major acts like The Kirby Stone Four, Vic Damone and Peggy Lee. Following several years of touring around and gaining vital experience as an entertainer, Kenny joined The New Christy Minstrels in 1966. This was a large vocal outfit that grew out of the pseudo-hootenanny folk movement of the early 1960s. They presented sing-along treatments of folk songs that went down well with the middle-class American audiences. TV exposure and heavy record sales gave them a short-lived, but successful life.
Kenny stayed with the Minstrels for about a year and a half, then with songwriter Mike Settle and funny man Terry Williams, left to form a pop group. The result was Kenny Rogers and The First Edition, who signed a recording contract with Reprise Records. They soon struck gold with Mickey Newbury's
Just Dropped In (To See What Condition My Condition Was In).
This was followed by a series of successful albums and more million-selling singles.
The distinctive traits of the First Edition was Rogers' unusually gruff lead vocals, his own tendency to wear tinted glasses, their black and white outfits and the fact that they had a girl singer, Mary, who sang back-up harmonies, but rarely sang lead. The five members were all professionals of long standing, Kenny Rogers was a disciplined person who demanded a slick, polished show and well-produced records.
Throughout the late 1960s and early 1970s, they established themselves as one of America's best selling groups. Mike Settle's
But You Know I Love You
, which has become a country standard; Mac Davis' Something's Burning; Alex Harvey's
The Hoodooing Of Miss Fanny DeBerry
; the gospel-flavoured
Tell It All Brother
; the countryish
Reuben James
; and their best known hit, Mel Tillis'
Ruby (Don't Take Your Love To Town)
, all kept Kenny Rogers and The First Edition in the limelight.
They became top concert and television personalities with their own series Rollin'. Their tight, bouncy melodies provided a pleasant break from the chaos of progressive rock, and for a few short years they succeeded in appealing to both young and older record buyers.
Then the group fell on hard times—they began taking themselves too seriously
.
They recorded a would-be intellectual 'concept-album' called THE BALLAD OF CALICO, written by Michael Murphey and amounted to a complete flop. After this disaster they left Reprise and established a new label called Jolly Roger.
It was a brave move, and luckily they managed to sign a distribution and marketing deal with MGM, which was then taken over by Polydor. But nothing concrete came of Jolly Roger and within a few months The First Edition fell apart and Kenny Rogers faded from the scene.
For two years nothing was heard from Kenny Rogers, then two years ago he hit Nashville and signed with United Artists. This led to his emergence as a major country artist. On his first session, with Larry Butler producing, he came up with a top ten hit,
Love Lifted Me
. This led to the release last summer of his first solo album, LOVE LIFTED ME. Overall this reveals him as a far better vocalist than any of his previous efforts. The gruff, distinctive voice is still there, but there seems to be more effort to suit this to the mood of each particular song.
His second country hit came with the Roger Bowling/Freddie Hart song,
While The Feeling's
Good
, and in the past year Kenny Rogers has notched up two more chart successes with an updated version of Leon Ashley's
Laura (What's He Got That I Ain't Got)
and his strongest effort to date,
Lucille
, which topped the charts.
A second Nashville-produced album, KENNY ROGERS was released last December, and with his success in the British charts, is now available in Britain. Though this LP might seem too sophisticated for true country ears, it exhibits some traces of his background with
While I Play The
Fiddle
and
Mother Country Music
.
Kenny Rogers still sounds like his old self, combining that rough-edged soul quality that made him so outstanding as the voice of The First Edition, with a seemingly new found skill at smooth, easy melodies. His version of Don Williams'
Lay Down Beside Me
is very good, and his reading of Ben Peters'
Puttin' In Overtime At Home
sensitive and heard to beat.
It would appear that Kenny Rogers has certainly found his niche with country music, and being familiar with pop audiences, he can only bring his music to a much wider audience, as has been already proved with the success of
Lucille
. The modern arrangements that Rogers uses might not be everyone's idea of country music, but in instrumentation and choice of material, there's no doubt that Kenny Rogers is currently producing some fine country sounds.