First published in Country Music People, March 1979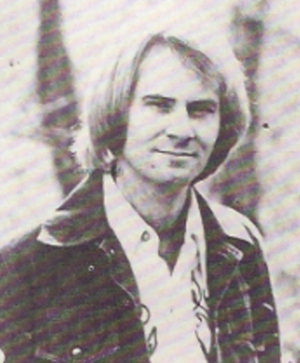 Apart from an early brush with fame via
Beautiful People
in the mid-1960s, Kenny O'Dell didn't really come to power until the beginning of the 1970s by writing a string of country hits like
Behind Closed Doors, I Take It On Home
and
If It's Alright With You
.
The success of both
I Take It On Home
and
Behind Closed Doors
for Charlie Rich in 1973 led to instant recognition of Kenny's writing abilities. The latter song was named Song Of The Year by the CMA and Kenny also received a Grammy for writing the Best Country Song of 1973. It came as no surprise to find more of Kenny's songs being recorded after his initial breakthrough. What is a little surprising, though, is that the writer has managed to consistently come up with good songs during the past 5 years, providing hit singles and album tracks for Billie Jo Spears, Tanya Tucker, Sandy Posey, Dottie West, Bobby Wright and Kenny Rogers.
A native of Oklahoma, Kenny began writing songs in his early teens and took to music seriously. After graduating from Santa Maria High School in California, he formed his own record label, Mar-Kay Records, named after his parents.
Like all successful songwriters, Kenny O'Dell has always been a frustrated artist, and so far he has made three or four concerted efforts to make it as a singer. The first was back in the early 1960s with the self-penned
Old Time Love
released on the Mar-Kay label. Several hundred copies were pressed and the record did receive some airplay in southern California, but Kenny was still stuck on the bottom rung of the ladder.
Unperturbed by this failure, he worked for a while with Duane Eddy gaining experience along the way before forming a group called Guys and Dolls. This outfit stayed together for some five years playing clubs and hotel lounges throughout the States, including seasons in Hawaii and Alaska.
During this period Kenny continued with his songwriting, and in the early months of 1966 he cut some demos of his creations, including
Beautiful People
. Whilst appearing in Las Vegas, a businessman got to hear Kenny's songs and was suitably impressed. He put up the money for a label, Vegas Records, and the initial release was Kenny's version of
Beautiful People.
A bouncy, infectious, happy-go-lucky song, the record quickly gained some important radio exposure and made it on the American pop charts. Bobby Vee, a well-established pop singer, put out a cover version and took the song into the top twenty, whilst Kenny's version climbed to the middle thirties. At the same time, another of Kenny's songs,
Next Plane To London
, as recorded by Rose Garden, also made it into the charts.
For the next two years Kenny was a pop star. An album, named after his hit single was released containing more of Kenny's songs alongside his interpretations of current pop songs,
Different Drum, Kentucky Woman
and
Massachusetts
. It was a pleasant enough set, but there was not another smash hit forthcoming. After awhile, disillusioned by the bright lights of the pop world, Kenny moved to Nashville to write songs and take over running House Of Gold, Bobby Goldsboro's publishing firm.
It was the best move he was to make in his whole career. He began writing songs, either by himself, or in partnership with Larry Henley, an ex-member of The Newbeats, who scored a notable pop hit with
Bread and Butter
in the early 1960s. One of their initial successes was with
Why Don't We Go Somewhere And Love,
which Kenny recorded for the Kapp label. Billy Sherrill heard the song and cut it with Sandy Posey who took the song into the country charts.
Not a giant hit, but it opened the right doors for Kenny. Sherrill took several more of Kenny's songs, including the superb
I Take It On Home
, the song which was to launch Charlie Rich on his lengthy run on the country charts. Kenny continued recording for the Kapp label and in the summer of 1972 released another self-penned song,
Lizzie And The Rainman
. A compelling, powerful story song, it failed to make much impression on the public, but Phil Walden, President of Capricorn Records, heard the song and persuaded one of his artists, Alex Taylor, to record it.
By this time
Behind Closed Doors
had happened for Charlie Rich and Kenny was so involved in his songwriting that plans for a recording career were forgotten. Eventually, after much persuasion by Walden, Kenny signed a new recording contract with Capricorn, in the early months of 1974. Producing his own records, his initial release was with
You Bet Your Sweet, Sweet Love
, a chirpy little country ballad, well received by everyone, but not strong enough to really establish a 'newcomer'.
That was in the spring and by the autumn of 1974 came the release of an album, KENNY O'DELL. This proved conclusively that O'Dell was a 'country' man, with music that was strong, containing powerful lyrics dealing with everyday life. Many of the songs showed that he had the average American family firmly under the microscope.
Probably the songs were all about his own life. There was a contented feel about much of the material and I got the feeling that Kenny O'Dell was a happy man. When he sang about going straight home after work to his lovely wife, as in
I Take It On Home
, he was voicing the feelings of many ordinary people.
With strong country instrumentation held together by Buddy Emmons' superb steel guitar and augmented by strings laid way back, Kenny sang in a pleasant, if unspectacular way. Perhaps he is not the best interpreter of his own songs, but I've only heard one better version of
Behind Closed
Doors
, and we all know who made that!
Singles like
Soulful Woman, Rock And Roll Man
and
Honky Tonk Ways
all failed to put the Kenny O'Dell name on the country charts as a vocalist, and without a hit record, Kenny's singing career was getting nowhere fast. Once again he turned to songwriting, and the next couple of years saw some impressive achievements. Billie Jo Spears hit the charts with
Too Much Is Not Enough
and
Never Did Like Whiskey
, Tanya Tucker took
Lizzie And The Rainman
to the top of the charts, and
When It's Just You And Me
marked Dottie West's debut on United Artists and a return to the country charts. And that was only a few of Kenny's successes.
But he was still hankering after success as a singer, and his contract with Capricorn still had some time to run. The summer of 1978 saw Kenny make another bid at stardom, and this time he made the grade with
Let's Shake Hands And Come Out Lovin'
. A self-penned, mid-tempo ballad, the ingredients were just right and Kenny found himself climbing the country charts for the first time. Enthused by this success, he decided to put all his efforts into a singing career, and started working on a follow-up single and a second Nashville-produced album.
The album, named after the single, was released in October. A self-produced effort, it featured seven new performances alongside three songs,
Soulful Woman, Behind Closed Doors and I Take It On Home
from his first Capricorn album. Most of the material is determinedly optimistic, with just enough broken love complaints to keep the package from becoming overly syrupy. The music is easy-going, without being dull and makes for enjoyable listening.
As Long As I Can Wake Up In Your Arms
is another lyrical love song, similar to
I Take It On Home
and one of the most thoroughly enjoyable songs that Kenny has written. The future is already secure for Kenny O'Dell as a songwriter, and this album should open the doors for him as a country singer to watch.