Kennedy-Rose - Sounds Familiar - Safe In The Arms Of Love
First Published in Country Music International – April 1996
Tracing the history of those country songs that keep coming back time and time again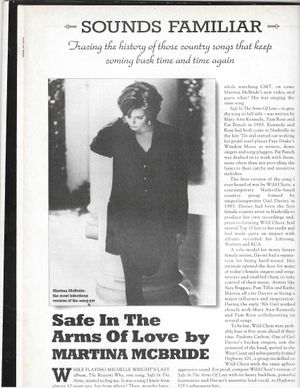 While playing Michelle Wright's last album, THE REASONS WHY, one song, Safe In The Arms, started to bug me. It was a song I knew from almost ten years ago, but from where? Then, months later, while watching CMT, on came Martina McBride's new video, and guess what? She was singing the same song.
Safe In The Arms Of Love—to give the songs its full title—was written by Mary Ann Kennedy, Pam Rose and Pat Bunch in 1983. Kennedy and Rose had both come to Nashville in the late 1970s and started out working for pedal steel player Pete Drake's Window Music as writers, demo singers and song-pluggers. Pat Bunch was drafted in to work with them, more often than not providing the lyrics to their catchy and inventive melodies.
The first version of the song I ever heard of was by Wild Choir, a contemporary Nashville-based country group formed by singer-ongwriter Gail Davies in 1985. Davies had been the first female country artist in Nashville to produce her own recordings and, prior to forming Wild Choir, had several Top 10 hits to her credit and had made quite an impact with albums recorded for Lifesong, Warners and RCA.
A role model for many future female artists, Davies had a reputation for being hard-nosed. Her attitude opened the door for many of today's female singers and songwriters and enabled them to take control of their music. Artists like Suzy Boggus, Pam Tillis and Kathy Mattea all cite Davies as being a major influence and inspiration. During the early 1980s Gail worked closely with Mary Ann Kennedy and Pam Rose collaborating on several songs.
To be fair, Wild Choir were probably four or five years ahead of their time. Paulette Carlson, one of Gail Davies' backup singers, saw the potential of the band, moved to the West Coast and subsequently formed Highway 101, a group modelled on Wild Choir with the same upbeat aggressive sound. For proof, compare Wild Choir's version of Safe In The Arms Of Love with its heavy backbeat, powerful harmonies and Davies' assertive lead vocal, to Highway 101's subsequent hits.
Although there were plans for Wild Choir to release the song as a single, RCA were heavily involved with other artists and the proposed single was forgotten. In the meantime, a 22-year-old singer called Robin Lee, signed to the small independent Evergreen Records, recorded the song and made it to number 44 on the country charts in 1986. Compared to Wild Choir, Lee's version was a soft, almost tender rendition.
That should have been the end of the line for the song. But it wasn't. Mary Ann Kennedy and Pam Rose continued as successful country songwriters, and have now penned hits for everyone from Lee Greenwood through to Blackhawk, as well as working as in-demand session singers. In 1988 they decided to work as a duo, Kennedy Rose, but outside of the country mainstream. They signed with the small Pangaea label and have since recorded two albums and toured with pop singer Sting.
WALK THE LINE, the second of the Kennedy Rose albums, contained their own version Safe In The Arms (as it was now known). There's was a pop-flavoured version, turning the song into a wickedly catchy ditty carried along by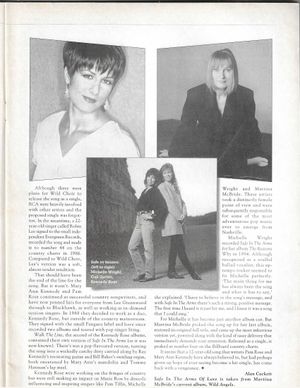 Ray Kennedy's resonating guitar and Bill Baker's swirling organ, both sweetened by Mary Ann's mandolin and Tommy Hannum's lap steel.
Kennedy Rose were working on the fridges of country but were still making an impact on Music Row by directly influencing and inspiring singers like Pam Tillis, Michelle Wright and Martina McBride. These artists took a distinctively female point of view and were subsequently responsible for some of the most adventurous pop music ever to emerge from Nashville.
Michelle Wright recorded Safe In The Arms for her album THE REASONS WHY in 1994. Although recognised as a soulful ballad vocalist, this up-tempo rocker seemed to fit Michelle perfectly. "The main thing for me has always been the song and what it has to say," she explained. "I have to believe in the song's message, and with Safe In The Arms there's such a strong, positive message. The first time I heard it, it just hit me, and I knew it was a song that I could sing."
For Michelle it has become just another album cut. But Martina McBride picked the song up for her last album, restored its original full title, and came up the most infectious version yet, powered along with the kind of sassy delivery that immediately demands your attention. Released as a single, it peaked at number four on the Billboard country charts.
It seems that a 12-year-old song that writers Pam Rose and Mary Ann Kennedy have always believed in, but had perhaps given up hope of ever seeing become a hit single, has come back with a vengeance.