Kelvin Henderson - West Country
First published in Country Music International, March 1996
Kelvin Henderson's latest album was glowingly described in these pages as 'on a par with anything coming out of Nashville,' and the man himself is not about to disagree. Alan Cackett tracks down one of British Country's leading lights
A casual observer might best describe Kelvin Henderson as a hard-working road act, and they wouldn't be far off the mark. Henderson has been touring the British club circuit for more than 25 years and has more than paid his dues. Here is a man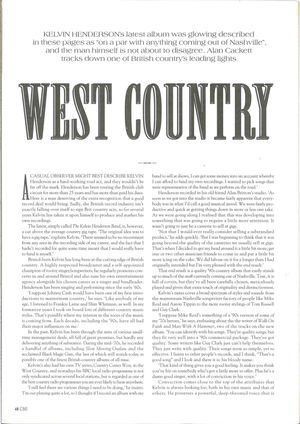 deserving of the extra recognition that a good record deal would bring. Sadly, the British record industry isn't exactly falling over itself to sign Brit country acts, so for several years Kelvin has taken it upon himself to produce and market his own recordings.
The latest, simply called THE KELVIN HENDERSON BAND, is, however, a cut above the average country gig tape. "The original idea was to have a gig tape," explains Kelvin. "There seemed to be no investment from any area in the recording side of my career, and the fact that l hadn't recorded for quite some time meant that I would really have to fund it myself."
Bristol-born Kelvin has long been at the cutting edge of British country. A highly respected broadcaster and a self-appointed champion of rootsy singer-songwriters, he regularly promotes concerts in and around Bristol and also runs his own entertainment agency, alongside his chosen career as a singer and band leader. Henderson has been singing and performing since the early 1960s.
"I suppose Johnny Cash would have been one of my first introductions to mainstream country," he says. "Like anybody of my age, I listened to Frankie Laine and Slim Whitman, as well. In my formative years I took on board lots of different country music styles. Thaťs possibly where my interest in the roots of the music is coming from. Each decade, including the 1990s, have all had their major influences on me."
In the past, Kelvin has been through the mire of various small-time management deals, all full of great promises, but hardly any delivering anything of substance. During the mid-1970s, he recorded a handful of albums, including SLOW MOVING OUTLAW and the acclaimed BLACK MAGIC GUN, the last of which still stands today as possibly one of the finest British country albums of all time.
Kelvin's also had his own TV series, Country Comes West, in the West Country, and nowadays his BBC local radio programme is not only syndicated across several local stations, but is regarded as one of the best country radio programmes you are ever likely to hear anywhere.
"I still feel there are various things I need to be doing," he insists. "I'm out playing quite a lot, so I thought if I record an album with my band to sell at shows, I can get some money into an account whereby I can afford to fund my own recordings. I wanted to pick songs that were representative of the band as we perform on the road."
Henderson recorded in his old friend Alan Britton's studio. "As soon as we got into the studio it became fairly apparent that everybody was in what I'd call a good musical mood. We were fairly productive and quick at getting things down in more or less one take. As we were going along I realised that this was developing into something that was going to require a little more attention. It wasn't going to just be a cassette to sell at gigs."
"Not that I would ever really consider selling a substandard product," he adds quickly. "But l was beginning to think that it was going beyond the quality of the cassettes we usually sell at gigs. That's when I decided to get my head around it a little bit more; get one or two other musician friends to come in and put a little bit more icing on the cake. We did labour on it for longer than I had originally intended but I'm very pleased with the end result."
That end result is a quality 1990s country album that easily stands up to much of the stuff currently coming out of Nashville. True, it is full of covers, but they've all been carefully chosen, meticulously played and given that extra touch of originality and distinctiveness.
Kelvin's tastes cover a broad spectrum of styles and sounds: from the mainstream Nashville songwriter factory of people like Mike Reid and Aaron Tippin to the more rootsy stylings of Tom Russell and Guy Clark.
"I suppose Mike Reiďs something of a 1990s version of some of my 1970s heroes," he says, enthusing about the writer of Walk On Faith and Man With A Hammer, two of the tracks on the new album. "You can identify with his songs. They're quality songs, but they fit very well into a 1990s commercial package. They've got quality. Some writers like Guy Clark just can't help themselves. They just write with quality. Their songs seem so simple, yet so effective. I listen to other people's records, and I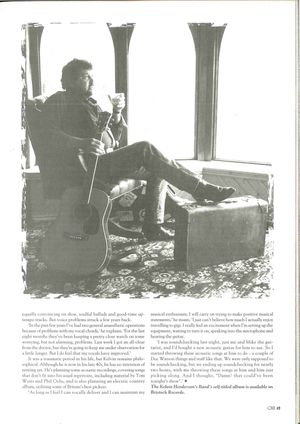 think: 'Thaťs a good song' and I look and there it is: his bloody name."
"That kind of thing gives you a good feeling. It makes you think you've hit on somebody who's got a little more to offer. Plus, he's a damn good singer, with a lot of conviction in his voice."
Conviction comes close to the top of the attributes that Kelvin is always looking for; both in his own music and that of others. He possesses a powerful, deep-throated voice that is equally convincing on slow, soulful ballads and good-time up-tempo tracks. But voice problems struck a few years back.
 "In the past few years I've had two general anaesthetic operations because of problems with my vocal chords," he explains. "For the last eight months they've been keeping a pretty close watch on some worrying, but not alarming, problems. Last week I got an all-clear from the doctor, but they're going to keep me under observation for a little longer. But I do feel that my vocals have improved."
It was a traumatic period in his life, but Kelvin remains philosophical. Although he is now in his late 40s, he has no intention of retiring yet. He's planning some acoustic recordings, covering songs that don't fit into his usual repertoire, including material by Tom Waits and Phil Ochs, and is also planning an electric country album, utilising some of Britain's best pickers.
"As long as I feel I can vocally deliver and I can maintain my musical enthusiasm, I will carry on trying to make positive musical statements," he insists. "I just can't believe how much I actually enjoy travelling to gigs. I really feel an excitement when I'm setting up the equipment, waiting to turn it on, speaking into the microphone and hearing the guitar."
"I was sound-checking last night, just me and Mike the guitarist, and I'd bought a new acoustic guitar for him to use. So I started throwing these acoustic songs at him to do—a couple of Doc Watson things and stuff like that. We were only supposed to be sound-checking, but we ended up sound-checking for nearly two hours, with me throwing these songs at him and him just picking along. And I thought: 'Damn! that could've been tonight's show'."