First published in Country Music People, January 1978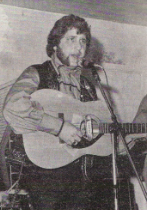 Kelvin Henderson, from Bristol, has become one of the most respected artists on the Britsih scene. For the last five years he has toured continously with his Country Band, slowly building up a reputation in the clubs with a good, solid country sound all of his own.
He has always seemed to me to exemplify the great unfulfilled of British country music. From the early days of the formation of his first band in Britain right up to his present band and his highly acclaimed album, BLACK MAGIC GUN, Kelvin has produced music of a high quality.
Necessity, as the proverb says, is the mother of invention, and few are more aware of it than Henderson. He would love to feature more of the contemporary country songs that he enjoys in his act, but knows that the fans will only go home happy on a diet of well-known Johnny Cash, Jim Reeves and Charley Pride songs.
As Kelvin explains: "I love to play the country clubs and there's no doubt that some of the better clubs are more open-minded to the contemporary songs. We manage to get away with featuring five or six songs off the new LP, and none of those could be termed well-known standards."
Henderson isn't the world's greatest singer, but he does have a certain straightforward honesty and guts, qualities at a premium nowadays. He is equally at home on the soft ballads of Don Williams or the raunchy, up-tempo tunes of Delbert McClinton and Ray Rylie Hubbard.
His musical background is diverse, taking in folk and blues by people like Woody Guthrie and Ramblin' Jack Elliott, leading through rock'n'roll courtesy of Carl Perkins and early Presley to country music, beginning with bluegrass music.
During the mid-1960s he worked with Dave Gould, a five-string banjo player. A few months in Ireland in 1966 led to work with the Cotton Mill Boys, who enjoyed a string of big country hits in Ireland's pop charts, and more recently have been winners on Hughie Green's Opportunity Knocks.
The following year found Kelvin touring Europe and eventually ending up in Sweden, a married man and leader of a country group consisting of Swedish musicians. In the two years he spent in Sweden he made two albums for Polydor and has recently been invited back to make another.
"I feel the two Swedish albums were good for the time, and feel disappointed that they were never released in Britain." Kelvin elaborated: "The second one was recorded just a matter of days before my return to Britain. The master was sent over to Polydor in London, but they were not really interested. Others like Murray Kash and Mervyn Conn showed interest, but it all turned out to be unfulfilled promises. Now of course it is all too late."
With his return to Bristol Kelvin set about forming a band. Calling upon his old friend, Dave Gould, who doubled on bass and banjo and adding a lead guitar and drums, they played initially in clubs around Bristol before taking to the road.
Through the years some outstanding musicians have graced the Kelvin Henderson band. Lead guitarist Stewart Barnes is one who springs to mind. Now a member of Jeannie Denver's J.D. Band, he is one of our finest lead pickers. Ian Lawrence, ex-Shakin' Stevens, another lead man who also doubled on steel was quite an asset for eighteen months or so. Throughout, Dave Gould has remained faithful to Kelvin's cause and could rightly be termed his right-hand man.
The band has toured extensively with American country stars like Slim Whitman, Jimmy Payne and Vernon Oxford and have appeared twice at the Wembley Country Music Festival. Yet Kelvin still feels a little bitter at the way British country acts are treated by both promoters and country clubs.
"To me it is all wrong that some unknown American performer who is some distant relation to a major star should get preferential treatment from clubs. The clubs are quite prepared to pay a much higher fee to an artist who has no reputation and quite often little talent. Yet they will quibble about the fees paid to a four or five piece British band. And it is these British bands that work the clubs week in week out."
He has a point, yet Kelvin is still very happy to be part of the British country scene. Many people have expressed doubts about the validity of British country music, but it is no less valid than the work of the British blues bands of the mid-1960s.
Many of the country bands and singers are evolving original styles of their own, and it can only be a matter of time before both the British music industry and the man on the street takes notice.
1977 was the year that marketed Kelvin Henderson's successful attempts at re-establishing himself in the forefront of British country music. Throughout the previous years he seemed to be lying low and doing nothing. Happily now he is back with a new band. Dave Gould on bass remains from the old band and he's recruited Derek Thurlby on lead and steel guitar and Kenny Green on drums.
"I feel that in 1976 I was stagnant. The band was not really what I wanted and I never seemed able to progress. Now this is all changed. I have high hopes of the album and the band, now, is the best I think I've had," Kelvin explains optimistically.
They are an appealing team and acquit themselves well on low-key numbers, while really excelling on kick-out-the-jams boogie-ing music. They have been hailed by many fellow musicians and now the country public at large is beginning to appreciate their simplistic energy and cheerful approach to the art of propagating good country music.
Kelvin is a throaty, deep-down soulful singer who hits hard with fine contemporary material from the pens of Guy Clark, Bob McDill and Willie Nelson. His vocals are on the rough and homespun side, displaying more enthusiasm than stylistic accomplishment, but this is not an intrinsic disadvantage for the kind of country he is best at.
He can handle ballad material equally well with his deep, rich, vibrant voice putting the listener in a comfortable groove. If you believe that ballads can be exciting, then Kelvin is a master of interior dynamics.
His first album to be made in Britain was titled simply the KELVIN HENDERSON COUNTRY BAND and released on the Westwood label in the summer of 1974. It received a mixed reception, which was not too surprising as the repertoire was broad ranging from Charlie Poole's
Didn't He Ramble
through to Waylon Jennings'
Ladies Love Outlaws
.
You had a full spectrum of country music and Kelvin was perfectly at ease with the differing styles. Like so many British productions, it suffered from too short a time in the studio, a fate that was partially righted on his second effort, SLOW MOVIN' OUTLAW for Windmill Records in 1975, and was fully corrected for his third album, BLACK MAGIC GUN released by Checkmate in the autumn of 1977.
With songs ranging from Tom T. Hall's
Pamela Brown
to Guy Clark's
L.A. Freeway
, every facet of the latter day Nashville writers is in evidence. The band sounds as warm, uncluttered and imaginative as ever and on this album there are many tracks that I really like.
It is an album that shows that with thought, careful planning and the right budget to allow time in the studio, a British band can come up with a superlative country album.
Last autumn Kelvin Henderson fulfilled a long-standing ambition to visit the States. It was a working holiday enabling him to meet up with old friends like Jimmy Payne and catch up with the work of songwriters like Jim Glaser, Bill Holmes and Wayne Marshall. But most important it enabled him to soak up the atmosphere of being around creative and successful people in country music.
Whilst in the States he made guest appearances on several important radio and television shows. Many will throw up their arms and ask what is the point of taking coals to Newcastle. With Kelvin Henderson it was a case of an original and talented artist taking his skills to Nashville, picking up useful points and building up a reputation that can only help to gain confidence and respect for the British scene.
A confidence and respect that is sadly still lacking within Britain itself, from both the fans' point and from the business people who control the scene, and continue to ignore a wealth of untapped, home grown talent.