Keith Whitley - The Last Word
First published in Country Music International, January 1996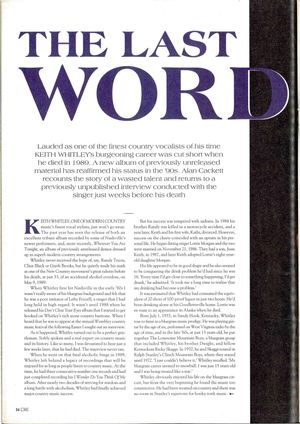 Lauded as one of the finest country vocalists of his time Keith Whitley's burgeoning career was cut short when he died in 1989. A new album of previously unreleased material has reaffirmed his status in the 1990s. Alan Cackett recounts the story of a wasted talent and returns to a previously unpublished interview conducted with the singer just weeks before his death.
Keith Whitley, one of modern country music's finest vocal stylists, just won't go away. The past year has seen the release of both an excellent tribute album recorded by some of Nashville's newer performers, and, more recently, WHEREVER YOU ARE TONIGHT, an album of previously unreleased demos dressed up in superb modern country arrangements.
Whitley never received the hype of, say, Randy Travis, Clint Black or Garth Brooks, but he quietly made his mark as one of the New Country movement's great talents before his death, at just 33, of an accidental alcohol overdose, on May 9, 1989.
When Whitley first hit Nashville in the early 1980s I wasn't really aware of his bluegrass background and felt that he was a poor imitator of Lefty Frizzell, a singer that I had long held in high regard. It wasn't until 1988, when he released his DON'T CLOSE YOUR EYES album that I started to get hooked on Whitley's rich stone country baritone. When I heard that he was to appear at the annual Wembley country music festival the following Easter I sought out an interview.
As it happened, Whitley turned out to be a perfect gentleman. Softly spoken and a real expert on country music and its history. Like so many, I was devastated to hear just a few weeks later, that he had died. The interview never ran.
When he went on that fatal alcoholic binge in 1989, Whitley left behind a legacy of recordings that will be enjoyed for as long as people listen to country music. At the time, he had three consecutive number one records and had just completed recording his I WONDER DO YOU THINK OF ME album. After nearly two decades of striving for stardom and a long battle with alcoholism, Whitley had finally achieved major country music success.
But his success was tempered with sadness. In 1984 his brother Randy was killed in a motorcycle accident, and a year later, Keith and his first wife, Kathi, divorced. However, success on the charts coincided with an upturn in his personal life. He began dating singer Lorrie Morgan and the two were married on November 21, 1986. They had a son, Jesse Keith, in 1987, and later Keith adopted Lorrie's eight-year old daughter Morgan.
His life appeared to be in good shape and he also seemed to be conquering the drink problem he'd had since he was 16. "Every time I'd get close to something happening, I'd get drunk," he admitted. "It took me a long time to realise that my drinking had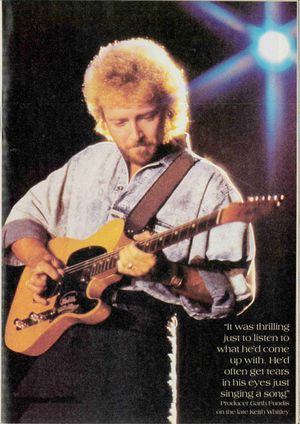 become a problem."
It was estimated that Whitley had consumed the equivalent of 20 shots of 100-proof liquor in just two hours. He'd been drinking alone at his Goodlettsville home. Lorrie was en route to an appearance in Alaska when he died.
Born July 1, 1955, in Sandy Hook, Kentucky, Whitley rose to fame as a bluegrass music prodigy. He was playing guitar by the age of six, performed on West Virginia radio by the age of nine, and in the late 1960s, at just 13 years old, he put together The Lonesome Mountain Boys, a bluegrass group that included Whitley, his brother Dwight, and fellow Kentuckian Ricky Skaggs. In 1970, he and Skaggs toured in Ralph Stanley's Clinch Mountain Boys, where they stayed until 1972. "I just couldn't believe it," Whitley recalled. "My bluegrass career seemed to snowball. I was just 15 years old and I was being treated like a star."
Whitley obviously enjoyed his life on the bluegrass circuit, but from the very beginning he found the music too constrictive. He had been weaned on country and there was no room in Stanley's repertoire for honky-tonk music.
In 1973 Whitley's persistent interest in country and his need to stretch himself creatively, led to him forming his own band, The New Tradition (later known as the Country Store).
Keith and his band played the same kind of venues that he had played with Ralph Stanley, but his fusion of country and bluegrass was a little ahead of its time, and the dates didn't exactly flood in. So in 1975 Keith returned to the Clinch Mountain Boys as lead singer. He toured steadily with Stanley through to 1976, then joined J.D. Crowe & The New South, a country/bluegrass fusion act, as their lead singer at the age of 21.
"I learned a lot from Ralph Stanley, he was a real good teacher," Whitley explained, "but the road work was real tough. We had to stay in cheap motels, four or five to a room, and often we'd travel five or six hundred miles between dates. I guess that was when I started to drink. We all did, but when I hit that bottle, I didn't stop until it was all gone."
Keith remained in Crowe's band throughout the rest of the 1970s, gradually developing a honky-tonk singing style that compared favourably with Lefty Frizzell, George Jones and Merle Haggard. When the Crowe band recorded its SOMEWHERE BETWEEN album for Rounder in 1980, they turned it into a showcase for Whitley's yearning, mournful voice and brought him to the attention of the mainstream country community. Whitley moved to Nashville in 1983 and began working as a songwriter and demo singer prior to being signed to RCA.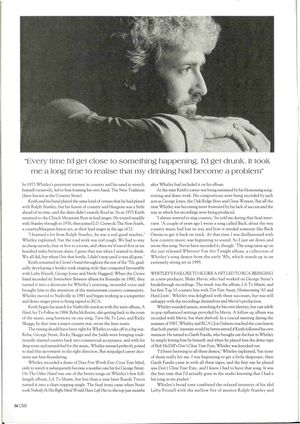 Keith began his search for Nashville stardom with the mini-album, A HARD ACT TO FOLLOW in 1984. Reba McEntire, also getting back to the roots of the music, sang harmony on one song, Turn Me To Love, and Ricky Skaggs, by that time a major country star, wrote the liner notes.
The timing should have been right for Whitley to take off in a big way. Reba, George Strait, Ricky Skaggs and the Judds were bringing traditionally slanted country back into commercial acceptance, and with his deep roots and natural feel for the music, Whitley seemed perfectly poised to lead this movement in the right direction. But misjudged career decisions saw him floundering.
Whitley recorded a demo of Does Fort Worth Ever Cross Your Mind, only to watch it subsequently become a number one hit for George Strait. On The Other Hand was one of the better songs on Whitley's first full length album, LA TO MIAMI, but less than a year later Randy Travis turned it into a chart-topping single. The final irony came when Strait took Nobody In His Right Mind Would Have Left Her to the top just months after Whitley had included it on his album.
At the time Keith's career was being sustained by his blossoming songwriting and demo work. His compositions were being recorded by such acts as George Jones, the Oak Ridge Boys and Gene Watson. But all the time Whitley was becoming more frustrated by his lack of success and the way in which his recordings were being produced.
"I always wanted to sing country," he told me during that final interview. "A couple of years ago I wrote a song called Buck, about the way country music had lost its way and how it needed someone like Buck Owens to get it back on track. At that time I was disillusioned with how country music was beginning to sound. So I just sat down and wrote this song. Never have recorded it, though."  The song turns up on the just released WHEREVER YOU ARE TONIGHT album, a collection of Whitley's song demos from the early 1980s, which stands up as an extremely strong set in 1995.
Whitley's failure to score a hit led to RCA bringing in a new producer, Blake Mevis, who had worked on George Strait's breakthrough recordings. The result was the album, LA TO MIAMI, and his first Top 10 country hits with Ten Feet Away, Homecoming '63 and Hard Livin'. Whitley was delighted with these successes, but was still unhappy with the recordings themselves and Mevis' production.
Whitley sounded unsure, searching for his own identity, but cast adrift in pop-influenced settings provided by Mevis. A follow-up album was recorded with Mevis, but then shelved. In a crucial meeting during the summer of 1987, Whitley and RCA's Joe Galante reached the conclusion that both parties' interests would be better served if Keith followed his own instincts. He turned to Garth Fundis, who brought out the best in Whitley by simply letting him be himself, and when he played him the demo tape of Bob McDill's Don't Close Your Eyes, Whitley was knocked out.
"I'd been listening to all these demos," Whitley explained, "but none of them really hit me. I was beginning to get a little desperate, then Garth Fundis came in with all these tapes, and the first one he played was Don't Close Your Eyes, and I knew I had to have that song. It was the first time that I'd actually gone in the studio knowing that I had a hit song in my pocket."
Whitley's broad tone combined the relaxed intensity of his idol Lefty Frizzell with the mellow fire of mentor Ralph Stanley and brother Carter's classic harmonies. Don't Close Your Eyes provided the sort of commercial breakthrough that Keith Whitley's talent had long deserved. The single steadily climbed to the top of the charts in the summer of 1988 and the album was hailed by both critics and fans alike.
The ghost of Lefty Frizzell had long hung over the music of Whitley and it was fitting that he should include one of his songs on this career album. He selected I Never Go Around Mirrors, a song that Frizzell had co-written with Whitey Shafer in the mid-1970s. Whitley had previously recorded the song on the J. D. Crowe & The New South album, SOMEWHERE BETWEEN. Prior to the recording, Fundis had passed comment that the song was too short. Whitley talked to songwriter Whitey Shafer and coaxed him into writing a new verse for it. Allen Frizzell, Lefty's younger brother, sang back-up on the recording, and Whitley even went out to the Tennessee cemetery where Frizzell was buried, to reverently read the new lyrics over his grave, before going back to Nashville to record the song.
Lefty's sound has been the dominant force in commercial country music since the early 1960s. Some newer artists, like Randy Travis and Keith Whitley, openly acknowledged their debt to Frizzell, but most of today's artists are part of a third generation who have probably absorbed more Haggard, Strait and Whitley than pure unadulterated Frizzell.
"I never realised what a great singer Keith was until we went in the studio together," reflects producer Fundis. "He was just incredible. He could do things with his voice that nobody else could do. It was thrilling just to listen to what he'd come up with when I'd hit the record button. Sometimes I'd just get goose bumps. When Keith had the right song and was singing it, there was absolutely nothing else on his mind. He'd often get tears in his eyes, just singing a song over and over. We only knew each other and worked together for a year and a half, but I think we accomplished a lot."
Whitley followed his chart-topping Don't Close Your Eyes with further number ones in When You Say Nothing At All and I'm No Stranger To The Rain as he stepped over the threshold on his way to what should have been a mammoth career.
At the same time Lorrie Morgan's career also moved up a notch. Having been around the country music scene since childhood, Morgan had recorded unsuccessfully for Hickory, MCA and Four Star prior to landing on RCA in 1988 and scoring her first Top 20 hit with Train Wreck Of Emotion early the next year.
When Whitley was in England for the Wembley show he had almost completed work on a new album, I WONDER DO YOU THINK OF ME, and was obviously pleased with the way it was turning out. "We've laid down most of the tracks," he explained. "When we get back home it's back in the studio just to do a few overdubs and the final mix. I'm hoping to have the album out for this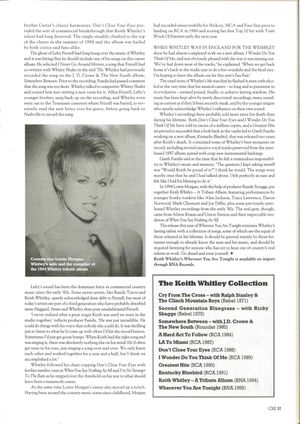 year's Fan Fair."
The cruel irony of Whitley's life was that he flushed it away with alcohol at the very time that his musical career—so long and so persistent in its evolution—seemed poised, finally, to achieve lasting stardom. His music has been kept alive by newly discovered recordings, many sounding as current as if they'd been recently made, and by the younger singers who openly acknowledge Whitley's influence on their own sound.
Whitley's recordings have probably sold more since his death than during his lifetime. Both DON'T CLOSE YOUR EYES and I WONDER DO YOU THINK OF ME have sold in excess of a million copies, and a GREATEST HITS set proved so successful that a look back in the vaults led to Garth Fundis working on a new album, KENTUCKY BLUEBIRD, that was released two years after Keith's death. It contained some of Whitley' best moments on record, including several emotive vocal tracks preserved from the unreleased 1987 album, paired with crisp new instrumental backings.
Garth Fundis said at the time that he felt a tremendous responsibility to Whitley's music and memory. "The question I kept asking myself was: 'Would Keith be proud of it?' I think he would. The songs were mostly ones that he and I had talked about. I felt perfectly at ease and felt like I had his blessing to do it."
In 1994 Lorrie Morgan, with the help of producer Randy Scruggs, put together KEITH WHITLEY: A TRIBUTE ALBUM, featuring performances by younger honky-tonkers like Alan Jackson, Tracy Lawrence, Daron Norwood, Mark Chesnutt and Joe Diffie, plus some previously unreleased Whitley recordings from the early 1980s. The real gem, though, came from Alison Krauss and Union Station and their impeccable rendition of When You Say Nothing At All.
The release this year of WHEREVER YOU ARE TONIGHT reiterates Whitley's lasting talent with a collection of songs, some of which are the equal of those released in his lifetime. It should be greeted warmly by those fortunate enough to already know the man and his music and should be required listening for anyone who has yet to hear one of country's real talents at work. Go ahead and treat yourself.
The Keith Whitley Collection:
Cry From The Cross - with Ralph Stanley & The Clinch Mountain Boys (Rebel 1971)
Second Generation Bluegrass - with Ricky Skaggs (Rebel 1975)
Somewhere Between - with J.D. Crowe & The New South (Rounder 1980)
A Hard Act To Follow (RCA 1984)
LA To Miami (RCA 1987)
Don't Close Your Eyes (RCA 1988)
I Wonder Do You Think Of Me (RCA 1989)
Greatest Hits (RCA 1990)