First published in Country Music People, October 1979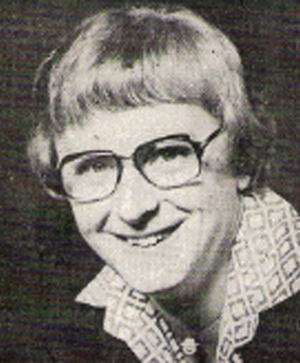 Keith Manifold is the typical British country singer. He began his musical career working in folk clubs graduating to country music through working men's clubs and the usual country club circuit. Now with ten years solid experience behind him he is a contented person who is more than happy with his present position on the scene.
It certainly makes a change to meet a British country artist who does not complain about the scene and the apparent lack of opportunities. As far as country fans are concerned, Keith is one of our most popular artists, but like so many of our homegrown 'stars', he is virtually unknown outside of the 'scene'. That's not to say he hasn't been successful. A successful appearance on Opportunity Knocks, two albums for a major label (including one recorded in Nashville), a spot at Wembley plus numerous radio and television appearances have steadily built his name. But without the support of the media, Keith is destined to remain simply 'a British country singer', a tag he seems very happy to wear.
He was born in Biggin, Derbyshire in 1947, but didn't become interested in country music until he was about sixteen years old. After leaving school he tried a variety of jobs including working in the building trade, farming and a spell as a milkman. Music was becoming more and more important in Keith's life and spells playing pop music in local folk clubs and pubs. This led along the path to country music and Keith's emergence as one of our top yodellers.
"I wasn't always a yodeller," he explained. "I discovered it quite by accident listening to Slim Whitman. I heard him singing
China Doll
, and thought it would be good if I could sing that way. It took months of practise and to begin with I was pretty bad, but eventually I was able to yodel more and more."
Is yodelling a gimmick, I asked. "Well yes, I guess it is, but it's not a thing you can just learn. You are either a born yodeller or you just cannot yodel at all," Keith answered. "I could yodel and it's done me a lot of good. I don't yodel so much now as I used to, but audiences do expect me to, and I feel I owe it to my fans to give them what they want."
It was of course Keith's ability to yodel so well that led to him appearing on ITV's Opportunity Knocks in January in 1974. He was introduced as the 'Yodelling Milkman', a tag that is almost forgotten today, Keith is pleased to say.
"At the time, appearing on Opportunity Knocks was the highlight of my career. I came second to Lena Zavaroni, by only a handful of votes and the exposure did me a lot of good. Before that I was mainly working only on a local basis, suddenly I found I was in demand all over the country."
Keith's television appearance also gave him the chance to record, a facet of his career which he firmly believes is as important as his busy personal appearance schedule.
"I have to thank Gordon Davies of Westwood Records for helping me with recording. My first album was recorded in March 1974 and though it was made in poor studio conditions, I was happy with the way things turned out."
Titled I'M CASTING MY LASSO, it's sometimes hard to believe when listening to this LP that Keith has not made a handful of records. There was none of that first album hesitancy. Among the tracks was a sensitive reading of
The Old Spinning Wheel
and the Jimmie Rodgers classic
Waiting For A Train
. Westwood were obviously pleased with the sales, and during the next two years they released a further four albums by Keith.
"I think out of all the albums released by Westwood, my albums have proved to be their biggest sellers. It would be true to say that the quality was not perfect, but considering the studio limitations, I feel pleased with them."
The beginning of 1975 Keith returned to Opportunity Knocks for the special Songwriter's edition and scored further success with
Who's Gonna Bring Me Laughter
, a song penned by Wally Napper. This led to DJM Records showing an interest in Keith.
"Dick James was in the audience when I did the Songwriters' thing on Opportunity Knocks and after the show he asked if I had a recording contract. He was keen to sign me to DJM and I pointed out that if something could be worked out with Gordon and Westwood, then I would be happy to sign with him."
An agreement was reached with Westwood and Keith's first single for DJM was with the song he had performed so successfully on the Songwriters' show. His signing with DJM coincided nicely with that company's involvement with country music through a licensing agreement with Hickory Records of Nashville. For two years DJM was heavily committed to country music and there's no doubt that this helped considerably boost the career of the young Derbyshire vocalist.
Another single,
Yodelling Granny
, written by another British songwriter, Scott, preceded Keith's initial album for DJM, INHERITANCE. This was recorded at DJM's London studios utilising some of Britain's finest studio musicians like Pete Willsher, Keith Nelson, Barry Da Souza and Les Thatcher. Production-wise this was a vast improvement on the Westwood albums.
"With the improved studio conditions I felt much more comfortable than with the Westwood sessions," Keith explained. "Before I was always conscious of the budget, now with a larger studio it seemed there was time to get everything right and yes the album turned out well!"
The people at DJM seemed pleased with Keith's development and for his next album they packed him off to Nashville where he was able to work with some of the top musicians in country music. This was a dream come true for Keith and he talks with great pride of his experiences in Nashville.
"I was obviously nervous at the thought of recording in Nashville. Before the session I met Ray Baker who was to be my producer. He used to be Jim Reeves' business manager. Well he showed me the line-up of musicians who were to work with me on the sessions. I just couldn't believe the names I was reading—Charlie McCoy, Johnny Gimble, Weldon Myrick—they were my heroes, my idols, and now I was going to work with them!"
"Ray noticed the disbelief on my face and gave me some good advice, he said: 'don't forget these guys are working for you, you are the star, don't let their reputations diminish what you are about to do.'"
Keith overcame his initial shock and settled down to record a highly presentable modern country album. I asked him who had the final say in the choice of material for the album.
"The choice of songs was my own," Keith answered proudly. "I had the chance to record a few oldies, favourites of mine I'd never recorded before with the best musicians in the world. Also I picked out some new songs which I thought were good. I guess my favourite from the album is
Ain't We Lucky Babe
, a Dallas Frazier song."
Nobody would be foolish enough to say that Keith's Nashville album was a classic, but it was a fair representation of what the young Englishman could come up with given the right material and perfect studio conditions. Having worked in Nashville, a dream come true for any aspiring English country artist, I asked Keith what it had been like returning to the British scene.
"It was very much a case of coming down to earth with a bang," he replied. "My first gig was at a place in Wales. As soon as I stepped off the plane I had work lined up so I had no time to really think about what I had done. I played this place in Wales, and it was one of the worst gigs in my career. The audience were really difficult, but that only made me want to work harder, I became more determined."
Having been to Nashville, recorded with some of the top musicians, you would assume that Keith would still be hankering after the big star status that bites every struggling performer, but talking to him, I gained the impression that here is a man who is more than happy with the niche he has carved for himself on the British country scene. That's not to say that he is lacking in ambition. He is striving to better himself, but admits that within British country music there is not much chance for him to become a well-known personality.
During his professional career he has suffered several setbacks and certainly the biggest was when DJM decided to drop him from their roster of artists. The decision was not made because he had been a failure. Having made substantial investment in country music, DJM found that it was not the instant money-spinner they were looking for, so as a policy decision they decided to curtail all of their country music activities.
"It was a shock being dropped by DJM, but the final agreement was all very friendly. They could have hung on to my contract, this would have prevented me from my recording for quite some time. But they were quite happy to let me go and allow me to record for Westwood again."
DJM's problem was one that has faced all British record companies, and so far not one has come to terms with the problem. Country music is unlikely to sell overnight. Most country albums are what the trade call 'catalogue material,' and if the British companies copied their American counterparts they would have much more success. Country albums in the States stay on the catalogue for five, ten and even twenty years. In Britain the companies delete an album within two or three years, never getting back the long-term investment that has been made. DJM were just too impatient with the country market, the same way they have also approached jazz and folk music.
Keith once again joined forces with Gordon Davies and Westwood Records. Now the Welsh label had much improved studio facilities and were able to offer Keith the kind of studio conditions he needed. His latest album REMEMBERING, was released in the spring, and though I have reservations in the choice of some of the material and the interpretations, I must admit that this album has Keith on the right track. Some of our finest musicians like lead guitarist Stewart Barnes and multi-instrumentalist Slim Pickins join the Morecambe-based band White Line Fever in giving Keith a fine instrumental and vocal base to work from.
"I have worked several times with White Line Fever during the past months and I consider them to be one of the best bands around," Keith stated. "They are all under twenty, yet have great instrumental ability and are also fine singers. We worked a few things out prior to the sessions and everything just came together so well in the studios."
To most people moving from a major label to a small independent concern like Westwood would seem to be a retrograde step, but Keith was adamant that that was not the case at all.
"I feel it is very important for me to have albums to sell at gigs. It gives me a steady income, but perhaps of more importance it allows the fans to take home a souvenir of their evening out and next time I'm in the area they remember the name and will possibly come out to see me again. By moving to Westwood I am able to maintain a flow of recordings which is just what the fans want."
The conversation moved on to the British scene in general and it certainly made a change to meet a performer who didn't knock the system this side of the Atlantic.
"I really enjoy working the clubs," he stated. "Over the years I've built up friendships with people and it's nice to meet up with them regularly and talking over old times. I don't need to work every night now, but I do like to keep busy. The fans are important to me, they buy the records, request autographs and are really interested in what I am doing."
"The scene is growing all the time," he continued. "Especially in the North where a lot of the country fans like to dress up as cowboys. I'm not saying that is good, I just don't know, but I do feel that we need to cater for these fans. In the past the cowboys have been knocked, but without them the scene might be a lot smaller."
As many readers are probably aware, Keith has been involved in promoting country music in his hometown of Matlock. In the past he has put on shows, but this summer he organised a festival starring American singer Gene Watson, plus several top British acts.
"We discussed the festival last year. We knew it was going to be a gamble, but decided to try it and find out what the response would be. It turned out to be a success with several thousand people really enjoying themselves. There's little doubt that we will organise another one next year."
"What I like about the country scene is that everyone is so pleasant. In all the years I've been appearing at places up and down the country there's never been any trouble. No sign of a fight and at the festival everyone was so well behaved. It was really great to be a part of it."
Keith is determined to keep his country music identity. I asked if the opportunity were to arise for him to be groomed into a pop artist would he prepared to accept.
"No!" came the emphatic reply. "All my friends I've made over the past ten years have been through country music. They are real nice people and I have no intention of changing. I'm very happy working the clubs and touring as I am doing now. I want to continue to sing country music. It's the music I love most."