First Published in Country Music International, April 1997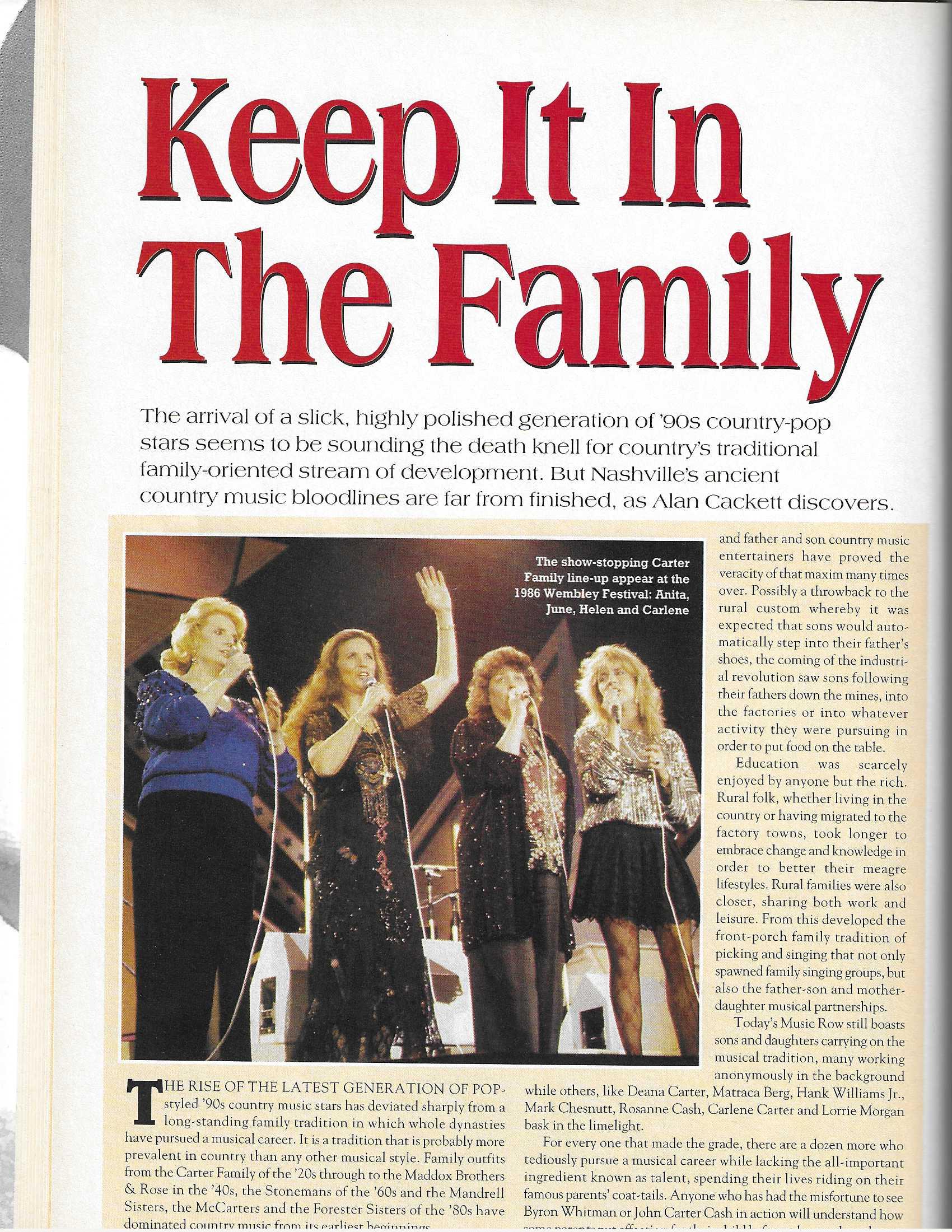 The arrival of a slick, highly polished generation of the 1990s country-pop stars seems to be sounding the death knell for country's traditional family-oriented stream of development. But Nashville's ancient country music bloodlines are far from finished, as Alan Cackett discovers.
The rise of the latest generation of pop-styled 1990s country music stars has deviated sharply from a long-standing family tradition in which whole dynasties have pursued a musical career. It is a tradition that is probably more prevalent in country than any other musical style. Family outfits from the Carter Family of the 1920s through to the Maddox Brothers & Rose in the 1940s, the Stonemans of the 1960s and the Mandrell Sisters, the McCarters and the Forester Sisters of the 1980s have dominated country music from its earliest beginnings.
There is an old saying that the apple doesn't fall far from the tree, and father and son country music entertainers have proved the veracity of that maxim many times over. Possibly a throwback to the rural custom whereby it was expected that sons would automatically step into their father's shoes, the coming of the industrial revolution saw sons following their fathers down mines, into the factories or into whatever activity they were pursuing in order to put food onto the table.
Education was scarcely enjoyed by anyone but the rich. Rural folk, whether living in the country or having migrated to the factory towns, took longer to embrace change and knowledge in order to better their meagre lifestyles. Rural families were also closer, sharing both work and leisure. From this developed the front-porch family tradition of picking and singing that not only spawned family singing groups, but also the father-son and mother-daughter musical partnerships.
Today's Music Row still boasts sons and daughters carrying on the musical tradition, many working anonymously in the background while others, like Deana Carter, Matraca Berg, Hank Williams Jr., Mark Chesnutt, Rosanne Cash, Carlene Carter and Lorrie Morgan bask in the limelight.
For every one that made the grade, there are a dozen more who tediously pursue a musical career while lacking the all-important ingredient known as talent, spending their lives riding on their famous parents' coat-tails. Anyone who has had the misfortune to see Byron Whitman or John Carter Cash in action will understand how some parents put affection for their child before talent and good taste.
Over the years country music has been littered with 'Juniors', the best known being Hank Williams Jr. Born three years before his legendary father died. Randall Hank Williams was probably helped by the fact that his father was not around to hinder his progress.
From the start, Hank Jr. was moulded to follow in his father's footsteps. At eight he went on stage, at 11 he debuted on the Opry and at 14 he made his first record and went on the road. He might just as well have been in a freak show.
After years under the watchful eye of his mother, Audrey Williams, he then struck out of his own at 18, learning a hard lesson and vowing that he would never push his children into the musical business. He kept his word, but that didn't stop his son, Shelton Hank Williams III, making his recording debut last year on The Three Hanks album MEN WITH BROKEN HEARTS, albeit strictly on his own terms.
Another Junior to make it on his own terms is Rex Allen Jr. The son of the 1940s singing cowboy
star, young Rex travelled with his father from the age of six, playing rhythm guitar and working as a rodeo clown. By the time he moved to Nashville in the late 1960s his father was semi-retired. Rex recorded for nearly ten years without success, finally breaking through in the mid-1970s with a string of Top Ten hits, the biggest being Two Less Lonely People. More recently he has been a regular on the Statler Brothers Show on TNN, and has continued the family tradition by duetting with his father and Roy Rogers on Last Of The Silver Screen Cowboys.
Not all Juniors have been successful: at the time Rex Jr moved to Nashville, 20-year-old Marty Robbins Jr was signed to Columbia under a special deal with his father acting as producer. He released one album and a handful of singles, all of which flopped. The problem was that Jr sounded too much like a chip-off-the-old-block, but lacked the special quality and charisma that had made Marty Robbins a legendary superstar.
Robbins's son resurfaced in the mid-1970s under the name Ronnie Robbins and charted a few minor hits. Following his father's death in 1982 he took to the road with Marty's band, performing many of his father's hits. It didn't work, and Ronnie now runs Marty Robbins Enterprises which controls his late father's many business enterprises.
The only other Junior to make an impact was Roy Acuff Jr who was signed to Hickory Records (which his father co-owned) for a brief period in the late 1960s. He never achieved chart success but he was a talented guitarist and drummer, and continued to record into the mid-1970s. He quit performing in 1976 to work in the promotion department at Hickory Records, but now pursues his other vocation as an artist.
There have, of course, been many other sons and daughters who have made a big impact in country music. The most famous was the Carter Family. The First Family of Country Music started out in the early 1920s and comprised A.P Carter, his wife Sara Doughtery and sister-in-law Maybelle Addington. They first recorded with Jimmie Rodgers at the historic Bristol sessions in 1927, and went on to make 350 recordings during the next 15 years.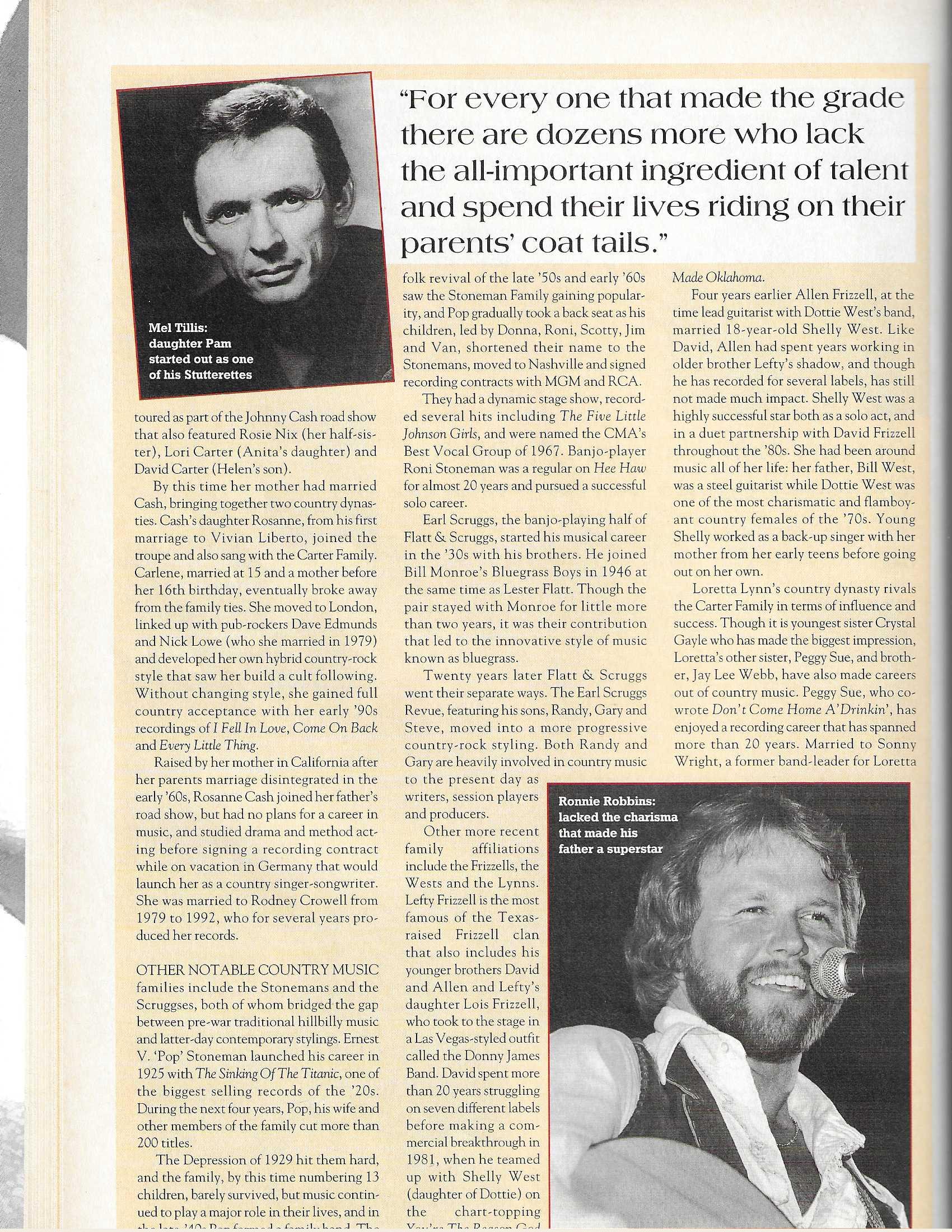 Disbanded in 1943, their sons, daughters, cousins and grandchildren have carried on the family music into the 1990s. Maybelle with her three daughters, Helen, June and Anita, formed the Carter Sisters in 1943, while A.P's children, Janette and Joe, also worked in music for many years, recording for small independent labels.
Carlene Carter is the daughter of June Carter and her first husband, country singer Carl Smith, so it was inevitable that she would follow in her parent's footsteps. She learnt guitar from her grandmother, Mother Maybelle Carter, when she was only four years old. Taken on the road with the Carter Family of the 1960s she toured as part of the Johnny Cash road show that also featured Rosie Nix (her half-sister), Lori Carter (Anita's daughter) and David Carter (Helen's son).
By this time her mother had married Cash, bringing together two country dynasties. Cash's daughter Rosanne, from his first marriage to Vivan Liberto, joined the troupe and also sang with the Carter Family. Carlene, married at 15 and a mother before her 16th birthday, eventually broke away from the family ties. She moved back to London, linked up with pub-rockers Dave Edmunds and Nick Lowe (who she married in 1979) and developed her own hybrid country-rock style that saw her build a cult following. Without changing style, she gained full country acceptance with her early 1990s recordings of I Fell In Love, Come On Back and Every Little Thing.
Raised by her mother in California after her parents marriage disintegrated in the early 1960s, Rosanne Cash joined her father's road show, but had no plans for a career in music, and studied drama and method acting before signing a recording contract while on vacation in Germany that would launch her as a country singer-songwriter. She was married to Rodney Crowell from 1979 to 1992, who for several years produced her records.
Other notable country music families include the Stonemans and the Scruggses, both of who bridged the gap between pre-war traditional hillbilly music and latter-day contemporary stylings. Earnest V. 'Pop' Stoneman launched his career in 1925 with The Sinking Of The Titanic, one of the biggest selling records of the 1920s. During the next four years, Pop, his wife and other members of the family cut more than 200 titles.
The Depression of 1929 hit them hard, and the family, by this time numbering 13 children, barely survived, but music continued to play a major role in their lives, and in the late 1940s Pop formed a family band. The folk revival of the late 1950s and early 1960s saw the Stoneman Family gaining popularity, and Pop gradually took a back seat as his children, led by Donna, Roni, Scotty, Jim and Van, shortened their name to the Stonemans, moved to Nashville and signed recording contracts with MGM and RCA.
They had a dynamic stage show, recorded several hits including The Five Little Johnson Girls, and were named the CMA's Best Vocal Group of 1967. Banjo-player Roni Stoneman was a regular on Hee Haw for almost 20 years and pursued a successful solo career.
Earl Scruggs, the banjo-playing half of Flatt & Scruggs, started his music career in the 1930s with his brothers. He joined Bill Monroe's Bluegrass Boys in 1946 at the same time as Lester Flatt. Though the pair stayed with Monroe for little more than two years, it was their contribution that led to the innovative style of music known as bluegrass.
Twenty years later Flatt & Scruggs went their separate ways. The Earl Scruggs Revue, featuring his sons, Randy, Gary and Steve, moved into a more progressive country-rock styling. Both Randy and Gary are heavily involved in country music to the present day as writers, session players and producers.
Other more recent family affiliations include the Frizzells, the Wests and the Lynns. Lefty Frizzell is the most famous of the Texas-raised Frizzell clan that also includes his younger brothers David and Allen and Lefty's daughter Lois Frizzell, who took to the stage in a Las Vegas-styled outfit called the Donny James Band. David spent more than 20 years struggling on seven different labels before making a commercial breakthrough in 1981, when he teamed up with Shelly West (daughter of Dottie) on the chart-topping You're The Reason God Made Oklahoma.
Four years earlier Allen Frizzell, at the time lead guitarist with Dottie West's band, married 18-year-old Shelly West. Like David, Allen had spent years working in older brother Lefty's shadow,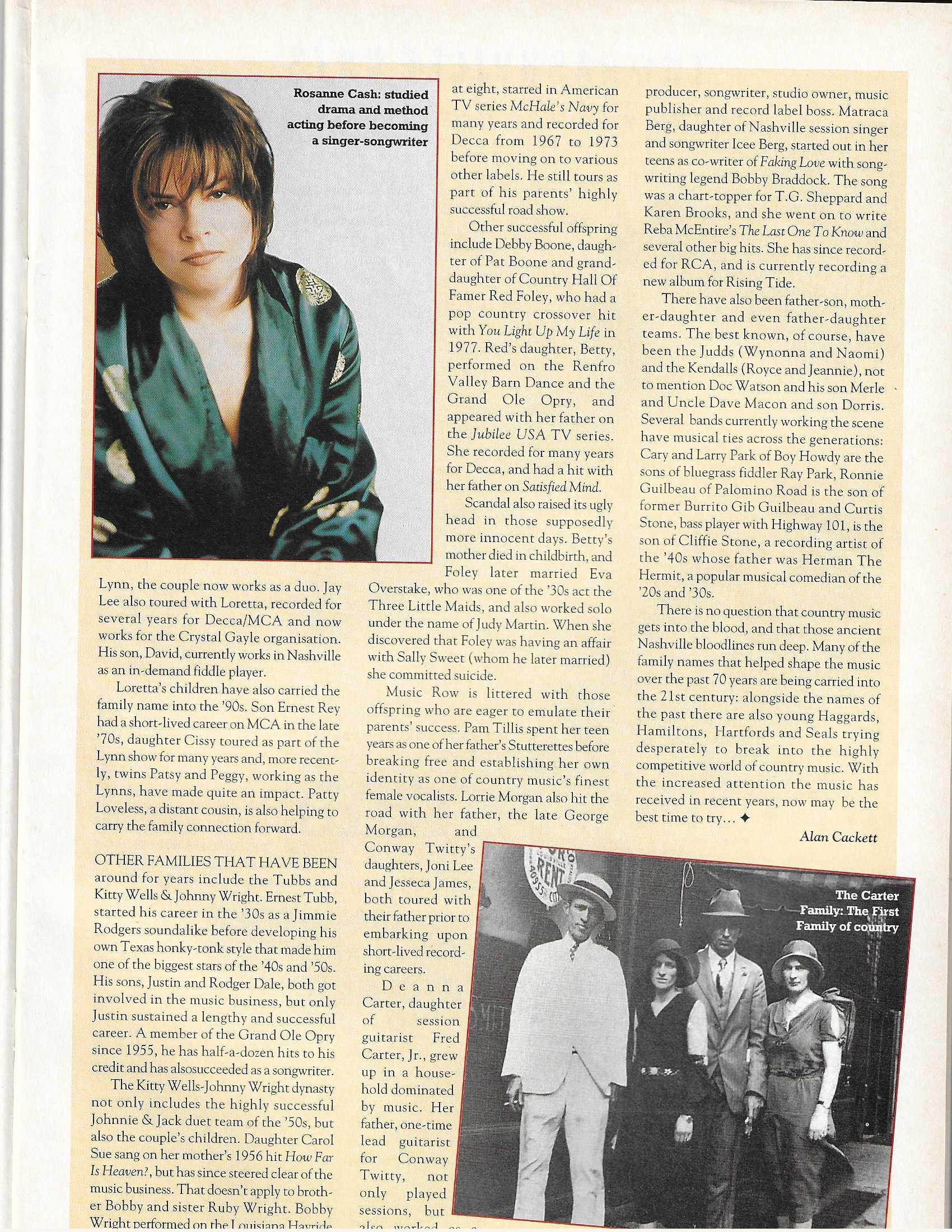 and though he has recorded for several labels, has still not made much impact. Shelly West was a highly successful star both as a solo act, and in a duet partnership with David Frizzell throughout the 1980s. She had been around music all her life: her father, Bill West, was a steel guitarist while Dottie West was one of the most charismatic and flamboyant country females of the 1970s. Young Shelly worked as a back-up singer with her mother from her early teens before going out on her own.
Loretta Lynn's country dynasty rivals the Carter Family in terms of influence and success. Though it is youngest sister Crystal Gayle who has made the biggest impression, Loretta's other sisters, Peggy Sue, and brother Jay Lee Webb, have also made careers out of country music. Peggy Sue, who co-wrote Don't Come Home A' Drinkin', has enjoyed a recording career that has spanned more than 20 years. Married to Sonny Wright, a former band-leader for Loretta Lynn, the couple now works as a duo. Jay Lee also toured with Loretta, recorded for several years for Decca/MCA and now works for the Crystal Gayle organisation. His son, David, currently works in Nashville as an in-demand fiddle player.
Loretta's children have also carried the family name into the 1990s. Son Ernest Rey had a short-lived career on MCA in the late 1970s, daughter Cissy toured as part of the Lynn show for many years and, more recently, twins Patsy and Peggy, working as the Lynns, have made quite an impact. Patty Loveless, a distant cousin, is also helping to carry the family connection forward.
Other families that have been around for years include the Tubbs and Kitty Wells & Johnny Wright. Ernest Tubb, started his career in the 1930s as a Jimmie Rodgers soundalike before developing his own Texas honky-tonk style that made him one of the biggest stars of the 1940s and 1950s. His sons, Justin and Rodger Dale, both got involved in the music business, but only Justin sustained a lengthy and successful career. A member of the Grand Ole Opry since 1955, he has half-a-dozen hits to his credit and has also succeeded as a songwriter.
The Kitty Wells-Johnny Wright dynasty not only includes the highly successful Johnnie & Jack duet team of the 1950s, but also the couple's children. Daughter Carol Sue sang on her mother's 1965 hit How Far Is Heaven?, but has since steered clear of the music business. That doesn't apply to brother Bobby and sister Ruby Wright. Bobby Wright performed on the Louisiana Hayride at eight, starred in American TV series McHale's Navy for many years and recorded for Decca from 1967 to 1973 before moving on to various other labels. He still tours as part of his parents' highly successful road show.
Other successful offspring include Debby Boone, daughter of Pat Boone and granddaughter of Country Hall Of Famer Red Foley, who had a pop country crossover hit with You Light Up My Life in 1977. Red's daughter, Betty, performed on the Renfro Valley Barn Dance and the Grand Ole Opry, and appeared with her father on the Jubilee USA TV series. She recorded for many years for Decca, and had a hit with her father on Satisfied Mind.
Scandal also raised its ugly head in those supposedly more innocent days. Betty's mother died in childbirth, and Foley later married Eva Overstake, who was one of the 1930s act the Three Little Maids, and also worked solo under the name of Judy Martin. When she discovered that Foley was having an affair with Sally Sweet (whom he later married) she committed suicide.
Music Row is littered with those offspring who are eager to emulate their parent's success. Pam Tillis spent her teen years as one of her father's Stutterettes before breaking free and establishing her own identity as one of country music's finest female vocalist. Lorrie Morgan also hit the road with her father, the late George Morgan, and Conway Twitty's daughter, Joni Lee and Jessica James, both toured with their father prior to embarking upon short-lived recording careers.
Deanna Carter, daughter of session guitarist Fred Carter Jr grew up in a household dominated by music. Her father, one-time lead guitarist for Conway Twitty, not only played sessions, but also worked as a producer, songwriter, studio owner, music publisher and record label boss. Matraca Berg, daughter of Nashville session singer and songwriter Icee Berg, started out in her teens as co-writer of Faking Love with songwriting legend Bobby Braddock. The song was a chart-topper for T.G Sheppeard and Karen Brooks, and she went on to write Reba McEntire's The Last One To Know and several other big hits. She has since recorded for RCA, and is currently recording a new album for Rising Tide.
There have also been father-son, mother-daughter and even father-daughter teams. The best known, of course, have been Judds (Wynonna and Naomi) and the Kendalls (Royce and Jeannie), not to mention Doc Watson and his son Merle and Uncle Dave Macon and son Dorris. Several bands currently working the scene have musical ties across the generations: Cary and Larry Park of Boy Howdy are the sons of bluegrass fiddler Ray Park, Ronnie Guilbeau of Palomino Road is the son of former Burrito Gib Guilbeau and Curtis Stone, bass player with Highway 101, is the son of Cliffie Stone, a recording artist of the 1940s whose father Herman The Hermit, a popular musical comedian of the 1920s and 1930s.
There is no question that country music gets into the blood, and that those ancient Nashville bloodlines run deep. Many of the family names that helped shape the music over the past 70 years are being carried into the 21st century: alongside the names of the past there are also young Haggards, Hamiltons, Hartfords and Seals trying desperately to break into the highly competitive world of country music. With the increased attention the music has received in recent years, now may be the best time to try ...