Kathy Mattea - Traveller's Choice
First Published in Country Music International, June 1997
"Generally, I don't take a lot of music out on the road. Because we are playing so much music on the bus, I tend to listen really differently on the road than if I'm at home.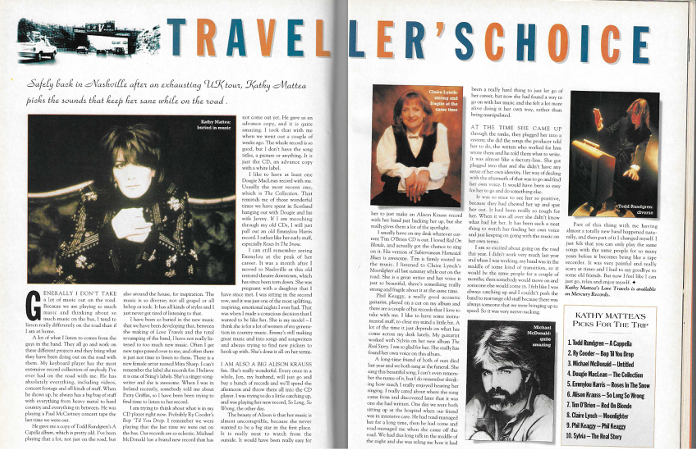 A lot of what I listen to comes from the guys in the band. They all go and work on these different projects and they bring what they have been doing out on the road with them. My keyboard player has the most extensive record collection of anybody I've ever had on the road with me. He has absolutely everything, including videos, concert footages and all kinds of stuff. When he shows up, he always has a big bag of stuff with everything from heavy metal to hard country and everything in between. He was playing a Paul McCartney concert tape the last time we were out.
He gave me a copy of Todd Rundgren's A CAPELLA ALBUM, which is pretty old. I've been playing that a lot, not just on the road, but also around the house, for inspiration. The music is so diverse; not all gospel or all bebop or rock. It has all kinds of styles and I just never got tired of listening to that.
I have been so buried in the new music that we have been developing that, between the making of Love Travels and the total revamping of the band, I have not really listened to too much new music. Often I get new tapes passed over to me, and often there is just not enough time to listen to them. There is a new female artist named Mira Sharp. I can't remember what label she records for: I believe it is one of Sting's labels. She's a singer-songwriter and she is awesome. When I was in Ireland recently, somebody told me about Patty Griffin, so I have been trying to find time to listen to her record.
I am trying to think about what is in my CD player right now. Probably Ry Cooder's BOP 'TIL YOU DROP. I remember we were playing that last time we were out on the bus. Our records are so eclectic. Michael McDonald has a brand new record that has not come out yet. He gave us an advance copy, and it is quite amazing. I took that with me when we went out a couple of weeks ago. The whole record is so good, but I don't have the song titles, a picture or anything. It is just a CD, an advance copy with a white label.
I like to have at least one Dougie MacLean record with me. Usually the most recent one, which is THE COLLECTION. That reminds me of those wonderful times we have spent in Scotland hanging out with Dougie and his wife Jenny. If I am mooching through my old CDs, I will just pull out an old Emmylou Harris record. I rather like her early stuff, especially ROSES IN THE SNOW.
I can still remember seeing Emmylou at the peak of her career. It was a month after I moved to Nashville at this old restored theatre downtown, which has since been torn down. She was pregnant with a daughter that I have since met. I was sitting in the second row, and it was one of the most uplifting, inspiring, emotional nights I ever had. That was when I made a conscious decision that I wanted to be like her. She is my model—I think she is for a lot of women of my generation in country music. Emmy's still making great music and into songs and songwriters and always trying to find new pickers to hook up with. She's done it all on her terms.
I am also a big Alison Krauss fan. She's really wonderful. Every once in a while, Jon, my husband, will just go and buy a bunch of records and we'll spend the afternoon and throw them all into the CD player. I was trying to do a little catching up, and was playing her new record, SO LONG, SO WRONG, the other day.
The beauty of Alison is that her music is almost uncorruptible, because she never wanted to be a big star in the first place. It is really neat to watch from the outside. It would have been really easy for her to just make an Alison Krauss record with her band just backing her up, but she really gives them a lot of the spotlight.
I usually have on my desk whatever current Tim O'Brien is out. I love RED ON BLONDE, and actually got the chance to sing on it. His version of Subterranean Homesick Blues is awesome. Tim is firmly rooted in the music. I listened to Claire Lynch's MOONLIGHTER all last summer while out on the road. She is a great writer and her voice is just so beautiful, there's something really strong and fragile about it at the same time.
Phil Keaggy, a really good acoustic guitarist, played on a cut on my album and there are a couple of his records that I love to take with me. I like to have some instrumental stuff, to clear my mind a little bit. A lot of the time it just depends on what has come across my desk lately. My guitarist worked with Sylvia on her new album THE REAL STORY. I am so glad for her. She really has found her own voice on this album.
A long-time friend of both of ours died last year and we both sang at the funeral. She sang this beautiful song I can't even remember the name of it, but I do remember thinking how much I really enjoyed hearing her singing. I really cared about where the song came from and discovered later that it was one she had written. One day we were both sitting up at the hospital when our friend was in intensive care. He had road-managed her for a long time, then he had come and road-managed me when she came off the road. We had this long talk in the middle of the night and she was telling me how it had been a really hard thing to just let go of her career, but now she had found a way to go on with her music and she felt a lot more alive doing it her own way, rather than being manipulated.
At the time she came up through the ranks, they plugged her into a system; she did the songs the producer told her to do, the writers, who worked for him, wrote them and he told them what to write. It was almost like a factory-line. She got plugged into that and she didn't have any sense of her own identity. Her way of dealing with the aftermath of that was to go and find her own voice. It would have been so easy for her to go and do something else.
It was so nice to see her so positive, because they had chewed her up and spat her out. It had been really tough for her. When it was all over she didn't know what had hit her. It had been such a neat thing to watch her finding her own voice and just keeping on going with the music on her own terms.
I am so excited about going on the road this year. I didn't work very much last year and when I was working, my band was in the middle of some kind of transition, so it would be the same people for a couple months, then somebody would move on and someone else would come in. I felt like I was always catching up and I couldn't push the band to rearrange old stuff because there was always someone that we were bringing up to speed. So it was very nerve-wracking.
Part of this thing with me having almost a totally new band happened naturally, and then part of it I changed myself. I just felt that you can only play the same songs with the same people for so many years before it becomes being like a tape recorder. It was very painful and really scary at times and I had to say goodbye to some old friends. But now I feel like I can go, relax and enjoy myself."