Red House Records
****
All too often, critics, pundits and the public as a whole seem intent on defining music by genre, opting for generalisation simply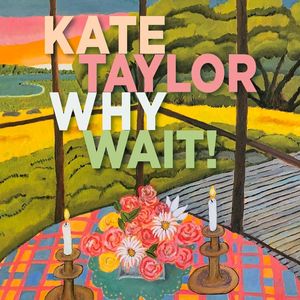 for the sake of confining certain sounds to a comfortable niche. That, of course, isn't only unfair but it also denies opportunity to get to know the music for the quality and creativity that went into its making. Kate Taylor, with her first new album in almost 20 years, approaches the pinnacle of a certain kind of adult pop music that was once fairly common (Linda Ronstadt, Carole King, Randy Newman, Jimmy Webb) but is now nearly extinct. I've sometimes thought that what we used to call rock'n'roll was rightfully the province of enthusiastic amateurs making joyful, accidental noise. But without intention, there is no art. And Kate Taylor is an artist of the first order. The younger sister from the famed Taylor family (James, Livingston, Alex, Hugh), Kate made her first album for Atlantic/Cotillion 50 years ago, then promptly withdrew from music to live a more simple and basic life. She settled in Martha's Vineyard, married and raised a family, returning spasmodically to record the odd album, but never picking up on a full-blown career in music.
For this latest set, she is reunited with many of those involved in her SISTER KATE debut, all older and wiser. Producer Peter Asher has brought together renowned session musicians Russ Kunkel, Leland Sklar and Danny Kortchmar, who played on the initial album and has added into the mix Waddy Wachtel, Albert Lee, Dan Dugmore, Scarlet Rivera and Jeff Alan Ross, to create an impressive album that's singularly spectacular simply by virtue of its distinctive diversity. While the track list consists of many covers—artists like the Beatles, Tommy James, Taj Mahal, Bert Berns, Ed Sheeran, Little Feat, Nancy Wilson and of course brother James—she gives each song new life and a fresh appeal that transcends any established origins. It's nostalgic and modern at the same time.
You won't regret listening to her.
That's certainly indicated in the opening track, a revival of the Beatles' Good Day Sunshine, a grooving affirmation of the joyous feeling brought on by love when a bond is created between two people. This just might reaffirm the faith of those who grew up on silly love songs. Love isn't silly. Neither is family, or friendship or the warm community available in collaborating with people who have a certain expertise. This comes through on the self-penned title tune, a rockabilly-tinged rave-up with Albert Lee's fluid guitar to the fore, an infectious gospel-flavoured chorus provided by daughters Liz and Aretha, Peter Asher and Bill Cinque. Planting another stylistic flag in the ground, Kate hearkens back to early 1960s girl groups with a jaunty rendition of the Exciters' Tell Him. At once full of yearning and giddiness, she mixes a twee naiveté on the track's titular chorus with sly assertion on its verses, declaring what she's seeking in love. Tinkling piano, graceful electric guitar underpinned by swirling organ lift The Glory Of Love up on wings of uncommon grace and stunning vitality and as Kate and producer Asher combine their voices, it calls to mind classic duets from times long gone by: Nancy and Lee, George and Tammy, Gram and Emmylou, Porter and Dolly. Then there's the spiritual sensibilities of the gospel sing-along Don't Knock, that captures much of the prancing joy that was implicit in the Staples Singers' version with enthusiastic handclaps as Kate is joined by her daughters to sing the tune in a celebratory fashion.
In contrast, Tommy James' Crystal Blue Persuasion, is given a melancholy reading, Kate's vocal a wafting wonder, full of winsome charm, subtle fire and fey attitude. The dramatic Stop the Wedding is a dynamic soul heartbreaker with organ and guitar interplay and call-and-response chorus behind Kate's powerfully emotional vocal. Crashing waves set the scene for Beams Of the Queen, a charming, relatively light way to cap off an album that covers a lot of emotional ground.
October 2021