Kate Campbell - Traveller's Choice
First Published in Country Music International – October 1996
Flushed from her recent UK tour, Kate Campbell picks her favourite sounds for the long road ahead.
"When I go out on the road it is usually just me and my husband, Ira. We had absolutely no idea what we were getting into when we started this whole thing. I had been writing and playing music for several years, but it was only four years ago that I really took it all seriously. we started out with a Toyota Corolla which now has 180,000 miles on the clock.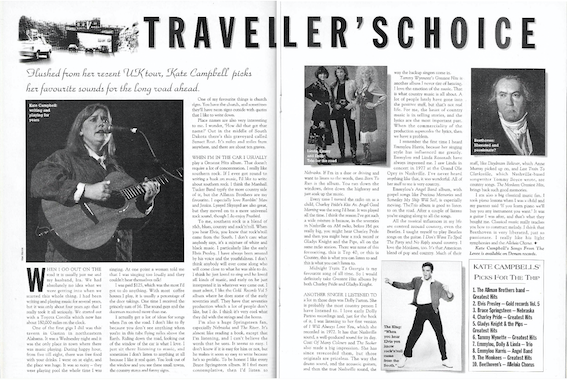 One of the first gigs I did was this tavern in Gaston in north-eastern Alabama. It was a Wednesday night and it was the only place it town where there was music playing. During happy hour, from five till eight, there was free food with your drinks. I went on at eight, and the place was huge. It was noisy – they were playing pool the whole time I was singing. At one point a woman told me that I was singing to loudly and they couldn't hear themselves talk!
I was paid $125, which was the most I'd got to do anything. With most coffee houses I play, it is usually a percentage of the door takings. One time I received the princely sum of $6. The sound guys and the doorman received more than me.
I actually get a lot of ideas for songs when I'm on the road. I don't like to fly because you don't see anything when you're in this tube flying miles above the Earth. Riding down the road, looking out the window of the car is what I love. I just sit there listening to music, and sometimes I don't listen to anything at all because I like it real quiet. You look out of the window and you see these small towns, the country stores and funny signs.
One of my favourite things is church signs. You have the church, and sometimes  they'll have neon signs outside with quotes that I like to write down.
Place names are also very interesting to me. I wonder, 'How did that get that name?'. Out in the middle of South Dakota there's this graveyard called Sunset Rest. It's miles and miles from anywhere, and there are about ten graves.
When I'm in the car I usually play a Greatest Hit album. That doesn't require a lot of concentration. I really like southern rock. If I ever got round to writing a book on music, I'd like to write about southern rock. I think Marshall Tucker Band typify the more country side of it all, but Allman Brothers are my favourite. I especially love Ramblin Man and Jessica. Lynyrd Skynyrd are also great, but they moved on to a more universal rock sound, though I do love Freebird.
To me, southern rock is a blend of r&b, blues, country and rock'n'roll. When you hear Elvis, you know that rock'n'roll came from the South. I don't care what anybody says, it's a mixture of white and black music. I particularly like the early Elvis Presley. I have always been amazed by his voice and the youthfulness. I don't think anybody will ever come along who will come close to what he was able to do. I think he just loved to sing and loved all kinds of music, and early on he just interpreted it in whatever way came out. I must admit, I like GOLD RECORDS VOL 5 album where he does some of the early 1970s stuff. They have the 1970s production which a lot of people don't like, but I do. I think it's very cool what they did with the strings and the horns.
I'm also a huge Springsteen fan, especially NEBRASKA and THE RIVER. It's almost like reading a book, except that I'm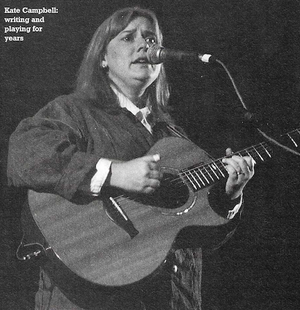 listening, and I can't believe the words that he uses. It seems so easy. I don't know if it is easy for him or not, but he makes it seem so easy to write because he's so prolific. To be honest I like every Bruce Springsteen album. If I feel more contemplative, then I'd listen to NEBRASKA. If I'm in a daze or driving and want to listen to the words, then BORN TO RUN is the album. You run down the windows, drive down the highway and soak up the music.
Every time I turned the radio on as a child, Charley Pride's Kiss An Angel Good Morning was the song I'd hear. It was played all the time. I think the reason I've got such a wide mixture is because in the 1970s in Nashville on AM radio, before FM got really big, you might her Charley Pride and then you might hear a rock record or Gladys Knight and the Pips, all on the same radio station. There was none of this formatting, this is Top 40, or this is Country, this is what you can listen to and this is what you can't listen to. Midnight Train To Georgia is my favourite song of all time. So I would definitely take GREATEST HITS albums by both Charley Pride and Gladys Knight.
Another singer I listened to a lot in those days was Dolly Parton. She is probably the most country person I have listened to. I love Dolly Parton's recordings and, just for the heck of it, I was listening to her first version of I Will Always Love You, which she recorded in 1972. It has Nashville sound, a well-produced sound for its day. Coat Of Many Colours and The Seeker also made a big impression. She has since rerecorded them, but those originals are priceless. The way the drums sound, and the acoustic guitar, and the true Nashville sound, the way the backup singers come in.
TAMMY WYNETTE'S GREATEST HITS is another album I never tire of hearing. I love the emotions of the music. That is what country music is all about. A lot of people lately have gone into the positive stuff, but that's not real life. For me, the heart of country music is in telling stories, and the lyrics are the most important part. When the commerciality of the production supercedes the lyrics, then we have a problem.
I remember the first time I heard Emmylou Harris, because her singing style has influenced me greatly. Emmylou and Linda Ronstadt have always impressed me. I saw Linda in concert in 1977 at the Grand Ole Opry in Nashville. I've never heard anything like that, it was wonderful. All of her stuff to me is country.
Emmylou's ANGEL BAND album, with gospel songs like Precious Memories and Someday My Ship Will Sail, is especially moving. The TRIO album is good to listen to on the road. After a couple of listens you're singing along to all the songs.
All the musical influences in my life are centred around country, even the Beatles. I taught myself to play Beatles songs on the guitar. I Don't Want To Spoil The Party and No Reply sound country. I love the Monkees, too. It's that American blend of pop and country. Much of their stuff like Daydream Believer, which Anne Murray picked up on, and Last Train To Clarksville, which Nashville-based songwriter Tommy Boyce wrote, are country songs. THE MONKEES GREATEST HITS, brings back such good memories.
I am also a big classical music fan. I took piano lessons when I was a child and my parents said: 'If you learn the piano we'll buy you any instrument you want.' It was a guitar I was after, and that's what they bought me. Classical music really teaches you how to construct melody. I think that Beethoven is very liberated, just so passionate. I really like his light symphonies and the Alleluia Chorus."