Karen Staley - The Nashville Cats
First published in Country Music International, February 1996
Patty Loveless, Reba McEntire and Faith Hill have all recorded her songs. But writing hits for other people is the easy part; it's her solo career that's proving difficult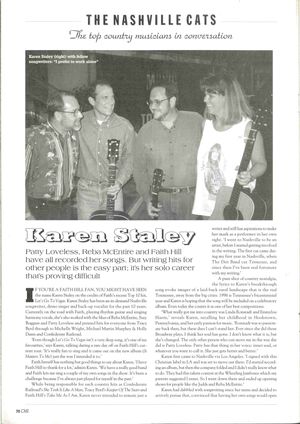 If you're a Faith Hill fan, you might have seen the name Karen Staley on the credits of Faith's recent Top 10 hit, Let's Go To Vegas. Karen Staley has been an in-demand Nashville songwriter, demo singer and back-up vocalist for the past 10 years. Currently on the road with Faith, playing rhythm guitar and singing harmony vocals, she's also worked with the likes of Reba McEntire, Suzy Bogguss and Patty Loveless and penned hi ts for everyone from Tracy Byrd through to Michelle Wright, Michael Martin Murphey & Holly Dunn and Confederate Railroad.
"Even though Let's Go To Vegas isn't a very deep song, it's one of my favourites," says Karen, talking during a rare day off on Faith Hill's current tour.  "It's really fun to sing and it came out on the new album (IT MATTERS TO ME) just the way I intended it to."
Faith herself has nothing but good things to say about Karen. "I have Faith Hill to thank for a lot," admits Karen. "We have a really good band and Faith lets me sing a couple of my own songs in the show. It's been a challenge because I've always just played for myself in the past."
While being responsible for such country hits as Confederate Railroad's She Took It Like A Man, Tracy Byrd's Keeper Of The Stars and Faith Hill's Take Me As I Am, Karen never intended to remain just a writer and still has aspirations to make her mark as a performer in her own right. "I went to Nashville to be an artist, before I started getting involved in the writing. The first cut came during my first year in Nashville, when The Dirt Band cut Tennessee, and since then I've been real fortunate with my writing."
A pure slice of country nostalgia, the lyrics to Karen's breakthrough song evoke images of a laid-back rural landscape that is the real Tennessee, away from the big cities. 1996 is Tennessee's bicentennial year and Karen is hoping that the song will be included on a celebratory album. Even today she counts it as one of her best compositions.
"What really got me into country was Linda Ronstadt and Emmylou Harris," reveals Karen, recalling her childhood in Hookstown, Pennsylvania, and her early passion for music. "Ronstadt was so passionate back then, but these days I can't stand her. Ever since she did those Broadway plays, I think her soul has gone. I don't know what it is, but she's changed. The only other person who can move me in the way she did is Patty Loveless. Patty has that thing in her voice: inner soul, or whatever you want to call it. She just gets better and better."
Karen first came to Nashville via Los Angeles. "I signed with this Christian label in LA and was set to move out there. I'd started recording an album, but then the company folded and I didn't really know what to do. They had this talent contest at the Wheeling Jamboree which my parents suggested I enter. So I went down there and ended up opening shows for people like the Judds and Reba McEntire."
Karen had dabbled with songwriting since her teens and decided to actively pursue that, convinced that having her own songs would open the doors for a recording deal. At the end of 1984, she moved to Nashville, stopping off at the ASCAP offices, who directed her to a music publisher.
The record deal she had hoped for didn't materialise, but she was soon providing a number of artists with her songs. Patty Loveless had minor hits with Lonely Days, Lonely Nights and Wicked Ways, but Karen landed her first real hit with A Face In The Crowd, a duet recorded by Michael Martin Murphey and Holly Dunn that crashed the Top 10 in 1987.
Meanwhile, Reba McEntire, who had already recorded several of Karen's songs, took her on the road as a harmony vocalist to replace her sister Susie Luchsinger.
"I was pretty green," Karen ruefully recalls. "I really hadn't done that much club work or anything like that … but going on the road with Reba gave me a lot of experience. It was just at the point when she was turning from being a big star into a superstar. She only had two buses back then, and we were using them to play fair dates and concert halls. It's all changed for her now."
By this time Karen was also working in the studio, singing on demo tapes and providing backing vocals for Reba, Patty Loveless,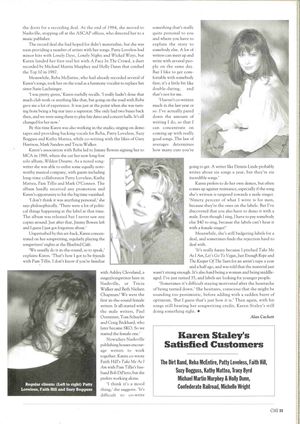 Suzy Bogguss and Kathy Mattea, while co-writing with the likes of Gary Harrison, Mark Sanders and Tricia Walker. Karen's association with Reba led to Jimmy Bowen signing her to MCA in 1988, where she cut her now long- lost solo album, WILDEST DREAMS. As a noted songwriter she was able to enlist some equally noteworthy musical company, with guests including long-time collaborator Patty Loveless, Kathy Mattea, Pam Tillis and Mark O'Connor. The album hardly received any promotion and Karen's opportunity to hit the big time vanished.
"I don't think it was anything personal," she says philosophically. "There were a lot of political things happening at the label at that time. The album was released but I never saw any copies around. Just after that, Jimmy Bowen left and I guess I just got forgotten about."
Unperturbed by this set-back, Karen concentrated on her songwriting, regularly playing the songwriters' nights at the Bluebird Cafe.
"We usually do it in-the-round, so to speak," explains Karen. "That's how I got to be friends with Pam Tillis. I don't know if you're familiar with Ashley Cleveland, a singer-songwriter here in Nashville, or Tricia Walker and Beth Nielsen Chapman? We were the first in-the-round female writers. It all started with the male writers, Paul Overstreet, Tom Schuyler and Craig Bickhardt, who later became SKO. So we started the female one."
Nowadays Nashville publishing houses encourage writers to work together. Karen co-wrote Faith Hill's Take Me As I Am with Pam Tillis' husband Bob DiPiero, but she prefers working alone.
"I think it's a mood thing," she suggests. "It's difficult to co-write something that's really quite personal to you and where you have to explain the story to somebody else. A lot of writers can meet up and write with several people on the same day.  But I like to get comfortable with somebody first; it's a little bit like double-dating, and that's not for me."
"I haven't co-written much in the last year or so. I've actually pared down the amount of writing I do, so that I can concentrate on coming up with really good songs. The law of averages determines how many cuts you're going to get. A writer like Dennis Linde probably writes about six songs a year, but they're six incredible songs."
Karen prefers to do her own demos, but often comes up against resistance, especially if the song she's written is targeted towards a male singer. "Ninety percent of what I write is for men, because they're the ones on the labels. But I've discovered that you also have to demo it with a male. Even though I sing, I have to pay somebody else $40 to sing, because the labels can't hear it with a female singer!"
Meanwhile, she's still badgering labels for a deal, and sometimes finds the rejection hard to deal with. "It''s really funny because I pitched Take Me As I Am, Let's Go To Vegas, Just Enough Rope and The Keeper Of The Stars for an artist's tape a year and a half ago, and was told that the material just wasn't strong enough. It's also hard being a woman and being middle-aged. I've just turned 35, and labels are looking for younger people."
"Sometimes it's difficult staying motivated after the heartache of being turned down."  She hesitates, conscious that she might be sounding too pessimistic, before adding with a sudden burst of optimism, "But I guess that's just how it is." Then again, with hit songs still bearing her songwriting credit, Karen Staley's still doing something right.
Karen Staley's Satisfied Customers: The Dirt Band, Reba McEntire, Patty Loveless, Faith Hill, Suzy Bogguss, Kathy Mattea, Tracy Byrd, Michael Martin Murphey & Holly Dunn, Confederate Railroad, Michelle Wright