K. T. Oslin - What K.T. Did
First Published in Country Music International,  November 1996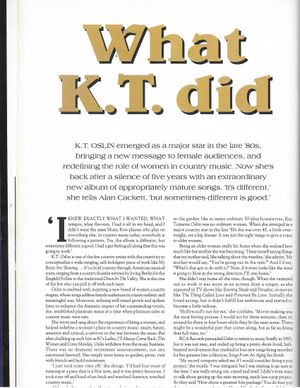 K. T. Oslin emerged as a major star in the late 1980s, bringing a new message to female audiences, and redefining the role of women in country music. Now she's back after a silence of five years with an extraordinary new album of appropriately mature songs. "It's different," she tells Alan Cackett, "but sometimes different is good."
"I knew exactly what I wanted, what tempos, what flavours. I had it all in my head, and I didn't want the same Music Row players who play on everything else. In country music today, everybody is following a pattern. Yes, the album is different, but sometimes different is good. I had a gut feeling all along that this was going to work."
K. T. Oslin is one of the few country artists with the creativity to conceptualise a wide-ranging, self-indulgent piece of work like MY ROOTS ARE SHOWING ... It's a bold journey through American musical roots, ranging from a country rhumba written by Irving Berlin for the Ziegfeld Follies to the traditional Down In The Valley. She is also one of the few who can pull it off with such taste.
Oslin is credited with inspiring a new breed of women country singers, whose songs address female audiences in a more realistic and meaningful way. Moreover, utilising well-timed growls and spoken lines to enhance the dramatic impact of her commanding vocals, she established platinum status at a time when platinum sales in country music were rare.
She wrote and sang about the experience of being a woman, and helped redefine a woman's place in country music: smart, funny, sensitive and cynical, a survivor in the war between the sexes. But after chalking up such hits as 80's Ladies, I'll Always Come Back, This Woman and Come Monday, Oslin withdrew from the music business. There was no dramatic retirement announcement, nor any emotional farewell. She simply went home to garden, paint, visit with friends and build miniatures.
"I just took some time off," she shrugs. "I'd had four years of running at a pace that is a blur now, and it was pretty ferocious. I took time off and kind of sat-back and watched America, watched country music."
Although she spent a lot of her time relaxing at home, pottering in the garden like so many ordinary 50-plus housewives, Kay Toinette Oslin was no ordinary woman. When she emerged as a major country star in the late 1980s she was over 40, a little overweight, yet a hip dresser. It was just the right image to give a voice to older women.
Being an older women really hit home when she realised how much like her mother she was becoming. "I hear myself saying things that my mother said, like talking about the weather," she admits. "My mother would say, 'You're going out in the rain?' And I'd say 'What's that got to do with it?' Now, if it even looks like the wind is going to blow in the wrong direction, I'll stay at home."
She didn't stay at home all the time, though. When she ventured out to work it was more as an actress than a singer, as she appeared in TV shows like Evening Shade and Paradise, or movies like The Thing Called Love and Poisoned By Love. Initially she loved acting, but it didn't fulfil her ambitions and started to become a little tedious.
"Hollywood's not for me," she confides. "Movie-making was the most boring process. I would act for three minutes, then sit around for three or four hours while they lit the next scene. There might be a wonderful part that comes along, but as far as going that fulltime, no."
RCA Records persuaded Oslin to return to music briefly in 1993, but it was not easy, and ended up being pretty short-lived, half-hearted involvement that resulted in four new songs being recorded for her greatest hits collection, SONGS FROM AN AGING SEX BOMB.
"My record company asked me if I would consider doing a pop project," she recalls. "I was intrigued, but I was starting to go nuts at the time. I was really strung out, crazed and tired. I didn't even want to talk about getting up the next morning, much less a pop project. So they said 'How about a greatest hits package? You do four pop things on it and see how you like it.' So that's what we did. It wasn't really my decision, it was something that just evolved."
Although she was the first female songwriter to be honoured by the CMA for Song Of The Year for 80's Ladies, and has penned many other hit songs as well as writing for Gail Davies, Sissy Spacek, Dottie West and the Judds, Oslin doesn't consider herself as a prolific songwriter. What sets her apart from the pack is her natural ability as a musical arranger. It was the talent that led RCA to offer her a position as an a&r producer, a position that she politely refused. Like so many os today's older country artists, Oslin is not happy with the way things are done in Nashville. So when the time came to do another album, she insisted on doing it her way.
"I thought country was going towards dance music so I decided to do a dance album," she explains, "whether the songs were waltzes, ballads or whatever. I started gathering songs and eventually found 10 songs that went together. Some are bluegrass, some are country, some are folk songs, but I've changed all of them. They weren't necessarily all hits. In fact, you probably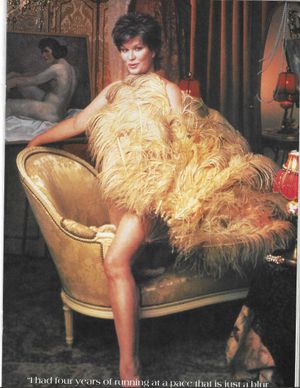 haven't heard many of them."
On her first studio project for five years, Oslin is as feisty as ever, cooking up a funky, eclectic album. Initially she intended to revive traditional public-domain songs, but discovered that with many of them, lyrics were too dated. She readily admits that she has always felt a closer affinity with the sentiments of old-styled country music than today's prefabricated Music Row compositions.
So began a search for 'real' country dance songs that took her to the Country Music Foundation. "At the end of the first day I thought, 'My God, this could take me the rest of my life.'"
Realising what she was up against, she consulted Nashville journalist Robert Oerman. More than just a music journalist, Oerman is a music fan and an avid collector with a house crammed full of old records. Once he sat down with Oslin, he was able to dig out the kind of music that she was looking for, play them and discuss them at length and with genuine affection. It was that kind of support and feel for music and the project that Oslin was able to thrive on.
She had already picked out Down In The Valley, a traditional song that she learned in her third grade music class, and Sand Mountain Blues, a song made popular by the Delmore Brothers in the 1940s. "I used to sing that song when I was a folk singer (in a folk trio that also included Guy Clark), but I did a different arrangement," she explains. "When we started this project, I thought of that song immediately and went looking for the original version because I'd never heard it. They didn't write bridges in those days, so I took one of the Delmores' verses, wrote a bridge and made it more of a modern, contemporary song."
"I treated them all as if they were written today," she continues enthusiastically. "I'm not trying to recreate an era, and I'm not trying to do a retro-thing. If you heard the originals of these, you'd never recognise them."
Teaming up with producer Rick Wills, she made a conscious decision not to use standard Nashville session players. "Those guys are phenomenal, but everyone uses them and every record that comes out of this town sounds the same."
"I wanted somebody who didn't know there were rules about this kind of music and rules about that kind of music, point them in the right direction, tell them the feel I want and turn them loose. The songs and the players are the real stars of this album."
Although the album is geared towards dance music, it is not all up-tempo, and certainly doesn't contain the repetitive beats-per-second required for line dancing. Jimmie Rodgers's Miss The Mississippi is a stately waltz with yodels whilst the first single, Silver Tongue And Gold Plated Lies is an earthy kind of hillbilly garage-band romp.
"It's very bluegrass and it had a slinky little feel that I like," she explains. "I thought, 'Ooh we can switch this, switch that.' It's very loose, very raw, like Patsy Cline meets the Rolling Stones. The players had a lot of fun."
Perhaps the most unusual choice was Bing Crosby's I'll See You In C-U-B-A, which was learned from a record by the Any Old Time String Band filed away in Oerman's varied record collection.
"I told Robert, 'You know I'd like to do a Spanish song,' and he said, 'Do you know, there was this very small period of country rhumba music.' I thought he was kidding me, but it's true. I thought that song was just a whole lot of fun."
Oslin's enthusiasm for the album is infectious, but she readily admits that only a couple of years ago she wouldn't have cared if she never made another record or wrote another song. Burn-out was complete, and to have come back so strongly from a life-threatening heart operation shows the lady's character and resilience.
"I believe that if you come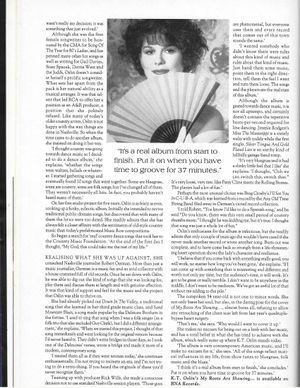 back from something really good, you will work, no matter how long you've been gone," she explains. "If I can come up with something interesting and different and worth not only my time, but the audience's time, it will work. It's got to be great or really terrible. I don't want to be anywhere in the middle, I don't want to be mediocre. We've got an awful lot of that without me adding to the pile."
The outspoken 54-year-old is not one to mince words. She not only bares her soul, but also, in the daring pose for the cover of MY ROOTS ARE SHOWING ..., almost bares all, refusing to allow any retouching of her chest scars left from last year's quadruple-bypass heart surgery.
"That's me," she says. "Why would I want to cover it up."
She makes no excuses for being out on a limb with her music, and has total belief in what she has tried to achieve with the album, which really sums up where K. T. Oslin stands today.
"The album is very contemporary American music, and I'll make no excuses for it," she says. "All of the songs reflect musical influences in my life, from show tunes to bluegrass, folk music and the blues."
"I think it's a real album from start to finish," she concludes. "Put it on when you have time to groove for 37 minutes."