Julie & John Pennell - Keep On Walkin'
JPE Records 003
****
Julie and John Pennell are a husband-and-wife bluegrass duo who tour regularly across America. Alongside being talented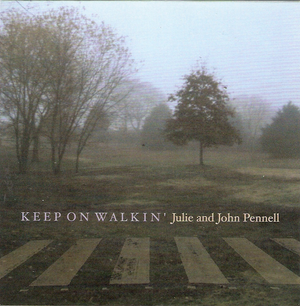 musicians and singers, they are both skilled songwriters with numerous awards between them with John's songs having been recorded by Alan Jackson, Eva Cassidy, Sam Bush, Harley Allen, the Infamous Stringdusters and Alison Krauss. When it comes to their own recordings, they are hardly prolific; this is only their second album, a follow-up to their 2010 self-titled debut.  The first time I came across John Pennell's name was on Alison Krauss' second album TOO LATE TO CRY in 1987. John was the writer of six of the 11 songs. Around that time, he became the original bass player in her Union Station band. Some three years later, when I first interviewed Alison to coincide with the release of TWO HIGHWAYS, her first album with Union Station, she enthused passionately about John Pennell and his 'sorry, sad songs' that she just loved so much. With that history I approached KEEP ON WALKIN' with heightened interest, and I have to say that over the past week or so, this album has given me immense listening pleasure.
Although the majority of the songs are original compositions, either co-writes by the couple or with other writers including John Scott Sherrill, Craig Market and Stephen Mougin or solo creations—a reverential take on Irving Berlin's popular standard Blue Skies and the funky Sittin' By A River, being the most notable exceptions—the material sounds like a batch of seasoned standards, even on first hearing. The album opens on a strong note with You Can't Have It All, a gentle, mid-tempo song questioning a partner's motives.  It features a nice combination of mandolin and melodic resophonic guitar from Sam Bush and Jerry Douglas, respectively behind Julie's heartfelt vocal. Echoes of Suzy Bogguss came to mind with Your Body Never Forgets, Julie's vocal being a dead-ringer for Suzy on this easy-swing number reflecting on a hard-lived life of smoking, drinking and the bodily scars that result into old age. Another strong track is Don't Think Less Of Me, a great story song about the cost of misdeeds and mistakes from stealing apples as a child to loving the wrong guy and finally overcoming the loss of an unborn child to finally finding genuine love and the joy of parenthood. Featuring an old-timey arrangement with Julie's banjo and Sam Bush's fiddle behind Julie's raw hillbilly vocal. The reflective I Don't Know About Tomorrow is given a simple arrangement of echoing guitars and light harmonies to offset the old-time lyrics that feel like a step back, then forward. Waiting For You is a beautifully melancholic love song, displaying Julie's alluring vocals, Drew Basham's soft piano alongside Larry Mechem's eerie flugelhorn. John takes the lead vocals on the bluesy South State Street Road, in which a country boy debates about life in the city against living out in the country with Pat Bergeson's evocative harmonica adding an earthy feel. The closing From Our Wandering is one of the album's best songs, both musically and lyrically, and finds Julie musing about the futility of all the noise in the world creating hate when we should be seeking the peace of silence. To emphasise this message their two young children delicately sing the chorus as the song fades away.
A wide and varied mix of sounds and styles, this is the kind of record you'll be getting your money's worth out of for a long time to come. Julie and John Pennell fulfil their goal of uniting people through optimistic and hopeful songs of perseverance, vulnerability, acceptance and grief with a genuine celebration of life and the bond that makes them one of country music's most passionate acts.
June 2020