Joy Lynn White - Whatever Happened To....
First Published in Country Music International, October 1997
Joy Lynn White Always knew she was a little different, and with her Latest LP, The Lucky Few, she finally got to express true self.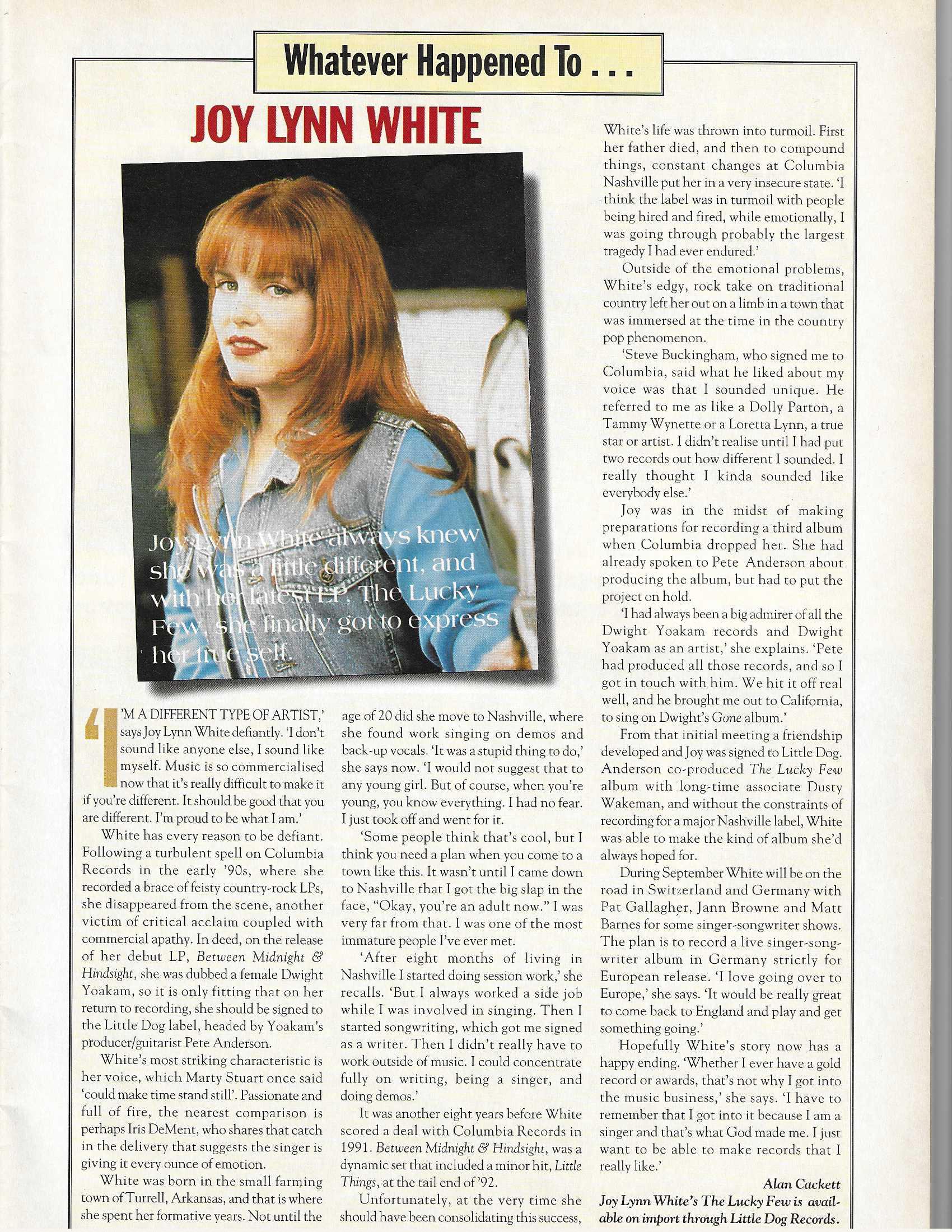 "I'm a different type of artist," says Joy Lynn White defiantly. "I don't sound like anyone else, I sound like myself. Music is so commercialised now that it's really difficult to make it if you're different. It should be good that you are different. I'm proud to be what I am."
White has every reason to be defiant. Following a turbulent spell on Columbia Records in the early 1990s, where she recorded a brace of feisty country-rock LPs, she disappeared from the scene, another victim of critical acclaim coupled with commercial apathy. Indeed, on the release of her debut LP, BETWEEN MIDNIGHT & HINDSIGHT, she was dubbed a female Dwight Yoakam, so it is only fitting that on her return to recording, she should be signed to the Little Dog label, headed by Yoakam's producer/guitarist Pete Anderson.
White's most striking characteristic is her voice, which Marty Stuart once said: 'could make time stand still.' Passionate and full of fire, the nearest comparison is perhaps Iris DeMent, who shares that catch in the delivery that suggests the singer is giving it every ounce of emotion.
White was born in the small farming town of Turrell, Arkansas, and that is where she spent her formative years. Not until the age of 20 did she move to Nashville, where she found work singing on demos and back-up vocals. "It was a stupid thing to do," she says now. "I would not suggest that to any young girl. But of course, when you're young, you know everything. I had no fear. I just took off and went for it."
"Some people think that's cool, but I think you need a plan when you come to a town like this. It wasn't until I came down to Nashville that I got a big slap in the face: 'Okay, you're an adult now.' I was very far from that. I was one of the most immature people I've ever met."
"After eight months of living in Nashville I started doing session work," she recalls. "But I always worked a side job while I was involved in singing. Then I started songwriting, which got me signed as a writer. Then I didn't really have to work outside of music. I could concentrate fully on writing, being a singer, and doing demos."
It was another eight years before White scored a deal with Columbia Records in 1991. BETWEEN MIDNIGHT & HINDSIGHT, was a dynamic set that included a minor hit, Little Things, at the tail end of 1992.
Unfortunately, at the very time she should have been consolidating this success, White's life was thrown into turmoil. First, her father died, and then to compound things, constant changes at Columbia Nashville put her in a very insecure state. 
"I think the label was in turmoil with people being hired and fired, while emotionally, I was going through probably the largest tragedy I had ever endured."
Outside of the emotional problems, White's edgy, rock take on traditional country left her out on a limb in a town that was immersed at the time in the country-pop phenomenon.
"Steve Buckingham, who signed me to Columbia, said what he liked about my voice was that I sounded unique. He referred to me as like a Dolly Parton, a Tammy Wynette or a Loretta Lynn, a true star or artist. I didn't realise until I had put two records out how different I sounded. I really thought I kinda sounded like everybody else."
Joy was in the midst of making preparations for recording a third album when Columbia dropped her. She had already spoken to Pete Anderson about producing the album, but had to put the project on hold.
"I had always been a big admirer of all the Dwight Yoakam records and Dwight Yoakam as an artist," she explains. "Pete had produced all those records, and so I got in touch with him. We hit it off real well, and he brought me out to California, to sing on Dwight's GONE album."
From that initial meeting a friendship developed and Joy was signed to Little Dog. Anderson co-produced THE LUCKY FEW album with long-time associate Dusty Wakeman, and without the constraints of recording for a major Nashville label, White was able to make the kind of album she'd hoped for.
During September White will be on the road in Switzerland and Germany with Pat Gallagher, Jann Browne and Matt Barnes for some singer-songwriter shows. The plan is to record a live singer-songwriter album in Germany strictly for European release. "I love going over to Europe," she says. "It would be really great to come back to England and play and get something going."
Hopefully White's story now has a happy ending. "Whether I ever have a gold record or awards, that's not why I got into the music business," she says. "I have to remember that I got into it because I am a singer and that's what God made me. I just want to be able to make records that I really like."