Self-released
****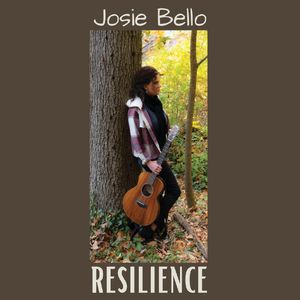 Josie Bello is an incredibly original artist with a lot of verve and energy and a terrific singer, writer and musician. A powerfully honest and uncompromising album, both in the way she confronts our collective failures, but even more profoundly, in how she confronts herself, RESILIENCE is as open and vulnerable as a diary entry. She goes to great lengths to affirm her personal strength as suggested by the album's title, resulting in a stirring musical mix that makes good use of guitar, keyboards, accordion, bass, harmonica, dojo, drums and percussion in order to achieve stirring melodic intents. It is also a brave record, as she makes it clear that more than anything else it's a reminder to herself of who she's become—and who she wants to grow into.
Josie's emotional music is both gentle and steely, moving from intimate revelations to powerful opinions in the blink of an eye. Her unique songwriting shines with a literary sensibility and her ability to craft characters is on full display. Slinky guitar grooves and stomach-pummeling lyrics that often feel relentless are at the heart of the title song, which confronts head on our pre-conceived images of people who we don't really know. Josie may be a wordsmith at heart, but she doesn't shirk on making The Sound Of Guitars punchy and infectious on a strictly musical level. Lyrically, it's all about the importance of music in highlighting the many wrongs in the world, from injustice to colour, hatred to gun culture. I Am Empty is a more personal confessional with a churchy organ weeping in the background as she lays bare her very soul. It's the vulnerability with which she shares her feelings that pulls you in to this prayer of hope.
There's an easy-going country vibe to Love That's Real with Josie's accordion very much to the forefront blending neatly with the twangy arrangement. It's a truly interesting and unique sound. It seems like a familiar kind of country song, while still having a very distinctive style all its own. The country feel is maintained on Killing Time, with harmonica and accordion setting the mood for some inventive guitar and Josie's laid-back vocal outlining the descriptive lyrics of a life that has become somewhat mundane. She writes lyrics that feature colourful anecdotes and vibrant storytelling, as with the gentle jog-along Coffee Shop Open Mic. This will have an immediate relevance to anyone who has pursued a career in music—successful or not—with its on-the-mark lyricism. Too Many Changes ponders the need to adjust one's attitude and intents to achieve a more fulfilling existence that's wrapped in tendrils of hope.
Supporting Josie Bello's lyrical insights on life and love is as solid and cohesive a band as you are going to hear. The degree to which this combo rolls effortlessly through the songs reveals a kind of shared musical vision that is rare. In addition to Josie's lead vocals, accordion and keyboards, the players feature producer Mike Nugent on guitar, bass and dojo and Shawn Murray on drums. Jim Small's emotive harmonica and Richie Guerrero and Sean Dolan on percussion add texture and depth to the sound on a number of the tracks. Josie has a knack for structured songwriting and what feels like the confidence to follow her nose no matter where it might take her ... personal lyrics supplemented by inventive sounds and a dynamic range of unexpected textures and tones.
February 2022