Joshua Hedley - Neon Blue
New West Records
****1/2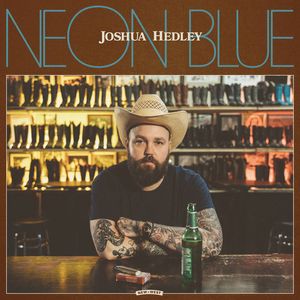 I've seen Florida-born Joshua Hedley playing in Roberts down on Broadway several times over the years. When it comes to country music, he is the real deal. One of modern country's most interesting voices, in both senses of the term. At times the timbre of his voice is reminiscent of Daryle Singletary or Larry Boone as he presents the traditional themes and melodies of Haggard, Gosdin, Chesnutt and Jackson. Authenticity is currency in the country music world: Sure, you can sling on a guitar, but do you mean it? Is the wide-brimmed hat and affinity for bourbon an affectation or a way of life? Authenticity is impossible to define, but it's something that the listener can tell in an instant. Joshua's second album, NEON BLUE, is a prime example of hitting authenticity out of the park. The album sits comfortably between homage and nostalgia, with Joshua making every effort to incorporate themes that pay tribute to the legendary musical history of his adopted hometown of Nashville. Having recorded his debut album with a bunch of musical buddies, for this latest release, he has worked with co-producers Jordan Lehning and Skylar Wilson and utilised Music Row's top studio players. It's not enough, of course, to use the same studios, gear, or session players to dig into that authenticity. It's about embodying the sense of discovery and excitement that brought the music to life to begin with. Joshua Hedley reminds us what drew so many to classic country and honky-tonk in the first place. You don't need complex lyrics to tell the truth; less is more—especially with an experience that's universal. Known as 'Mr. Jukebox', it's rumoured that he can sing every classic country song at the drop of a hat. You can just tell that this guy lives and breathes this music. He can make you really feel the experience of live music in a room packed with strangers … music destined for sticky, beer-soaked dancefloors.
Joshua is engaging throughout, each song melodically and/or texturally distinct. Backed by a nimble studio band he tackles sultry shuffles, swing-tinged toe-tappers, and heart-breaking ballads, revealing a confident poise. The songs are whimsical and reverent, mainly co-writes with veteran Music Row steelie and hit songwriter Carson and new kids on the block Wayne McCubbin and Zach Top. They're freewheeling pub sessions and melancholy reflections. You get the pure essence of what Joshua Hedley is all about with Country & Western, in which he aptly describes himself as 'a singing professor of country & western' to a familiar two-stepping rhythm and lashings of fiddle and steel guitar adding gravitas to the lyric. The Hank Williams-inflected Old Heartbroke Blues features neat interplay between Dobro, fiddle and pedal steel. His voice is unimaginably strong while also conveying a deep sense of forlorn acceptance. The dynamism and drama of the title song is especially thrilling, but it's topped by the lonesome beauty of Roger Miller's River In The Rain, the only outside song on the album. Songs such as Found In A Bar with its melodic Dobro picking and nostalgic-saturated lyric and the tearful, pedal steel sobbing Down To My Last Lie, sung by a tearful, heartbroken protagonist, show that Josh Hedley sure does write 'em as well as he sings 'em.
Drifting in with the sea mist from the Florida Gulf, this classic country traditionalist is charmingly scruffy at first appearance. But when he lets his voice loose, it's chill-inducing—his knack for rubbery hard country melodies conjure the ghosts of legendary singers like Joe Diffie, George Jones and even ol' Lefty. His oeuvre has a retro feel for early 1990s country on an album that reflects a reverence for music of a decidedly vintage variety. A rich, emotional, collection, this is a joy for Country music connoisseurs. Joshua Hedley is one genuine country artist that could so easily fall through the crack. I seriously hope not, because he deserves better, as does today's country music scene.
April 2022