Josh Logan - Whatever Happened To.....
First Published in Country Music International, August 1996
He could have been a contender. Then the likes of George Jones and Tracy Lawrence took his songs and turned them into hits.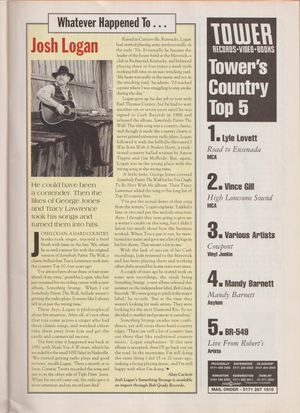 Josh Logan, a hard country honky-tonk singer, enjoyed a brief brush with fame in the late 1980s, when he scored a minor hit with the original version of Somebody Paints The Wall, a classic ballad that Tracy Lawrence took into the country Top 10, four years ago.
"I''ve always been about three or four years ahead of my time," grumbles Logan, who has just resumed his recording career with a new album, SOMETHING STRANGE. "When I cut Somebody Paints The Wall, ballads weren't getting the radio plays. It seems like I always fell in at just the wrong time."
These days, Logan is philosophical about his situation. After all, it's not often that you come across a singer who had three classic songs, and watched others take them away from him and get the credit and commercial success.
The first time it happened was back in 1981 with Made You A Woman, which he recorded for the small NSD label in Nashville. "We started getting radio plays and good reviews," recalls Logan. "Then a month or so later, Conway Twitty recorded the song and put it on the other side of Tight Fittin' Jeans. When his record came out, the radio gave it more attention and my record just died."
Raised in Cartersville, Kentucky, Logan had started playing semi-professionally in the early 1970s. Eventually he became the leader of the house band at the Maverick, a club in Richmond, Kentucky, and balanced playing three or four times a week with working full-time in an auto wrecking yard. "My heart was really in the music and not in the wrecking yard," he admits. "I'd reached a point where I was struggling to stay awake during the day."
Logan gave up his day job to tour with Earl Thomas Conley, but he had to wait another six or seven years until he was signed to Curb Records in 1988 and released the album, SOMEBODY PAINTS THE WALL. The title song was a country classic, and though it made the country charts it never gained extensive radio plays. Logan followed it with the hillbilly-flavoured I Was Born With A Broken Heart, a traditional country ballad written by Aaron Tippin and Jim McBride. But, again, Logan was in the wrong place with the wrong song at the wrong time.
A little later, George Jones covered Somebody Paints The Wall for his YOU OUGHT TO BE HERE WITH ME album. Then Tracy Lawrence added the song to his long list of Top 10 country hits.
"I've got the actual demo of that song from the writers," Logan explains. "I added a line or two and put the melody structure there. I thought they were going to give me a writer's credit on the song, but I didn't know too much about how the business worked. When Tracy put it out, he mentioned my name and gave me a lot of plugs in his live shows. That meant a lot to me."
With the lack of success of his Curb recordings, Josh returned to the Maverick and has been playing there and working other clubs around his home state ever since.
A couple of years ago he started work on some new recordings, the result being SOMETHING STRANGE, a new album released this summer on the independent label, Bob Grady Records. "We were going to pitch it the major labels," he reveals. "But at the time they weren't looking for male artists. They were looking for the next Diamond Rio. So we decided to market and promote it ourselves."
SOMETHING STRANGE exudes new confidence, yet still oozes those hard-country edges. "There are still a lot of country fans out there that like traditional country music," Logan emphasises. "If this new album is accepted, then I'll go back out on the road. In the meantime, I'm still doing the same thing I did 15 or 20 years ago, making a living playing music, and I'm still happy with what I'm doing."