Joselyn & Don - Seeds & Bones
Self-released
***1/2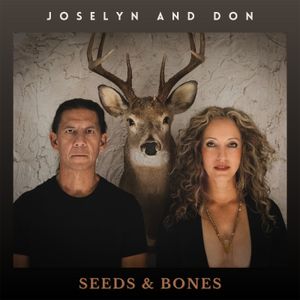 This Los Angeles-based duo consists of Joselyn Wilkinson and Don Barrozo, who bring their combined musical experiences into a contemporary mix of folk, soul, blues and vintage traditions. The six-track EP has an easy, natural sound, one that might cause the listener to assume this was quickly recorded in a few hours on a pier overlooking a swamp. It's not easy to build something this intricate that doesn't feel laboured, but this pair accomplish that, making it simple to describe but challenging to capture. Blessed with a one-of-a-kind voice that cuts through the atmosphere like a sharp blade, Joselyn handles lead vocals and plays ukulele and foot-drum. She holds your hand and takes you on an emotional roller coaster through these relatable tunes. Don is a guitar virtuoso, multi-instrumentalist, composer and producer. Over the course of these tracks, they tackle the personal and the current social climate, wedding it to an impactful structure that keeps the whole affair moving along. The couple's penchant for real-life experiences is explained through diligent truth-telling and inspired by private moments of awe experienced in nature … this set of songs provides an ideal example of an act that finds a comfortable fit within modern trappings, while also digging deeper in search of a more meaningful message.
They head South from their Montana birthplace to Memphis for a deep soul vibe for Give Up The Ghost. The spiritual inferences of Tennessee and Hank Williams set the scene as Joselyn enumerates society's crimes of hate and discrimination with the ardour of a revival preacher. Don makes his old Hawaiian steel guitar cry as they see through the tattered veil that clothes the American dream with a plea for a renewal based on something more tangible and anchored in actual equality. It's an uplifting soul experience, and definitely worthy of your attention. With country echoes, gently grooving Stay is emblematic of the kind of slow, evocatively atmospheric numbers that dominate the EP. Joselyn's dexterous voice slides and glides around the melody, while gorgeous harmonies and accordion swirl and funky rhythm guitar and little bits of lead guitar play tease with her vocals.
Softly struck ukulele sets up Light A Spark as Joselyn's bright voice juicily wraps itself around rich, lyrical, wild, spiritual imagery. There are shades of Fleetwood Mac in the soothing songcraft, hints of a Southern breeze in their country-inflected harmonies. Joselyn's voice is earthy and full in the title song, without being overbearing in her delivery. She displays a soulful wisdom in this evocative song that also showcases Don's skill with guitar fills that are both scorching bluesy and appropriately solemn for this existentialist ballad and is a great exemplification of the duo's dynamic. These are mainly soul-baring songs that stick with you, compelling you to turn them up louder and louder and sing them alongside her. 
October 2022