Johnny Russell: Recording from the late 1950s
First published in Country Music People, November 1981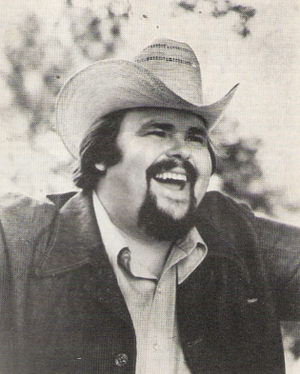 Singer-songwriter JOHNNY RUSSELL has maintained a steady career over the years, first gaining fame as a writer with material like In A Mansion Stands My Love and Act Naturally—and then moving on to gain recognition in his own right as a recording artist. ALAN CACKETT presents an appraisal of the artist's workings … 
Johnny Russell has been working in and around country music for the past 24 years. He's contented enough. At the age of 41 he has achieved much through his music, and although he admits there are times when he gets fed up with the whole thing, it's obvious he's happy to follow the path he has created for himself.
John Bright Russell, from Sunflower County, Mississippi, was raised on country music. Growing up in Fresno, California, he won an amateur contest and a number of talent shows. After completing his schooling he worked club dates and shows in the area.
"I guess I got into the music business because I was too lazy to work and too nervous to steal," explains the big man. "It seems that country music's always been a part of my life. Something I've always wanted to do. Ever since I was 13 years old I've been working to try to be a part of country music."
Initially, Johnny made his impression in country music as a songwriter with songs like
In A Mansion Stands My Love
, recorded by Jim Reeves,
Hurt He Once For Me
, a hit for The Wilburn Brothers, and
Two Mules Pull This Wagon
, recorded by Loretta Lynn.
"I became a songwriter out of desperation," he explains "Nobody would give me songs to record, so I started writing songs and started recording a little bit. Then I got to writing more, doing less recording, then I just stopped recording and turned to writing. I guess I started writing when I was about 14 or 15 years old."
He did his first recordings for Radio Records in California in 1959—"I made a tape of a song I had written and played it for a guy names Fabor Robison and he signed me to his record company, which lasted about six months," Johnny remembers. "I had always wanted to go to Nashville, and as nothing happened with the record, he released me from my contract."
Robison was the man who owned Abbott and Fabor Records, where Jim Reeves, Floyd Cramer and The Browns had all started their recording careers, so it was natural that Johnny Russell should follow their route to Nashville and Chet Atkins.
"I had met Don Gibson out on the West Coast and Don had told Chet Atkins about me," continues Johnny. "I went to Nashville and called Chet. Now I didn't know that you weren't supposed to call Chet Atkins. And I called him and he took me out to lunch and we became good friends. It's all sort of grown from my friendship with him. He's given me chances three different times."
This initial meeting with Chet Atkins led to Jim Reeves recording
In A Mansion Stands My Love
, which became the flip side of
He'll Have To Go
. It was the first of many Johnny Russell songs to be recorded. But at the time the new young songwriter wasn't ready to settle down in Nashville.
"I went to Nashville for the first time in 1959 and have been coming and going ever since. I used to work as a DJ and had a TV show out on the Coast, so it wasn't practical for me to move to Nashville at that time. In the early sixties I did move to Nashville. I was a songwriter then, and also worked in the publishing business."
There was one song that really enabled Johnny to throw caution to wind, leave his established career on the Coast and gamble on making a name for himself in country music and Nashville. That song was
Act Naturally
.
"I've had about 70 or 80 songs recorded, and
Act Naturally
was the first real hit song I'd ever written," Johnny recalls. "
In A Mansion Stands My Love
was the first successful song because it was on the back of
He'll Have To Go
, and sold a lot of records and made me a little bit of money."
"I wrote
Act Naturally
out on the Coast. I was working for Boyd Records as a producer at the time. I was visiting my mother when I got a telephone call from my record company wanting me to go to Los Angeles to do some work for them. When I told my mother I had to go to Hollywood, she asked me why. I replied: 'They're going to put me in the movies and make a big star out of me,' the line sounded good and I wrote a song around it in about 15 minutes."
Like so many classic songs, at first Johnny had trouble getting anybody to record
Act Naturally
. He took it along to Buck Owens, but he was interested in another of Johnny's songs. It was the late Don Rich, Owen's long-time guitarist and right-hand man, who talked Buck into recording the song. He made it a big country hit in 1963. Loretta Lynn recorded it in 1964, The Beatles put it on an album in 1965, and Charley Pride recorded it in 1970.
To date total world-wide sales on that song are approaching 12 million.
By this time Johnny has married Linda Watts. To move to Nashville he needed security, and he found that with the Wilburn Brothers. "I worked for the Wilburn Brothers for a long time, mainly in their publishing company., and I was also associated with Loretta Lynn. I wrote lots of songs that the Wilburns did—
Hurt Her One For Me, Making Plans
and
Two Mules Pull This Wagon
, which Loretta recorded. I was just writing songs and working at the publishing end of things."
His time at Sure Fire Music did Johnny a lot of good, but it was also a frustrating period, because he always wanted to be a recording artist and entertainer. Yet he can still can still look at those days and recall the good times. Like how he came to write
Mean, Mean Man
, a song that Burl Ives recorded.
"I wrote that when I first moved to Nashville," he remembers. "As a matter of fact, a young lady by the name of Dixie Dean and I wrote that together. Some people might not know that Dixie's Tom T. Hall's wife. And she and I wrote that song after something another songwriter said to me. I told that songwriter I didn't like that particular song they were talking about and she said to me: 'You know you're a mean, mean man,' and from that came a song."
Eventually Johnny and Linda tired of Nashville life and moved back to California. He still dabbled in songwriting and occasionally did the odd club date, every so often he would make a trip back to Nashville to try and get his songs recorded.
"In 1970 I was living out in California and I came back to Nashville to visit for a couple of weeks. Chet Atkins and Archie Campbell took me out to lunch and Chet said: 'What do you want to do? You're not getting any younger, what do you want to be?' So I said: 'Chet I want to be an artist, I've always wanted to be an artist.' He said: 'That's what I wanted you to say, so let's get after it.' So I said: 'I need a record label.' So we worked from there. I moved back to Nashville and he put me on RCA Records."
Johnny's first single,
It Sure Gets Hard Being Me
, failed to make any impression, but his second single
Mr. & Mrs Untrue
, made the lower reaches of the country charts during the autumn of 1971, eventually reaching position 61.
RCA were obviously expecting big things from Johnny. One of the brightest new singing talents on the country scene, he soon released his first album MR. & MRS UNTRUE, even though
Mr Fiddle Man,
written in partnership with his wife, was a good up-tempo country number that has since become a popular concert number, it failed to make a big impression on the charts.
His fifth single,
Rain Falling On Me
, a Jimmy Peppers' song, was the breakthrough that Johnny had been seeking. It reached number 36 on the charts and paved the way for
Catfish John
, a Bob McDill/Allen Reynolds song that made the top ten at the end of 1972, This singalong tale of life in the country was the beginning of a long association between Russell and McDill that has continued right through to today.
This top ten hit led to the release of a second album, CATFISH JOHN/CHAINED. Produced by Jerry Bradley, it was a polished exercise in the fundamentals of modern country. Previous singles,
What A Price, Mr. Fiddle Man
and
Rain Falling On Me
, lay alongside cover versions of recent country hits of the period like Conway Twitty's
She Needed Someone To Hold Her
and Tanya Tucker's
The Jamestown Ferry
, plus the follow-up to
Catfish John
, the Foster-Rice song
Chained
.
It was not the hit that Johnny had hoped for, but he struck gold next time out with
Rednecks, White Socks And Blue Ribbon Beer
, a song from Bob McDill, Wayland Holyfield and Chuck Neese. This anthem became Russell's biggest hit. Having a single reach the top of the charts was gratifying reassurance that ten years of hard work for the singer-songwriter had paid off.
"I really needed that hit," Johnny recalls. "When
Chained
failed to make the top twenty, I thought that maybe I was destined to be a one-hit artist. Then
Rednecks
made it right to top and I felt just great."
Soon after that chart–topping success came the release of Johnny's third album, naturally titled after the hit single. It was another strong collection, produced in a straight modern country style without any fancy string arrangements. Included was his next single, Dallas Frazier's
Baptism Of Jesse Taylor
, a gospel-flavoured song that was a natural for Russell, and his own sensitive version of
I'm Making Plans
, a song he'd written ten years earlier, for the Wilburn Brothers.
For the next single,
She's In Love With A Rodeo Man
, he turned one again to Bob McDill, and though it was one of the best that Johnny had recorded, it only just scraped into the top forty. RCA obviously expected big things from this single, as they put out an album under the same title almost as soon as the single hit the shops.
Produced yet again by Jerry Bradley, Russell wasn't tested hard, as yet again he ensured his appeal was broad by using material as wide-ranging as possible. His reading of ballads was improving and
The Only Song I'll Sing
was full of quiet assurance, while his version of
Some Kind Of Woman
, which you'll no doubt know from Faron Young, is confident, though he brings to the song nothing new, nothing of himself. He really excelled on
Crystal Chandeliers
, a song I tired of long ago, but in Russell's hands the song becomes meaningful again.
He finally returned to the top twenty with
That's How My Baby Builds A Fire
at the beginning of 1975. That was followed by
Hello I Love You
, a fine country ballad written by Ronnie Rogers, which just missed a top ten placing. Ironically his best single for a couple of years,
Our Marriage Was A Failure
, written in partnership with Bob McDill, only made it into the top fifty.
This was taken from Johnny's final RCA album, HERE COMES JOHNNY RUSSELL. Produced by Roy Dea, it was his most ambitious recording effort. Included was a stunning version of Randy Newman's
Birmingham
, a subtle but exciting
Over Georgia
, and a good pop/country ballad in
Seems I Can't Live Without You
. The production expanded on the basic Johnny Russell country sound with the inclusion of trumpet, organ and soft strings. But it failed to re-ignite his recording career.
During the next two years he released a further five singles for RCA, but none of them achieved any notable chart placing. The best seller was
Son Of Hickory Holler's Tramp
, a song perfectly suited to the Russell style, that made the top thirty at the beginning of 1977. The most interesting though was
Obscene Phone Call
, written by John Schweers. It received a mixed reaction from radio programmers, was banned by several stations and only managed to reach position 91 on the country charts.
The following year Johnny signed with Polydor and released one single
, You'll Be Back (Every Night In My Dreams),
a song he co-wrote with Wayland Holyfield. It made the top twenty, and Johnny was moved from Polydor to Mercury, where he's been ever since. He has released some fine singles, including several Bob McDill songs like
How Deep In Love Am I
and
Song Of The South,
Sonny Trockmorton's
Ain't No Way To Make A Bad Love Good
and the excellent
Here's To The Horses.
They have all made the country charts, but a big hit has eluded Johnny Russell. He has continued to make a healthy living out of country music by concentrating on his live appearances. He has built up a solid reputation as a first-class entertainer.
"I do, not exactly comedy, I call it communicating in a funny way," Johnny says. "We talk a lot and react with people in the audience. I like to talk to the people in the audience if it doesn't get out of hand."
Johnny's stage performances have been enhanced in recent years by his second wife, Beverly Heckel. They've been married four years. At the time Beverly was just 17 years old, and Johnny 20 years older. They'd known each other since Beverly was 13. They were working the Wheeling Jamboree. Beverly was appearing with her sister Susie and brother J-Bird, as the Heckels.
The big man was impressed by this vocal trio and he invited them to join his touring group, and was instrumental in getting The Heckels a recording contract with RCA. This led to Beverly recording solo and hitting the charts with
Bluer Than Blue
in 1978. The Heckels split up; Susie is now a housewife in West Virginia, J-Bird is Johnny''s drummer, and of course Beverly is Mrs. Johnny Russell.
She has worked regularly on Johnny's recordings for the past three or four years, and though she no longer has a recording contract of her own, she is happy to work alongside her husband.
For Johnny, all his records hit the charts, but lately they haven't climbed very high. Yet all his records are played on the radio, and he has a good reputation with his past hits, which ensures he works steadily and makes a good living from country music. Something he only dreamt of 25 years ago. 
Johnny Russell Album Discography
Mr. & Mrs Untrue – RCA LSP 4588
Catfish John/Chained – RCA LSP 4851
Rednecks, White Socks, And Blue Ribbon Beer – RCA AFL1-0345 (British Release)
She's In Love With A Rodeo Man – RCA APL1 – 0542
Here Comes Johnny Russell – RCA APL1-1211