Johnny Rodriguez - Whatever Happened to........
First Published in Country Music International, January 1997
Twenty years after topping the country charts and winning a personal fight against drugs. Johnny Rodriguez is back with an extraordinary new album.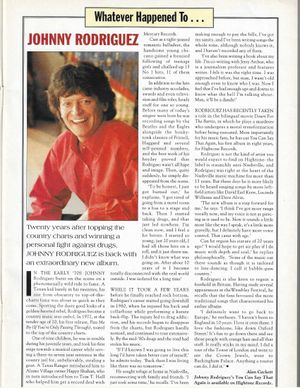 In the early 1970s Johnny Rodriguez burst on the scene on a phenomenally wild ride to fame. A Texan kid barely in his twenties, his rise from obscurity to top-of-the-charts fame was about as quick as they come. Sporting the dusty good looks of a golden-hearted rebel, Rodriguez became a country music sex symbol. In 1972, at the tender age of 20, his first release, Pass Me By (If You're Only Passing Through), soared to the top of the charts.
One of nine children, he was in trouble during his juvenile years, and took his first step towards a musical career while serving a three-to-seven-year sentence in the county jail for, unbelievably, stealing a goat. A Texas Ranger introduced him to Alamo Village owner Happy Shahan, who in turn introduced him to Tom T. Hall who helped him get a record deal with Mercury Records.
Cast as a tight-jeaned romantic balladeer, the handsome young Chicano gained a frenzied following of teenage girls and chalked up 15 No. 1 hits, 11 of them consecutive.
In addition to the hits came industry accolades, awards and even television and film roles, heady stuff for one so young. Before many of today's singers were born he was recording songs by the Beatles and the Eagles alongside the honky-tonk classics of Frizzell, Haggard and several self-penned numbers, and the best work of his heyday proved that Rodriguez wasn't all hype and image. Then, quite suddenly, he simply disappeared from the scene.
"To be honest, I just got burned out," he explains. "I got tired of going from a motel room to a bus to a stage and back. Then I started taking drugs, and that just led nowhere. I'm clean now, and I feel a lot better. I started so young, just 20 years old, I had all those hits on a roll, and it just threw me. I didn't know what was going on. After about ten years of it I became totally disconnected with the real world outside. I was isolated for a long time."
While it took a few years before he finally reached rock bottom, Rodriguez's career started to go downhill in 1980, when he injured his back and collarbone while performing a karate back-flip. The injury led to drug addiction, and his records began to disappear from the charts, but Rodriguez hardly noticed, and continued to tour extensively. By the mid-1980s drugs and the road had stolen his music.
"If I'd known I was going to live this long I'd taken better care of myself," he admits today. "Back then I was living like there was no tomorrow."
He sought refuge at home in Nashville, reconnecting with family and friends. "I just took some time," he recalls. "I've been making enough to pay the bills. I've got my sanity, and I've been writing songs the whole time, although nobody knows it, and I haven't recorded any of them."
"I've also been writing a book about my life. I'm co-writing with Jerry Arthur, who is a journalism professor and features writers. I felt it was the right time. I was approached before, but man, I wasn't old enough to even know who I was. Now I feel that I've had enough ups and downs to know what the hell I'm talking about, man, it'll be a dandy!"
Rodriguez has recently taken a role in the bilingual movie Down For The Barrio, in which he plays a murderer who undergoes a moral transformation before being executed. More importantly for his music fans, he has cut YOU CAN SAY THAT AGAIN, his first album in eight years, for Hightone Records.
Rodriguez is not the kind of artist you would expect to find on Hightone: the label is staunchly anti-Nashville, and Rodriguez was right at the heart of the Nashville music machine for more than 15 years. But these days he is more likely to be heard singing songs by more leftfield artists like Robert Earl Keen, Lucinda Williams and Dave Alvin.
"The new album is a step forward for me," he says. "I think I've got more range vocally now, and my voice is not as piercing as it used to be. Now it sounds a little more like the way I speak, it's a little more gravelly, but I definitely have more voice control. That came with age."
Can he regain his stature of 20 years ago? "I would hope to get air play if I do music with depth and soul," he replies philosophically. "Some of the music out there sounds as though it is tailored to line-dancing. I call it bubble-gum country."
Rodriguez is also keen to regain a foothold in Britain. Having made several appearances at the Wembley Festival, he recalls that the fans favoured the more traditional songs that characterised his earlier albums.
"I definitely want to go back to Europe," he enthuses. "I haven't been to England in ten years. I love it over there. I love the fashions, like down Oxford Street? It's fun to go down there and see those people with orange hair and all that stuff. It really sticks in my mind. I did a tour of the Tower of London and went to see the Crown Jewels, went to Buckingham Palace. Anything a tourist can do, I did it."