First published in Country Music People, July 1974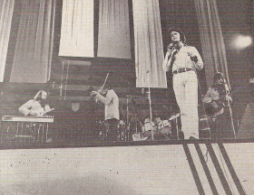 Overnight success in country music is very rare, yet that appears to be the way Johnny Rodriguez has carved a name for himself. Two years ago he was unknown, today he is verging on super-star status, mobbed everywhere he goes by teenage country fans, who for the first time have a hero from their own age group.
A slightly built young fellow, of whom you have the feeling he could handle himself in any bar-room brawl, Johnny recently made his debut in Britain at the Wembley Country Music Festival. He struck me as a keen country music lover and like most country artists, very friendly and a real human being.
Johnny appreciates the position he has landed himself in and seems to take the mobbings and adulation in his stride. He has a sincere love for country music, and this love almost jumps out of the grooves of his first three albums. He has a warm, clear Merle Haggard like voice, which puts him right in the middle of Nashville country singers, only he's much better than most of the current crop.
After the release of his first album, INTRODUCING JOHNNY RODRIGUEZ and the success of his debut single
Pass Me By
, he came under a lot of criticism for sounding like Haggard. "It wasn't intentional," he explained, "It's just the way I sound. If I had it my way I would come out like George Jones, he's my all-time favourite singer. Always has been!"
"I've always been interested in country music since I was about nine or ten years old. I started singing and playing guitar, mainly the old Hank Williams songs. I just grew up with it." This seemed strange to me coming from a Chicano (Texan-Mexican), who speaks fluent Spanish and grew up in Sabinal, Texas near the Mexican Border, but Johnny went on to explain: "I never really got involved with Mexican music apart from Marty Robbins tunes like
Don't Worry
and
Devil Woman
and of course the Gunfighter Ballads. I mainly listened to George Jones, Ray Charles and Hank Williams. Williams is the main influence on my own writing."
It's as a writer that I can really appreciate young Johnny's talent. He is a natural creator of straightforward love songs that have a basic earthiness that so typified work of the legendary Hank Williams. Songs like
We Had A Good Time Trying
and
I'll Just Have To Learn To Stay Away From
You
are pure delights. Perfectly constructed country weepers and destined to be around for a good many years yet.
"My favourite song of the ones I've written is
Ridin' My Thumb To Mexico
. I always wanted to write a number one song, and that was it," Johnny added proudly. "I'm also pleased with
Dance With Me (Just One More Time)
on my latest album and
You Always Come Back To Hurtin' Me
written with Tom T. Hall, that was on my first album. The biggest compliment I've had though is other artists cutting my songs. Barbara Fairchild has recently recorded
You Always Come Back To
Hurtin' Me
and Conway Twitty's going to do
I Never Had A Thing That Ain't Been Used
. That's the best compliment I can have."
Throughout Johnny's albums there's been a tendency to mix his own songs with country standards creating a nice blend of new and old. Usually the standards, like
Jealous Heart
, have him slipping into Spanish mid-song. The effect is stunning in itself and also a welcome reminder that country music is not solely American. Johnny admitted that when he breaks into Spanish it's a gimmick. He first used it on
I Can't Stop Loving You
when he auditioned for Mercury two years ago. It worked and he's retained the gimmick ever since, both for recordings and concert appearances.
His recordings are produced by Jerry Kennedy, a man who knows a winning sound when he's achieved it. He skilfully interweaves the steel guitar of Pete Drake behind the usual Nashville session men and brings Johnny Gimble's fiddle out front for some startling solos that complement Johnny's vocals perfectly. His first two albums stuck rigidly to this style and those who loved earthy country music in a modern setting were well catered for. The songs were chosen with care and it's interesting to note that Billy Joe Shaver's classic,
Ride Me Down Easy
, is given the earlier title of
Easy Come, Easy Go
on his first album. I've always been a dedicated Lefty Frizzell fan and I was delighted with Johnny's versions of
That's The Way Love Goes
, a song that's now become a firm concert favourite. It's a gem of a song—simple, but so much emotion and feeling in just a few honest words.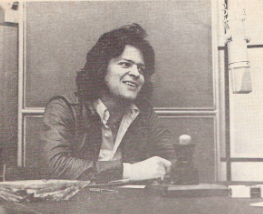 On Johnny's latest album a slight contemporary influence begins to creep in with strings tastefully added behind Rex Griffin's immortal
The Last Letter
and the surprise inclusion of George Harrison's
Something
. Perhaps more startling is the Michael Nesmith and Linda Hargrove penned
I've Never Loved Anyone More
, a contemporary country song which Nashville artists like Johnny Rodriguez would normally shy away from. But Johnny has an open mind and if he really likes a song, he'll record it.
"
I Never Loved Anyone More
by Mike Nesmith—it's just a song I like. Like
Something
, another song I really love. It's hard for contemporary artists like Nesmith to break into Nashville and gain recognition. I'll accept it if it's good," explained Johnny. "I like strings if they suit a song. Not on a real hard country thing, that should have fiddle. On a soft song though I'll accept it."
Johnny's manager is Happy Shahan, a big, brash Texan. He's a businessman, assured, commercially minded and in country music for the money and success. He handles Johnny with shrewdness, almost treating him as a saleable product, but beneath the surface he honestly believes in Johnny as a person. I got the impression that the quiet, modest Rodriguez and the forceful, big talking Happy Shahan were made for each other. Both have an open friendliness and a truly honest approach to country music.
Last December Johnny formed his own backing group, The Music City Band, a tightly knit five piece group consisting of leader Rick Durrett on piano, Johnny Cobb on electric bass, Rick Willis on drums, David Burns on electric lead and pedal steel and young Merle Count on fiddle. Although the group have only been together for a short time, they have an empathy with Johnny's style and can handle themselves equally on the slower country numbers and the exciting rock'n'roll medley that they unleashed upon the Wembley audience.
Rock'n'roll has played an important part in country music since it first sprung to prominence back in the 1950s. Johnny expressed a wish to include his medley of Chuck Berry and Jerry Lee Lewis songs on his next album. He is not interested in contemporary, heavy or acid rock, but the more straightforward and basic country-rock of the 1950s. It's a musical style that many young country performers of today have grown up on. Over the past few years rock'n'roll has thrown up many worthwhile country singers in the form of Billy 'Crash' Craddock, Narvel Felts, Conway Twitty and the revitalised Jerry Lee Lewis, who all began their musical careers as rockers in the 1950s.
I have my doubts as to how a rock'n'roll medley would fit into a Johnny Rodriguez album. It's acceptable in a concert concept as singers usually need to feature more up-tempo numbers, but his albums are more of a subdued collection of country love songs, and to stick rock songs in the middle could be a ghastly mistake.
Although it appears that success has come really rapidly for Johnny Rodriguez, he has spent several years preparing for the big time. He is not rushing his career, but building it slowly step by step. Before breaking into Nashville with
Pass Me By
he spent a couple of years at a western movie set and tourist attraction known as The Alamo Village gaining important professional advice. (See CMP Vol. 4 No. 11, Nov. 73)
He then spent more than a year touring with Tom T. Hall playing lead guitar and fronting The Storytellers, with his own solo spot. During this time he came under the tremendous influence of Hall and has the honour of being the first person to co-write songs with Tom T. He also struck up a friendship with another budding country writer, Billy Joe Shaver and counts him amongst his closest friends in Nashville.
Johnny Rodriguez, is at only 22, one of the youngest stars in Nashville, and I believe that with his unique writing ability, sincere way with a song and honest approach to country music, he will emerge as one of the most important country artistes to have hit Nashville in the 1970s.