Johnny Paycheck - Paycheck: taking his job and winning…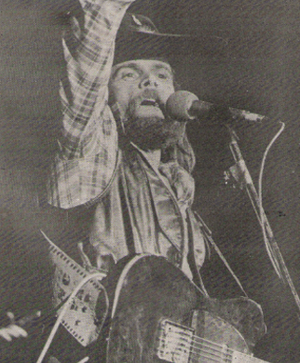 JOHNNY PAYCHECK, after more years than he cares to admit of struggling against the hard times, has won out and is among the leaders of the 1980s contemporary country scene. ALAN CACKETT gives CMP readers the facts…
Johnny Paycheck has been to the top in country music and knocked back down to the bottom so many times it's a wonder he didn't admit defeat and leave the ring for lesser talented, but somewhat luckier people several years ago. But that'' not Paycheck's style. He is a fighter, a man of grit and determination and something of a hellraiser.
The Paycheck story begins some 42 years ago in a small town in Ohio. He started life as Donald Lytle, but has had several name changes and just as many different images. He's also had endless financial problems and enough false starts to make even the most dedicated singer to throw in the towel.
His musical interest began like so many youngsters when he was given a guitar for his sixth birthday. When he was in his early teens he began entering local talent contests and gradually began working his way up the ladder of success. By the time he was nineteen he had reached Nashville and could be found hanging around the Opry, pushing for that first break in country music.
His first 'real' job in country music was as a bass player with Porter Wagoner's band, The Wagonmasters. Though the job only lasted a month (Porter's regular bass guitarist was sick) it opened the door for the young singer. He was barely twenty years old when he went to work with Faron Young's Deputies, playing bass, singing tenor harmony and being allowed his own short spot on the show.
Next he joined George Jones' band and for the next five or six years alternated between The Jones Boys and Ray Price's group. Though he began as a bass guitarist with Jones, he had become interested in the steel guitar, and whilst working alongside steelies like Jimmy Day and Buddy Emmons, he started to master the instrument. After a short stint with Ray Price, he rejoined George Jones as a steel guitarist and played and sang on many of George's recordings.
He was a highly respected tenor vocalist, but travelling all the time in the unreal situation as a musician played havoc with his personal life. He had a reputation as a heavy drinker and missed dates led to him being fired by both Jones and Price on a regular basis. Both singers recognised his unique vocal talent, and Jones helped him to secure a recording contract with Decca in the autumn of 1959.
Only two singles were released by Decca—
On This Mountain Top
and
Miracle of Love
, two slow country ballads, though the B-side  of the latter single,
Shaking The Blues
, was an out-and-out rocker penned by George Jones. These records were released under the name of Donny Young. A couple of years later, again due to Jones' influence, Donny Young was signed to Mercury Records and released another fine country single,
On Second Thoughts
, but again it was a flop, so he just continued working as a sideman with Jones and Ray Price.
Not only was he regularly working on the road, but was also called upon for recording sessions and sang on Ray Price recordings of
Heart Over Mind
and
Twenty-Four Hours
, and several of George Jones' hits, including
Love Bug, I'm A People
and
The Race Is On
.
The change from Donny Young to Johnny Paycheck came about in the summer of 1965. He teamed up with Aubrey Mayhew, who offered to finance and produce some sessions on the young singer. Whilst looking for suitable material, they came across a song which was buried in an old Buck Owens' album. The tune was
A-11
, a lament to a jukebox written by Hank Cochran. A beer-drinking weeper, the song was perfectly suited to a Paycheck's traditional country voice. The record was leased to the small Hilltop label and at first did nothing.
A few weeks after the record was released Johnny set off for a European tour with George Jones. It consisted mainly of military bases in Germany. When he returned to the States he found he had a hit record on his hands, so he left the Jones Show to go solo. The record finally rose to number 26 on the charts. A follow-up,
Heartbreak, Tennessee
, a sad, lonesome country ballad penned by Jack Clement, also made the charts and gave Paycheck and Aubrey Mayhew the incentive to start their own label.
The name of the label was Little Darlin' Records and for the next four years it made quite an impression on the country scene. There was the long stream of hit records that Paycheck enjoyed, and then there was the exposure given to other budding names, including steel guitarist Lloyd Green, who played on most of Paycheck's recordings. It was Green's steel work which helped to give Paycheck his distinctive country sound.
His first release on Little Darlin' was
The Lovin' Machine
, a great up-tempo song praising the assets of a fine sports car and drawing comparisons to the female form. The Lloyd Green steel sound really came to the fore on this record, which climbed into the top ten and gave Little Darlin' a major boost.
Immediately the single started selling, an album was rushed out—JOHNNY PAYCHECK AT CARNEGIE HALL. Though the title and sleeve notes gave the impression that this album was recorded 'live' at New York's famous concert hall, it was in fact recorded in RCA's studios in Nashville on April Fools' Day 1966. The title was to commemorate Paycheck's appearance at the hall and the album was full of good self-written songs like
Ballad Of 'Frisco Bay, Bayou Bum and Something He'll Have To Learn
, blended with hits of the day like
King Of The Road
and
Ballad Of Green Berets
.
Surprisingly, this album only provided Paycheck with one hit single,
Wherever You Are
, which was released in the summer of 1969, three years after it was recorded. It turned out to be his last success on Little Darlin' though in between he had hit the charts on a regular basis with songs like
Motel Cave
and
Don't Monkey With Another Monkey's Monkey
.
By this time he was making quite an impression as a songwriter. During 1966 he provided Ray Price with a number one hit in
Touch My Heart
, and co-wrote
Apartment No.9
with Bobby Austin, which was a success for Austin and also was Tammy Wynette's debut single. Paycheck was of course writing much of his own material as well as building up quite a reputation as a fine stage performer.
His second album, THE LOVIN' MACHINE, gave credit to the steel guitarist Lloyd Green and turned out to be one of the best country albums of the year. Though Paycheck was at his best on 'crying-in-my-beer'' type songs, he proved his versatility as a vocalist with a fine interpretation of
Miller's Cave
, with 'Pig' Robbins tinkling away in the back-ground on piano.
His albums seemed to be flowing thick and fast at this time, but they all maintained a high standard. His third album GOSPELTIME IN MY FASHION, seemed to be a risky set to release so early in his career, but Paycheck pulled off a distinctively refreshing approach to religious music. The first side featured new gospel tunes, mainly written by Country Johnny Mathis, an underrated country vocalist, who was also signed to Little Darlin'. The second side consisted of gospel standards like
Just A Closer Walk With Thee, The Old Rugged Cross
and
Amazing Grace
.
By the time his fourth album, JUKEBOX CHARLIE, was released, Little Darlin' Records had become one of the best independent country labels in Nashville. Paycheck's own records were straight honky-tonk, the titles on the album—
You Can Hear A Teardrop, Meanest Jukebox In Town
and the Bobby Bare-penned
Motel Time Again
—gave away the theme of the songs.
The Paycheck phrasing style was perfectly suited to this kind of material, and he was soon being referred to as a 'country-soul singer'. It was not the right description for what he was doing, but for a music business that seems to live by labels, it was probably the most suitable one. His next album was naturally titled COUNTRY SOUL. It was an excellent collection of standard country ballads given that unique Paycheck touch. The songs ranged from
Green Green Grass Of Home
through
Together Again
and
There Goes My Everything
. This was possibly the weakest of his Little Darlin' albums, though that might have been because all of the songs are so familiar.
By now he was beginning to slip in popularity. His singles were no longer making the top twenty, and by the end of 1967 he was even finding it difficult to make the top fifty. Little Darlin' began to go through a period of financial problems, which naturally affected Paycheck, who turned to the bottle in a futile effort to overcome the problems. After a two-year period of being at the top, he was now sinking fast; but then after an eighteen-month period in the shadows he enjoyed one more major hit with
Wherever You Are
, a track from his first album.
The song climbed high on the charts in the summer of 1969 and led to the release of his last album for Little Darlin'. Titled after the hit single, it contained mainly the odd singles that hadn't previously been included on albums and turned out to be a disjointed effort. By now Paycheck was very close to the bottom, relying more and more on the bottle, and completely unable to handle his career. A little while later Little Darlin' Records folded, but Aubrey Mayhew wasted no time forming a new company, Certron Records, and Paycheck was the first artist signed.
He only released a couple of singles, neither of which amounted to much, followed by an album which included new recordings of
Jukebox Charlie, Touch My Heart
and
The Ballad Of Frisco Bay
, plus his readings of
Sunday Morning Coming Down
and
Sunny Side Of The Mountains
. It turned out to be a pleasant, if rather unstartling album. Paycheck's once dramatic voice was now a pale imitation, a man singing because he had to rather than because he wanted to.
Soon after this he disappeared completely from the scene, ending up on the West Coast where his life seemed to be one endless bout of drinking. In Nashville he was not a forgotten man. He was talked about in awe and finally in 1971 top producer Billy Sherrill contacted him, urged him to straighten himself out and get back to Nashville for recording. He moved from the Coast to Denver, and after some years in the wilderness Paycheck made his return to country music stardom.
The first single produced by Sherrill was
She's All I Got
, a soul hit which Paycheck took to the top spot on the country charts. The 'buzz' surrounding his comeback spread rapidly and I can remember waiting anxiously for the release of that first Epic album. When I finally heard the music it was rather like seeing the form emerge from within a block of stone under the sculptors chisel. We suspected it was there all the time, but it needed someone to bring it out. Billy Sherrill was the man who harnessed the talent and power of Paycheck and produced the kind of records he had never quite achieved.
Part of Paycheck's accomplishment is his ability to bring refinement and sophistication to his work without sacrificing the raw spontaneous spirit, Skilfully guided by Sherrill, this album was constructed with craft, care for detail and professional discipline. But it was never stiff, bland or void of character. Gone were the 'crying-in-my-beer' type songs; they were replaced by a new optimism, an assertive power and Paycheck's dedication to carve a new career for himself.
He continued a lengthy run of successes on the country charts for the next three years, eclipsing his mid-1960s run on Little Darlin'. He made the top ten with songs like
Someone To Give My Love To
and
Song And Dance Man
. They were all dramatic, beaty ballads with a definite strength and power.
Each of his albums featured a song affectionately dedicated to his drinking days—'one for the boys'. On his second album it was
It's Only A Matter Of Wine
, a superb honky-tonk ballad from the pen of Larry Kingston. It certainly didn't sound misplaced alongside more contemporary material such as
Mr. Bojangles, Something
and the album's highlight
The Rain Never Falls In Denver
.
In the summer of 1972 Johnny Paycheck made his first visit to Britain to appear at a Columbia Records Convention. To prove their faith in his potential, they assembled a Nashville supergroup consisting of Pete Drake, Jerry Carrigan, Tommy Allsup, George Richey and Henry Strezelecki. All brought to London at great expense for a 15-minute set to impress the music business people.
The following year he was back to appear before the fans at Wembley Festival. Though he laid out the best music of the weekend on the audience, their minds stayed firmly shut. Like Joe Sun this year, Paycheck was a good five years ahead of the majority of British country fans. What he did at Wembley seven years ago would have brought forth a standing ovation this year; the only problem is that Paycheck and his music have progressed even further, and I'm still doubtful if British country fans would take to his aggressive, rockin' country music.
By the end of the next year it seemed that Paycheck could do no wrong, but then just when he was consolidating his position at the top, he slipped disastrously. It began with a series of financial problems that led to him being declared bankrupt. Then came the inevitable drinking problems and finally the tapering off of the big-selling singles, which are still the lifeblood of a successful country star.
During the latter part of 1975 and the whole of 1976, Paycheck didn't touch the top thirty at all. He seemed to be lost in his own musical world with his albums seemingly contrived and somewhat pretentious. A change of name became necessary and for a year he was known as John Austin Paycheck, but his luck was not ready to turn yet. Though there are definite hints of what was to come on the album 11 MONTHS AND 29 DAYS, a kind autobiographical record that recalled those nights spent behind bars, lost in a flood of alcohol.
The early months of 1977 saw him climbing back towards the top.
Slide Off Your Satin Sheets
made it into the top ten and was followed by an album carrying the same title. With this set Paycheck had started to use his powerful soulful voice again. The album produced another big-selling single in the aptly titled
I'm The Only Hell (Mama Ever Raised).
This was the build up for the big one. It certainly caught me off balance when he took a David Allan Coe song,
Take This Job And Shove It
, right to the top of the charts. It was a song perfectly suited to the little guy with the big voice. He sang with arrogance, yet controlled his vocal and true country style. His album that followed was a classic. His voice as unique as ever and at all times expressive. The sneering in
The Spirits Of St. Louis
, the defiance of the title and tune and the melancholy of
The Fool Strikes Again
are all represented by his singing.
It was a period when Paycheck could do no wrong. After
Take This Job And Shove It
slipped down the charts, the other side,
Colorado Kool-Aid
, started climbing the charts, and for a while it looked as if another top ten hit was on the cards. He continued to stick two fingers up at the establishment with his next single,
Me And The I.R.S.
It probably didn't help to solve his problems with the American authorities, but there's no doubt that everytime he sang the song he felt a whole lot better inside.
At this time Little Darlin' Records resurfaced and attempted to 'cash-in' on Paycheck's new found fame. A couple of singles which made little impression on the charts were followed by an album, PAYCHECK THE OUTLAW, which contained some of his best material from the mid-1960s. But it was the current material the record buyers wanted, and he continued to supply the goods with successful singles:
Friend, Lover, Wife,  (Stay Away) From The Cocaine Train
and
Drinkin' And Drivin'.
With the release of BANDED TOGETHER (which later changed to EVERYBODY'S GOT A FAMILY MEET MINE) Paycheck used his own band, The West Texas Music Company. It's possibly the best album he has yet recorded. Paycheck is a charismatic vocalist with saturnine features and a rare vocal technique that can cope with rapid, tongue-twisting lyrics, soar into the stratosphere, croak blues or shout rock'n'roll.
It's difficult trying to isolate just what it is that makes me want to listen to Johnny Paycheck all day long, but somewhere in the mix of monotonous rhythms and finely judged sounds there's a magician at work. On this album he offers a fuller sound by way of background singers and heavier instruments, but his vocal control is superb.
Paycheck's voice has mobility, emotion and above all drive, which is most others in country music lack. He is one of those handful of stars who has the potential to take country music to the British rock audience in a big way. But for now he is firmly rooted within the country music tradition, and if he can just keep his life straightened out he should continue to accomplish much during the next few years. 
First published in Country Music People, August 1980