First published in Country Music People, August 1973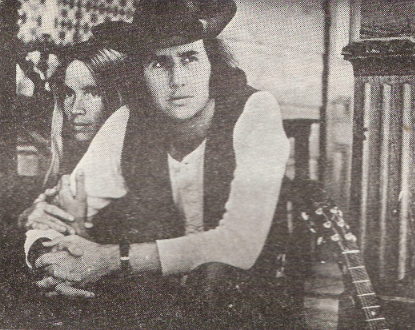 The Kingston Trio. If you mention that group to most die-hard country fans their hands go up in anger and they quickly try to dismiss one of the most influential groups in American music. But to discuss and tell you about John Stewart you must know a little about the Kingston's background. I'm lucky in a way as I've been a keen follower of the Trio's music since 1958.
Folk music wasn't born in 1958, nor, for that matter was the Kingston Trio. But when in that year, the Trio's song about the doomed
Tom Dooley
started spinning out of the radios and juke boxes of America, and eventually around the Western World, something very big was born. It can be called The Folk Era—the time when folk music came out of the hills, out of the archives, and back where it belonged. It came back to the people, all kinds of people, to be sung and heard and to become a living part of everyday life. The Kingston Trio started it all, made it grow and grew with it.
There are, of course, purists who hold that a folk song, to be a true folk song, must be a song that was never written, but always sung. Fortunately, there are those who are more interested in writing and singing that in defining. And that perhaps is the secret of the Kingston Trio's unparalleled success that spanned a ten-year period from the late 1950s to the end of 1967.
But what of the four men who have been the Kingston Trio? It started because Nick Reynolds and Bob Shane, students at Menlo College in Northern California knew and liked to sing with Dave Guard, who was attending nearby Stanford University. There was nothing special about their singing; they were not very different from thousands of other young college students around the country who were getting together with voices and guitars. Not very different, but a little different, a little bit better. So they decided to take a crack at being professionals and talked themselves into a job at the Cracked Pot, a hangout just off the Stanford campus in Palo Alto. There they sang for kicks and beer and pretzels, until one night a San Francisco publicist named Frank Werber came down to hear the group. When he hard them he knew they had something, so then and there, he became a manager and signed them up, their basic contract being scribbled on a convenient paper napkin. That was the first step. From that night on they continued to sing, but more than that they continued to study, to rehearse, to think, to plan, to work with Werber in the development of a polished and professional act.
They soon began making appearances at nightspots like The Purple Onion, Facks II and 'the hungry i' and became the most popular act in Bay City night club history. And their fame spread.
In January of 1958, the Trio signed a long-term recording contract with Capitol Records. Their first album, THE KINGSTON TRIO was released in June of that year. It sold well, but was by no measure an overnight success. One number in the album, however, was a haunting century-old folk song called
Tom Dooley
. For some reason it appealed to a few disc jockeys around the country and they started playing it. Before long there was sufficient demand for Capitol to release a single record of the song. That's when history started moving fast.
That was the beginning of the greenback dollar years. From
Tom Dooley
the Kingstons went on to
Tijuana Jail, The M.T.A, Where Have All The Flowers Gone
and
Greenback Dollar
. There are many reasons for the popularity of the Kingston Trio. They were visually attractive—young and vibrant, the spirit of collegians who make up much of their audience. They sing well—in tune, with an interesting harmonic approach, a solid beat. And always a delight has been their repertoire, a rare mixture of old and new songs chosen and arranged with taste and imagination. Sometimes humorous, sometimes carrying a message, sometimes simply telling a tale. The songs of the Kingston Trio reflect the diversity of its members.
Dave Guard and Bob Shane were both born in Hawaii where they spent their growing years, Nick Reynolds was born in San Diego, California, but grew up all over the Southern States where his family travelled.
During their rise to the top the Kingstons met a young musician and songwriter named John Stewart. In the course of the Trio's career, Stewart became more and more involved with the group, writing may of their arrangements and composing some of the most popular songs in their repertoire. In the spring of 1961 after the Trio returned from a tour of Australia, Dave Guard decided to go his own professional way, and John Stewart was a natural successor. He was not only a talented performer and a swinging musician, but he had that great personal quality of contagious enthusiasm that was so much a part of the Kingston Trio's performances.
John, like Nick, was born in San Diego. His musical interest can be traced to a number of sources, his father being a trainer of race horses, travelled from race meeting to race meeting, taking his family with him. During these travels John naturally heard many kinds of music and they all made an impression on him. But like so many young people, when he started at college his 'roots' were forgotten. It was 'hip' to be into jazz, Broadway musicals and folk music, and with such a wide range of musical interests John's inspirations were richly varied.
But whatever his college friends believed, John Stewart's roots were firmly entrenched in country music. He grew up on a diet of Tex Ritter, Bob Wills, The Sons of the Pioneers and other big names of the late 1930s and early 1940s. Like so many of the teenagers of the mid-1950s Stewart got caught up in the rock'n'roll sounds and was soon following the sounds of Elvis Presley, Buddy Holly, and many other country-rock sounds. It wasn't long till he formed his own rock group known as John Stewart and the Furies based around Pasadena where they cut their only record
Rocking Anna
for the Vita label.
With the Kingston Trio's sudden success in 1958 folk music was the bag to be in and John Stewart fitted in nicely. He was already into songwriting and in 1959 he became acquainted with the Trio who were quick to record his songs, and even take notice of his arrangements for them. He talked at length of his interests in the American Civil War and the Trio helped him to organise The Cumberland Three and soon a contract with Roulette Records followed, then bigger things when he joined the larger Columbia label and recorded two outstanding albums CIVIL WAR ALMANAC VOLUMES ONE AND TWO. Several of the songs included on these two albums were written by Stewart, and they fitted nicely into the current folk style.
The Cumberland Three disbanded after a very short period and Stewart settled into New York hoping to pick up experience and perhaps start a new solo career. This was early 1960 and pop music was still feeling the backlash of rock'n'roll. Most record companies wanted puppet-singers who could interpret the banal songs written by professional writers signed to the publishing companies that were owned by the same record companies. Stewart found New York a hard place to live. He was 'western' and just didn't seem to suit the New York way of life. It could be said that joining the Kingston Trio was a relief for him. At last he had security.
Stewart fitted in nicely with the Trio. He brought changes but they were so slight that most people didn't really notice or appreciate that the Trio had changed. In the past the majority of their material had been traditionally-based, hardly ever did they sing contemporary material, yet in late 1961 they had two simultaneous hits with new folk songs—Pete Seeger's protest
Where Have All The Flowers Gone
and Hoyt Axton's driving
Greenback Dollar
. There's no doubt that these two songs kept the Trio in the charts when their success was beginning to wane. It's interesting to note that following this a slight country influence crept into their sounds. Their album NEW FRONTIER released in 1962 included such well known country tunes as
Long Black Veil, Poor Ellen Smith
and
The Dogie's Lament
better known as
Yippie Yi Yi Ho
. This album really marked John Stewart's arrival as an accepted member of the Trio, and his patriotic song
The New Frontier
is one of the finest folk songs of the early 1960s.
The country influence continued throughout the Kingston's repertoire with Billy Edd Wheeler's
The Reverend Mr Black
becoming a big hit in late 1963, and songs like
Delia's Gone, Old Joe Clark, Early Morning Rain
, and
Reuben James
cropping up on their albums.
When the Kingston Trio left Capitol in early 1964 and joined American Decca the country influence became even more pronounced. Their first album included Tom Paxton's
Ramblin' Boy
and Ian Tyson's
Someday Soon
with John Stewart's
Hope You Understand
being a great piece of modern country writing that would never be out of place in Nashville. It was during the two years that they worked closely with Mason Williams, a folk writer and singer who again had strong country roots, that they moved really close to the current sounds of Nashville. As well as recording Mason's haunting
Yes I Can Feel It
and the dancing
Long Time Blues
, they also turned in the Dillard's
Dooley
, Paxton's
Bottle Of Wine
and
Last Thing On My Mind
.
It was at this time that John Stewart's writing changed. Before he had always kept to a very conservative folk style without becoming too adventurous, yet it seemed that Mason Williams had influenced Stewart more than he would care to tell.
Go Tell Roger There's Another Face Looking In The Window
and
Verandah of William August
, both included on the very last Kingston Trio album owe much more to country-rock than folk music, and when you consider that they were put down in 1965 it shows just how aware John Stewart was.
Finally in 1967 John Stewart found that the tight confines of the Kingston Trio just could not hold the inner struggle he was having with his music. He could not continue singing
Where Have All The flowers Gone?
and
Tom Dooley
anymore. He felt he had more to say through his own music, and the Kingston Trio was not the vehicle to present it from. He needed freedom, and this could only be achieved by a solo career. Unfortunately the solo career didn't materialise immediately. He became involved with Buffy Ford and they hit it musically straight off, but it was not the music that Stewart had been working towards. This was visual music, making use of colour slides while John and Buffy sang, and although it seemed very avant-garde in San Francisco it almost completely finished John's chances of a solo recording career.
But after two unsuccessful albums with Buffy Ford on the Capitol label John found himself again and went to Nashville in early 1969 to lay down one of the finest albums that Music City has ever produced. CALIFORNIA BLOODLINES is an experience with all of the songs tracing various aspects of Stewart's life. The musicianship throughout is brilliant with Lloyd Green's steel guitar touches being a real joy especially in the catchy
You Can't Look Back
, where he finds some unbelievable licks.
Mother Country
revives John's memories of the days when he travelled around the race meetings with his father. But the track that really grabs you is
July, You're A Woman,
a song that dwarfs so many other love songs by it's sheer feel coupled with the natural implications of a man's love for his woman.
It had been a long time coming but at last Stewart had found a way of expressing himself and CALIFORNIA BLOODLINES is still for me the finest album cut in Nashville by a singer who was totally separated from country music except for his roots. The last track of the album
Never Goin' Back,
Stewart changed the words towards the end from his sheer enthusiasm for the way the session had gone and vows that he will be going back to Nashville. He's not returned yet, but he must one day, because an album likes CALIFORNIA BLOODLINES needs to be repeated.
Since then only two albums have come from John Stewart, and although both held some high spots, neither WILLARD recorded in 1970 nor THE LONESOME PICKER RIDES AGAIN made just under a year later really fulfilled the promise of his Nashville sessions. WILLARD was mainly cut in Crystal Sound Studios, Hollywood and again Stewart caught the mood of freedom in the country in songs like
Earth Rider
and
Great White Cathedrals
. His dislike of city life seems to stem from his disastrous year in New York in the early 1960s and his yearning for the country is portrayed in
Back in Pamona
and
Belly Full Of Tennessee
. His one brilliant love song on this album is
Julie, Judy, Angel Rain
that almost catches the feel of
July, You're A Woman
, but doesn't quite make it. Interesting to find both James Taylor and Carole King on this album, several months before they really got their own solo careers going.
His third solo album LONESOME PICKER was more back in the Nashville bag, although again it was cut in Hollywood, and released this time by the Kinney group on their Warner label. Throughout this album Stewart is more of a mood-maker with his soulful country singing weaving a beautiful line in lyrical imagery. Again he has that travelling bug wandering through his songs and this is caught brilliantly in
Freeway Pleasure
, with his searching voice carrying you along over his neat choppy guitar style. In the background of the album there are some nice Dobro and steel guitar touches that really enhances Stewart's laid back style.
Although John Stewart has not achieved the success of his contemporaries like John Prine, Kristofferson, Steve Goodman and Mickey Newbury, he still has a lot to offer the country listener who likes music in the new bag. He has a rather under-stated style, but once you get latched on to John Stewart you find it hard to leave him alone. He is a bit like a good wine, his records seem to mature with age. Certainly he is a long way from his beginnings with the Kingston Trio, but don't let his background put you off—John Stewart is one of those singer/composers whose day of success is just around the corner.