John Michael Montgomery - Walk The Line
First Published in Country Music International – August 1998
While the country and line dance communities continue to contemplate the relationship between 'downhome' country music and the techno sounds of the dance floor, John Michael Montgomery is quietly making records that can be enjoyed by both, as Adrian Cooke discovers.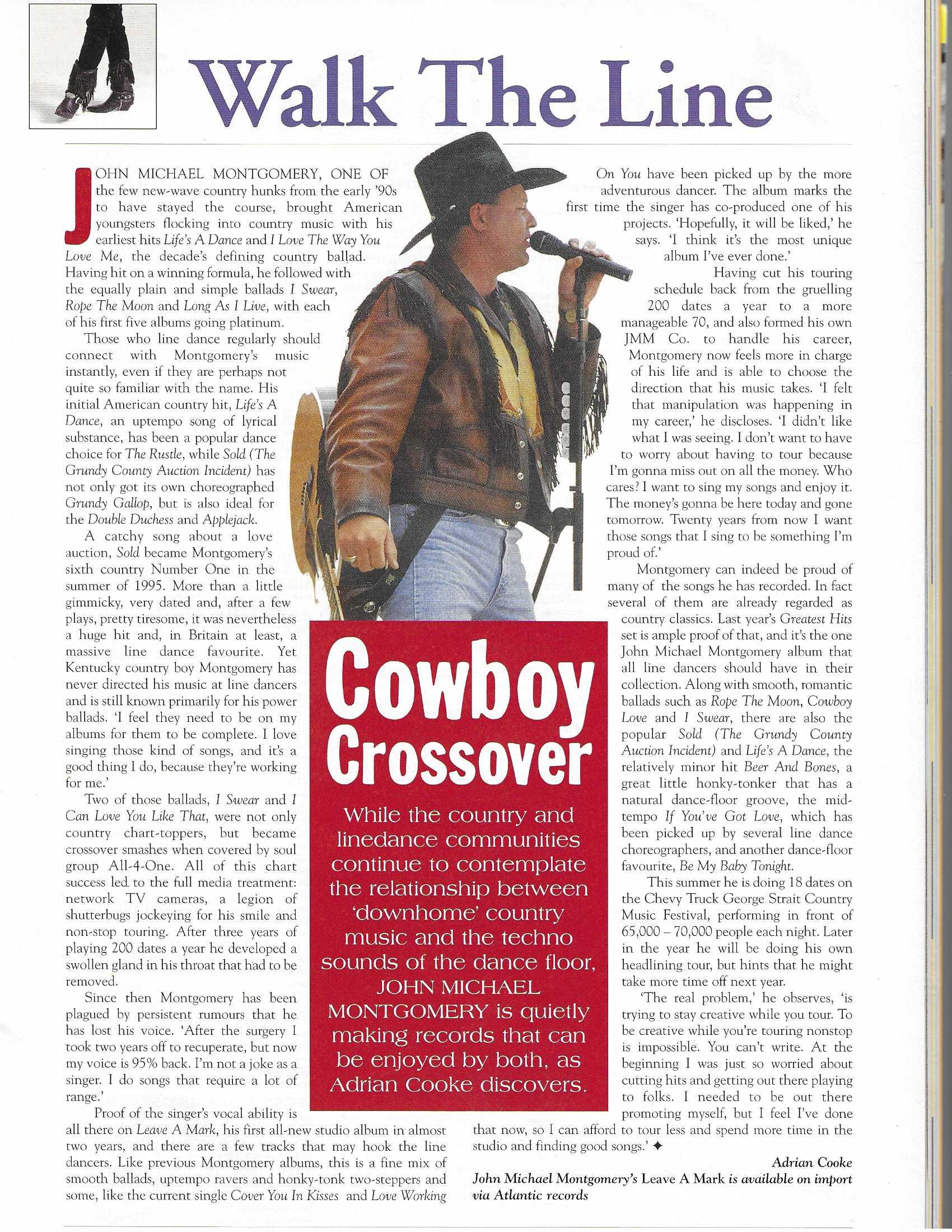 John Michael Montgomery, one of the few new-wave country hunks from the early 1990s to have stayed the course, brought American youngsters flocking into country music with his earliest hits Life's A Dance and I Love The Way You Love Me, the decade's defining country ballad. Having hit on a winning formula, he followed with the equally plain and simple ballads I Swear, Rope The Moon and Long As I Live, with each of his first five albums going platinum.
Those who line dance regularly should connect with Montgomery's music instantly, even if they are perhaps not quite so familiar with the name. His initial American country hit, Life's A Dance, an up-tempo song of lyrical substance, has been a popular dance choice for The Rustle, while Sold (The Grundy County Auction Incident) has not only got his own choreographed Grundy Gallop, but is also ideal for the Double Duchess and Applejack.
A catchy song about a love auction, Sold became Montgomery's sixth country number one in the summer of 1995. More than a little gimmicky, very dated and, after a few plays, pretty tiresome, it was nevertheless a huge hit and, in Britain at least, a massive line dance favourite. Yet Kentucky country boy Montgomery has never directed his music at line dancers and is still known primarily for his power ballads. "I feel they need to be on my albums for them to be complete. I love singing those kind of songs, and it's a good thing I do, because they're working for me."
Two of those ballads, I Swear and I Can Love You Like That, were not only country chart-toppers, but became crossover smashes when covered by soul group All-4-One. All of this chart success led to the full media treatment: network TV cameras, a legion of shutterbugs jockeying for his smile and non-stop touring. After three years of playing 200 dates a year he developed a swollen gland in his throat that had to be removed.
Since then, Montgomery has been plagued by persistent rumours that he has lost his voice. "After the surgery I took two years off to recuperate, but now my voice is 95% back. I'm not a joke as a singer. I do songs that require a lot of range."
Proof of the singer's vocal ability is all there on LEAVE A MARK, his first all-new studio album in almost two years, and there are a few tracks that may hook the line dancers. Like previous Montgomery albums, this is a fine mix of smooth ballads, up-tempo ravers and honky-tonk two-steppers and some, like the current single Cover You In Kisses and Love Working On You have been picked up by the more adventurous dancer. The album marks the first time the singer has co-produced one of his projects. "Hopefully, it will be liked," he says. "I think it's the most unique album I've ever done."
Having cut his touring schedule back from the grueling 200 dates a year to a more manageable 70, and also formed his own JMM Co., to handle his career, Montgomery now feels more in charge of his life and is able to choose the direction that his music takes. "I felt that manipulation was happening in my career," he discloses. "I didn't like what I was seeing. I don't want to have to worry about having to tour because I'm gonna miss out on all the money. Who cares? I want to sing my songs and enjoy it. The money's gonna be here today and gone tomorrow. Twenty years from now I want those songs that I sing to be something I'm proud of."
Montgomery can indeed be proud of many of the songs he has recorded. In fact several of them are already regarded as country classics. Last year's GREATEST HITS set is ample proof of that, and it's one John Michael Montgomery album that all line dancers should have in their collection. Along with smooth, romantic ballads such as Rope The Moon, Cowboy Love and I Swear, there are also the popular Sold (The Grundy County Auction Incident) and Life's a Dance, the relatively minor hit Beer and Bones, a great little honky-tonker that was a natural dance-floor groove, the mid-tempo If You've Got Love, which has been picked up by several line dance choreographers, and another dance-floor favourite, Be My Baby Tonight.
This summer he is doing 18 dates on the Chevy Truck George Strait Country Music Festival, performing in front of 65,000-70,000 people each night. Later in the year he will be doing his own headlining tour, but hints that he might take more time off next year.
"The real problem," he observes, "is trying to stay creative while you tour. To be creative while you're touring nonstop is impossible. You can't write. At the beginning I was just so worried about cutting hits and getting out there playing to folks. I needed to be out there promoting myself, but I feel I've done that now, so I can afford to tour less and spend more time in the studio and finding good songs."