First Published in Country Music International May 1994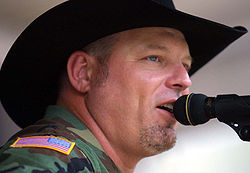 Some say he's another Garth Brooks, but chart-topping John Michael Montgomery insists there's more to him than that

On February 19, 1994, John Michael Montgomery became just the third country performer to top the Billboard Top 200 album charts, when his second record, KICKIN' IT UP, reached a million-plus sales just two weeks after its release. Montgomery was following in the footsteps of Garth Brooks and Billy Ray Cyrus in his across-the-board success but, unlike Cyrus, Montgomery looks destined to be around for some time to come.

"I guess I'm very independent," he states. "I really believe that I have my own sound and style. The difference for me now is that when I used to play the clubs I always had somebody else's hits to keep the crowd going. But now I have a few hits of my own, and every one I get makes it that much stronger."

The 29 year-old singer nurtured his dream of stardom back home in Lexington, Kentucky, at the Austin City Saloon, where for four years he fronted the house band, five nights a week, performing an energetic blend of Texas honky-tonk and traditional country—the music he had been raised on.

"I hate to have to say it, but I didn't even have to come down to Nashville to get a record deal," Montgomery confesses. "They came to Lexington to see me. I guess I've been very lucky."

Aged just 17, Montgomery took to music, playing as a solo artist and for a time in a rock band called Erly Tymz, before landing the regular gig in 1987, by which time he was firmly hooked on country music again. It was at the Austin City Saloon that the Nashville record company executives starting courting him, although initially Montgomery didn't feel ready for the move. "I was comfortable there. I had built up a good following, was earning a regular wage and I was having fun. A move away would have been risky and I wasn't sure if I was ready for that."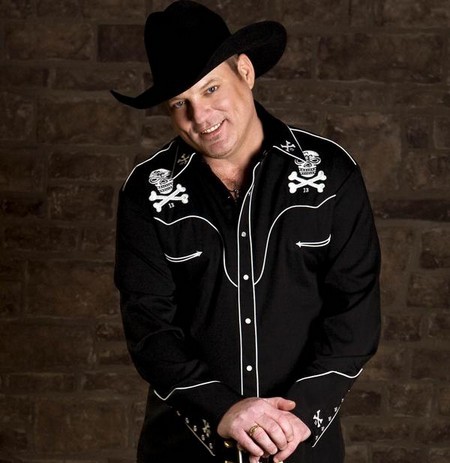 The move to Nashville finally came in early 1991, but Montgomery had to endure a frustrating two-year wait for the release of his debut album LIFE'S A DANCE. The album covered all the bases from power balladry to raucous honky-tonk. And following the chart-topping success of his second single, I Love The Way You Love Me, the album sold in excess of a million copies.
Since then, Montgomery has gradually built his career, opening shows for the likes of Reba McEntire and Alabama and grooming himself for his current superstar status.

"I really can't explain why I've hit the way I have. It's like playing the lottery. A new act goes out there and either you're gonna hit or you ain't. I was just one of the lucky ones."

There's little doubt that the softly-spoken Kentuckian is now wooing and winning an audience of 18 to 25 year olds, and the amazing aspect of this is that these younger fans are warming to the more traditional slant of his music. Like Brooks, when it came to his second album, Montgomery was able to stretch out and demonstrate more of his background in the clubs.

"KICKIN' IT UP is more on the rowdy side," he readily admits, "I felt much looser, more relaxed, and there's more of a cutting edge on some of the up-tempo songs."

But it is the slow songs that have won the singer his large fan base. Montgomery has a real sense of what makes a great ballad, as he shows with the US chart-topping I Swear. And therein lies Montgomery's real secret—he can take simple, almost mundane, everyday thoughts and feelings and perform them with real sincerity and emotion to make them special. That he succeeds in all styles he tackles indicates that John Michael Montgomery will be a talent to be reckoned with for quite some time.