John McEuen - The Nashville Cats
First published in Country Music International, June 1996
After 21 years with the Nitty Gritty Dirt Band, he quit to become an acclaimed solo artist and film score composer with a Grammy nomination into the bargain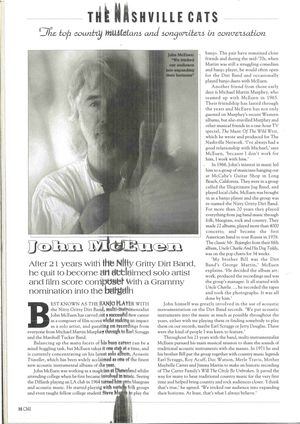 Best known as the banjo player with the Nitty Gritty Dirt Band, multi-instrumentalist John McEuen has carved out a successful new career as a composer of film scores whilst making an impact as a solo artist, and guesting on recordings from everyone from Michael Martin Murphey through to Earl Scruggs and the Marshall Tucker Band.
Balancing up the many facets of his busy career can be a mind-boggling task, but McEuen takes it one step at a time, and is currently concentrating on his latest solo album, ACOUSTIC TRAVELLER, which has been widely acclaimed as one of the finest new acoustic instrumental albums of the year.
John McEuen was working as a magician at Disneyland whilst attending college when he first became involved in music. Seeing the Dillards playing an LA club in 1964 turned him onto bluegrass and acoustic music. He started playing with various folk groups and even taught fellow college student Steve Martin to play the banjo. The pair have remained close friends and during the mid-1970s, when Martin was still a struggling comedian and banjo player, he would often open for the Dirt Band and occasionally played banjo duets with McEuen.
Another friend from those early days is Michael Martin Murphey, who teamed up with McEuen in 1965. Their friendship has lasted through the years and McEuen has not only guested on Murphey's recent Western albums, but also enrolled Murphey and other musical friends in a one-hour TV special, The Music Of The Wild West, which he wrote and produced for The Nashville Network. "I've always had a good relationship with Michael," says McEuen, "because I don't work for him, I work with him."
In 1966, John's interest in music led him to a group of musicians hanging out at McCabe's Guitar Shop in Long Beach, California. They were in a group called the Illegitimate Jug Band, and played local clubs. McEuen was brought in as a banjo player and the group was re-named the Nitty Gritty Dirt Band. For more than 20 years they played everything from jug band music through folk, bluegrass, rock and country. They made 22 albums; played more than 4000 concerts; and became the first American band to tour Russia in 1978. The classic Mr. Bojangles from their fifth album, UNCLE CHARLIE AND HIS DOG TEDDY, was on the pop charts for 34 weeks.
"My brother Bill was the Dirt Band's George Martin," McEuen explains. "He decided the album artwork, produced the recordings and was the group's manager. It all started with Uncle Charlie ... , he recorded the tapes and took the photographs. It was all done by him."
John himself was greatly involved in the use of acoustic instrumentation on the Dirt Band records. "We put acoustic instruments into the music as much as possible throughout the years, either with me playing them or finding somebody to play them on our records, maybe Earl Scruggs or Jerry Douglas. These were the kind of people I was keen to feature."
Throughout his 21 years with the band, multi-instrumentalist McEuen pursued his main musical mission to share the sounds of traditional acoustic instruments with the masses. In 1971 he and his brother Bill put the group together with country music legends Earl Scruggs, Roy Acuff, Doc Watson, Merle Travis, Mother Maybelle Carter and Jimmy Martin to make an historic recording of The Carter Family's WILL THE CIRCLE BE UNBROKEN. It paved the way for many to hear traditional country music for the very first time and helped bring country and rock audiences closer. "I think that's true," he agreed. "We tricked our audience into expanding their horizons. At least, that's what I always believe."
By the 1980s, McEuen was applying his unique banjo tunings and techniques to the acoustic guitar. An in-demand studio musician, he guested on such albums as Rolling Stone Bill Wyman's MONKEY GRIP, the Marshall Tucker Band's LONG HARD RIDE, Hoyt Axton's RUSTY OLD HALO and David Allan Coe's JUST DIVORCED. But as the Dirt Band moved into the country mainstream and began having commercial success, he found that his traditional influences were being heavily restricted, and in 1987 quit the band.
"The main reason that I left was because they told me that the producer didn't want to use my songs on the albums," he explains ruefully. "I decided that if there was no outlet for my music there was no point in being involved. That was when I started to compose film music and pursue solo ideas. But if I hadn't left them I would probably never have got the Grammy nominations."
Motivated by new creative goals, John began writing musical scores for TV and movies, including For Singles Only, Take It To The Limit, Badrock, An Actor's Life For Me and The Man Outside. To date, his other notable scoring projects include the National Geographic Society's PBS Special, Braving Alaska, which garnered McEuen an Emmy nomination. He also won a Silver Star Award at the 1993 Houston Film Festival for a commercial about the city of Deadwood, South Dakota, which was followed by his greatest success; the entire music score for the highly acclaimed 10-hour TV mini-series, The Wild West.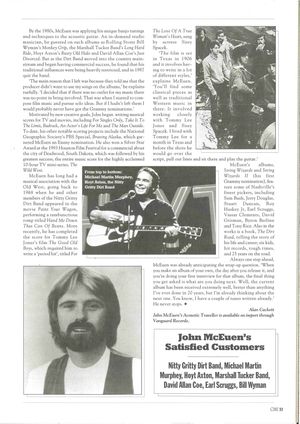 McEuen has long had a musical association with the Old West, going back to 1968 when he and the other members of the Nitty Gritty Dirt Band appeared in the movie Paint Your Wagon, performing a rambunctious romp titled Hand Me Down That Can Of Beans.  More recently, he has completed the score for Tommy Lee Jones' film The Good Old Boys, which required him to write a 'period hit', titled For The Love Of A True Woman's Heart, sung by actress Sissy Spacek.
"The film is set in Texas in 1906 and it involves having to write in a lot of different styles," explains McEuen. "You'll find some classical pieces as well as traditional Western music in there. It involved working closely with Tommy Lee Jones and Sissy Spacek. I lived with Tommy Lee for a month in Texas and before the shots he would go over the script, pull out lines and sit there and play the guitar."
McEuen's albums, STRING WIZARDS and STRING WIZARDS II (his first Grammy nomination), feature some of Nashville's finest pickers, including Sam Bush, Jerry Douglas, Stuart Duncan, Roy Huskey Jr, Earl Scruggs, Vassar Clements, David Grisman, Byron Berline and Tony Rice. Also in the works is a book, The Dirt Road, telling the story of his life and career; six kids, hit records, tough times, and 25 years on the road.
Always one step ahead, McEuen was already anticipating the wrap-up question. "When you make an album of your own, the day after you release it, and you're doing your first interview for that album, the final thing you get asked is what are you doing next. Well, the current album has been received extremely well, better than anything I've ever done in 20 years, but I'm already thinking about the next one. You know, I have a couple of tunes written already." He never stops.