John Jennings - The Nashville Cats
First Published in Country Music International, May 1997
As well as producing a raft of albums by Mary Chapin Carpenter, singer-songwriter, producer and multi-instrumentalist John Jennings has also guided the fortunes of a string of high-profile artists including Janis Ian, John Gorka and the Rankin Family, not to mention stepping out with a brand new album of his own.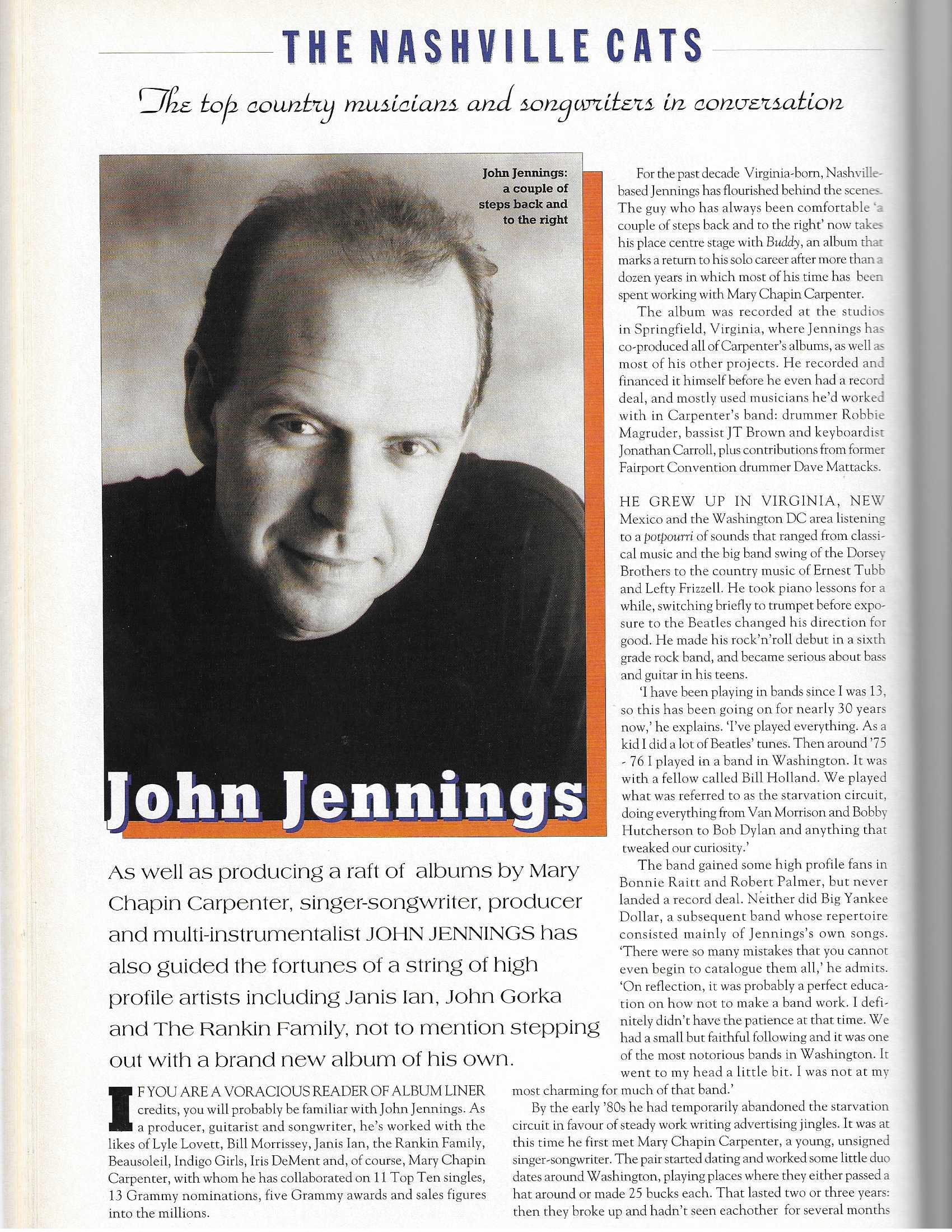 If you are a voracious reader of album liner credits, you will probably be familiar with John Jennings. As a producer, guitarist and songwriter, he's worked with the likes of Lyle Lovett, Bill Morrissey, Janis Ian, the Rankin Family, Beausoleil, Indigo Girls, Iris DeMent and, of course, Mary Chapin Carpenter, with whom he has collaborated on 11 top tn singles, 13 Grammy nominations, five Grammy awards and sales figures into the millions.
For the past decade Virginia-born, Nashville-based Jennings has flourished behind the scenes. The guy who has always been comfortable 'a couple steps back and to the right' now takes his place centre stage with BUDDY, an album that marks a return to his solo career after more than a dozen years in which most of his time has been spent working with Mary Chapin Carpenter.
The album was recorded at the studios in Springfield, Virginia, where Jennings has co-produced all of Carpenter's albums, as well as most of his projects. He recorded and financed it himself before he even had a record deal, and mostly used musicians he'd worked with in Carpenter's band: drummer Robbie Magruder, bassist JT Brown and keyboardist Jonathan Carroll, plus contributions from former Fairport Convention drummer Dave Mattacks.
He grew up in Virginia, New Mexico and the Washington DC area listening to a potpourri of sounds that ranged from classical music and the big band swing of the Dorsey Brothers to country music of Ernest Tubb and Lefty Frizzell. He took piano lessons for a while, switching briefly to trumpet before exposure to the Beatles changed his direction for good. He made his rock'n'roll debut in a sixth-grade rock band and became serious about bass and guitar in his teens.
"I have been playing in bands since I was 13, so this has been going on for nearly 30 years now," he explains. "I've played everything. As a kid I did a lot of Beatles' tunes. Then around 1975-76 I played in a band in Washington. It was a fellow called Bill Holland. We played what was referred to as the starvation circuit, doing everything from Van Morrison and Bobby Hutcherson to Bob Dylan and anything that tweaked our curiosity."
The band gained some high-profile fans in Bonnie Raitt and Robert Palmer, but never landed a record deal. Neither did Big Yankee Dollar, a subsequent band whose repertoire consisted mainly of Jennings' own songs. "There were so many mistakes that you cannot even begin to catalogue them all," he admits. "On reflection, it was probably a perfect education on how not to make a band work. I definitely didn't have the patience at that time. We had a small but faithful following and it was one of the most notorious bands in Washington. It went to my head a little bit. I was not at my most charming for much of that band."
By the early 1980s he had temporarily abandoned the starvation circuit in favour of steady work writing advertising jingles. It was at this time he first met Mary Chapin Carpenter, a young, unsigned sing-songwriter. The pair started dating and worked some little duo dates around Washington, playing places where they either passed a hat around or made 25 bucks each. That lasted two or three years: then they broke up and hadn't seen each other for several months when they met up again.
"I was driving around my neighbourhood in North Virginia one day and she drove by me and motioned me off the road," Jennings recalls. "I pulled off and parked in a side street and she parked in front of me, got out of her car and came up to the window and said: 'I want to make a record.' I said: 'Great!' and that's how it began."
Jennings had never done any production, though he already had valuable studio experience. The pair worked on-and-off for almost a year: the plan was to produce a gig tape that they could sell off the bandstand. To help finance it they were back doing duo dates and Mary Chapin was beginning to build a healthy reputation.
"We went through a lot of permutations during that time," Jennings explains. "We went from my basement studio, which was not too bad, to her studio, which was much better. I had learned enough to be able to successfully navigate the process of making a record. I learned a lot about the studio, how to engineer and in some respects how to manage time and also people and get the best out of them."
Mary Chapin Carpenter's major label debut album, HOMETOWN GIRL, was released by Columbia in 1987. Suddenly Jennings was on a whirlwind of live dates as the lead guitarist and leader of her band, and served as what she calls 'my most necessary friend', as he carved a lucrative career out of mainstream obscurity.
He specialises in no-frills arrangements that are right on the mark and productions that are straightforward and unpretentious. Over the past few years he has produced albums for such respected singer-songwriters as Bill Morrissey, Janis Ian and John Gorka, for the acclaimed folk duo Robin and Linda Williams, Canadian folk-rockers the Rankin Family and the pivotal Cajun group Beausoleil, who recruited him after playing on Carpenter's Down At The Twist And Shout. He has also played guitar on two Indigo Girls' albums, on Iris DeMent's The Way I Should and on stage with Lyle Lovett, Kate Wolf and Beausoleil.
"I think everything that you do is a co-production, whether somebody takes credit or not," he explains modestly. "Any artist who is not really involved in the outcome of their stuff is missing a great opportunity. A Mary Chapin record is a perfect example. If she detects the need to create something that's going to work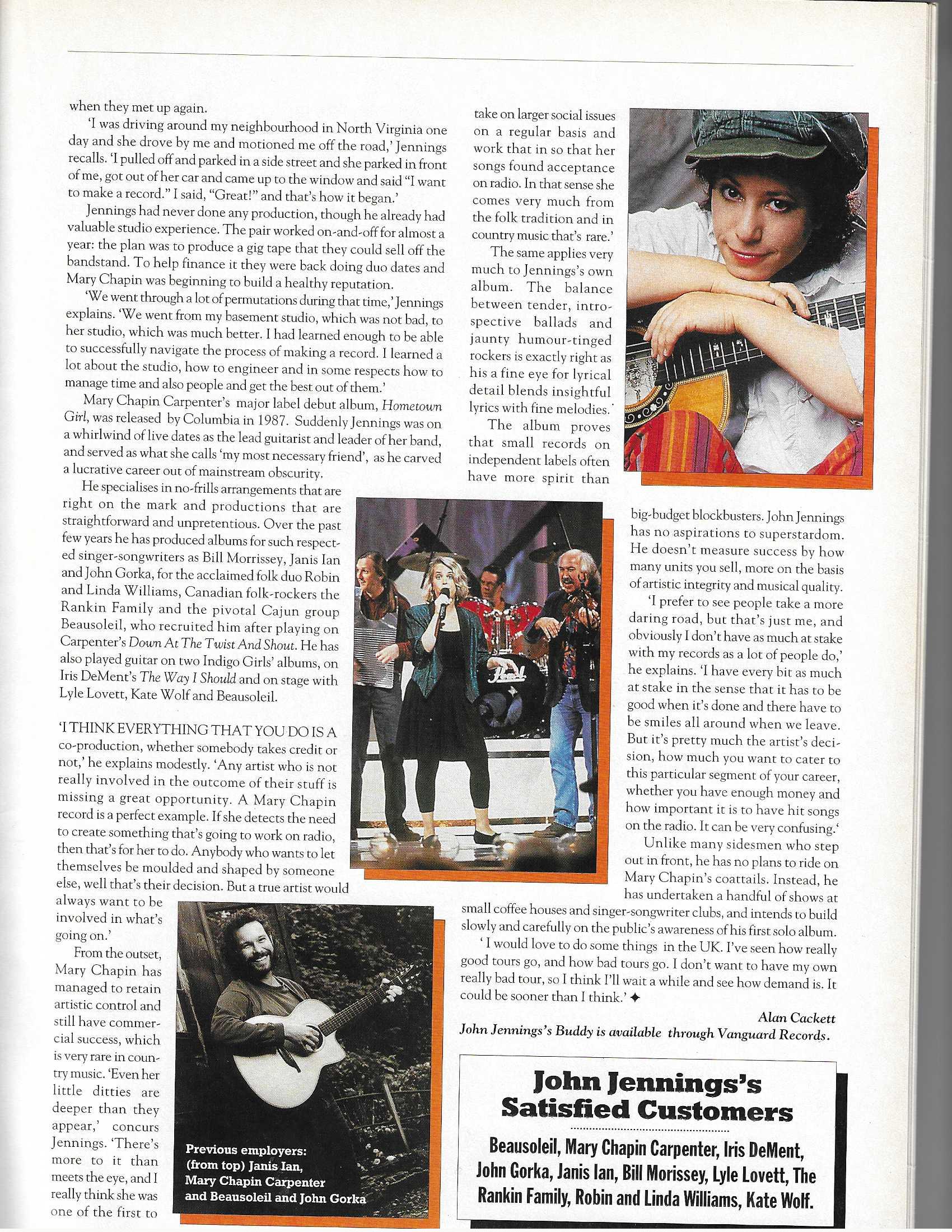 on radio, then that's for her to do. Anybody who wants to let themselves be moulded and shaped by someone else, well that's their decision. But a true artist would always want to be involved in what's going on."
From the outset, Mary Chapin has managed to retain artistic control and still have commercial success, which is very rare in country music. "Even her little ditties are deeper than they appear," concurs Jennings. "There's more to it than meets the eye, and I really think she was one of the first to take on larger social issues on a regular basis and work that in so that her songs found acceptance on radio. In that sense she comes very much from the folk tradition and in country music that's rare."
The same applies very much to Jennings' own album. The balance between tender, introspective ballads and jaunty humour-tinged rockers is exactly right as his fine eye for lyrical detail blends insightful lyrics with fine melodies.
The album proves that small records on independent labels often have more spirit than big-budgeted blockbusters. John Jennings has no aspirations to superstardom. He doesn't measure success by how many units you sell, more on the basis of artistic integrity and musical quality.
"I prefer to see people take a more daring road, but that's just me, and obviously I don't have much at stake with my records as a lot of people do," he explains. "I have every bit as much at stake in the sense that it has to be good when it's done and there have to be smiles all around when we leave. But it's pretty much the artist's decision, how much you want to cater to this particular segment of your career, whether you have enough money and how important it is to have hit songs on the radio. It can be very confusing."
Unlike many sidemen who step out in front, he has no plans to ride on Mary Chapin's coattails. Instead he has undertaken a handful of shows at small coffee houses and singer-songwriter clubs, and intends to build slowly and carefully on the public's awareness of his first solo album.
"I would love to do some things in the UK. I've seen how really good tours go, and how bad tours go. I don't want to have my own really bad tour, so I think I'll wait a while and see how demand is. It could be sooner than I think."