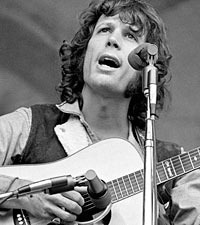 One of country music's true eccentrics, John Hartford is best-known for the pop-country standard Gentle On My Mind. An entertaining performer who utilised his own songs and those drawn from the traditions of country music, he was a multi-talented musician who played a variety of stringed instruments. An author and one-time riverboat captain, as a songwriter he was best-known for a sharp, off-beat wit and music wavering between folk, modern country, and old-timey string band music. Due to his keen sense of humour and natural entertaining skills he was a long-time regular on The Smothers Brothers Comedy Hour and The Glen Campbell Goodtime Hour and had been a regular guest on many other TV shows.

The son of a doctor and a painter, he was born John Harford on December 30, 1937 in New York City. The 't' was added to his name years later in Nashville, at the time he signed his first record contract. When he was an infant, his family moved to St. Louis. He first learnt to play on a banjo which he claims was beaten-up and had no head. By the time he was 13 he had also mastered fiddle and played at local square dances; next he graduated to the Dobro and then on to guitar. Mainly influenced by Stringbean and Earl Scruggs, he formed his first bluegrass band in high school. Upon leaving school he worked as a sign painter, a commercial artist, a disc jockey and the deck hand, and eventually captain on a Mississippi river boat. He recorded a handful of independent label singles for Marlo and Shannon Records in the early 1960s. After marriage and the birth of a son, he moved to Nashville in 1963 and worked alongside fellow songwriters, including Mickey Newbury and Kris Kristofferson. He also did some DJing as well as session work. His talent was recognised by The Glaser Brothers, who signed him to a publishing deal and started getting label interest.
Signed to RCA, his first album, JOHN HARTFORD LOOKS AT LIFE was released in 1966 and worked more as an expensive demo, as several of the songs were later to be recorded by other performers. EARTHWORDS & MUSIC, another rootsy, folksy affair, not really in vogue with the country mainstream followed a year later. The self-penned Gentle On My Mind, became a country hit single in 1967, rising to number 60 in a seven week run. Noted for its literary quality, Gentle On My Mind was covered by Glen Campbell, and soon became a pop-country smash.

The song earned three Grammys and became the most recorded song of the period. It was covered between 400 and 600 times by virtually everyone from Frank Sinatra to Aretha Franklin, Elvis Presley to Dean Martin, Tammy Wynette and hundreds of others from all genres of pop music. Hartford wrote the song after going to see the Dr. Zhivago movie. 'I have never really understood commercial music like I've wanted to,' Hartford admitted in Dorothy Horstman's book, Sing Your Heart Out Country Boy, 'and I have no idea, except for the message in that song, why it was a hit.'
He didn't then follow t
he Nashville norm of sitting in a publishing company and churning out one country hit after another. Financially secure, Hartford was able to follow his muse and concentrated on making the kind of records he wanted to, regardless of commercial restraints. He played on the Byrds' SWEETHEART OF THE RODEO and also Doug Dillard's THE BANJO ALBUM. A lover of the Mississippi, he earned his riverboat pilot's license, and frequently worked aboard the Julia Belle Swain.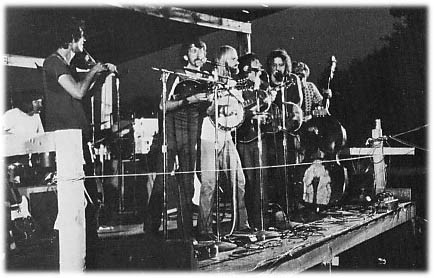 THE DILLARDS with John Hartford 1973 (Culpeper, VA)



Due to his keen sense of humour and natural entertaining skills he became a long-time regular on the Smothers Brothers Comedy Hour and the Glen Campbell Goodtime Hour. Based in California, he was offered a starring role in a CBS-TV detective series, but turned it down and returned to Nashville in 1970 and resumed his career as an innovative, relatively low-profile bluegrass singer-songwriter. 'I knew that if I did it, I would never live it down,' Hartford said of the television series in a 2000 interview. 'Because then when I went back to music, people would start saying: 'Oh, he didn't make it in acting so he's gone country.''

He put together his own bluegrass band featuring guitarist Norman Blake, Dobro player Tut Taylor and master fiddler Vassar Clements. Signed to Warner Bros. in the early 1970s, he recorded the acclaimed contemporary bluegrass-flavoured AERO- PLAIN, an album that many consider a core influence on today's schools of progressive bluegrass, often referred to as 'newgrass,' to the jam band movement. Newgrass is an amorphous but increasingly popular offshoot of bluegrass that takes its name from New Grass Revival, a band that included Hartford protégés Sam Bush, John Cowan and
Bela Fleck. After touring with Blake, Hartford developed a solo act in which he played guitar, fiddle and banjo, sang, danced and told stories—while wearing his derby hat and black vest. He also maintained a very hectic session schedule playing on albums by Delaney & Bonnie, James Taylor, Kate Taylor, Seals & Crofts, Hoyt Axton and many others.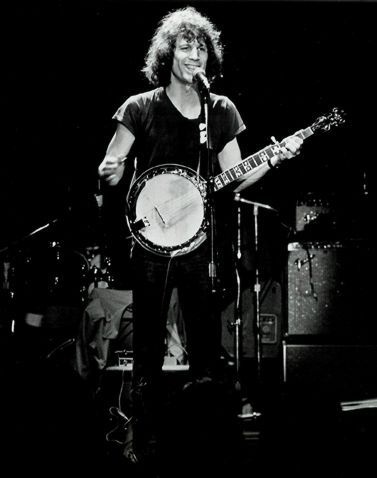 His 1976 MARK TWANG album earned him a Grammy for Best Ethnic or Traditional Album and presented him in his solo one-man band role. Unaccompanied by any rhythm section, Hartford providing all the percussive sounds with his mouth and feet! It was an act that would sustain him for 25 years, though he did play w
ith various bluegrass bands and later delved into old-time ensemble music. He teamed up with the Dillards to form Dillard-Hartford-Dillard for GLITTER-GLASS (FROM THE NASHWOOD HOLLYVILLE STRINGS) in 1977, and three years later came PERMANENT WAVE, a rock & roll-meets-bluegrass reunion with the Dillards. Though Hartford's bands were influential, his solo act was a multitalented tour de force that has had few parallels since vaudeville. He sang, rapped, fiddled, picked and danced on a piece of plywood that he had miked from below. He had a wireless pickup mounted in his fiddle before that became a fashion, allowing him to roam the audience. He is said to have once started a 1,000-person conga line at an amphitheatre in Colorado.

He continued to perform and record solo as well as guesting on other recordings throughout the 1980s. A revival of the 1960s R&B hit A Little Piece Of My Heart, accompanied by a surrealist video, took him back into the country charts in 1984, but mainstream Nashville was a long way, musically, from where John Hartford resided. He meticulously studied his mentors, like banjo pioneer Earl Scruggs and fiddler Benny Martin, but his playing never sounded imitative. He cherished and preserved traditional country but constantly experimented, inspiring thousands of youths to take acoustic music seriously and to take it in new directions.

He participated in BILL MONROE & FRIENDS in 1987, the same year he wrote the book Steamboat In A Cornfield that was turned into a comic strip by Gasoline Alley a few years later. He began performing with his son Jamie and also became involved with Opryland, where he helped launch an old-fashioned steamboat ride. He also recorded and re-issued his earlier work on his own Small Dog Barkin' label. In the mid-1990s he wrote and appeared in Banjos, Fiddles and Riverboats, a TNN Special and was one of the voices on Ken Burns' Civil War series.

In his later years, Hartford proved to be a formidable music historian who found endlessly creative ways to keep early country music relevant. His 1998 recording THE SPEED OF THE OLD LONG BOW was an unorthodox tribute to the almost-forgotten fiddler Ed Haley, on which Hartford played versions of Haley tunes he had transcribed from old recordings with lyrics that comprised a biography of Haley in song. Though he had been diagnosed with cancer back in the late 1980s, he just kept working away at his music. He devotedly studied the work of his heroes and practised meticulously. To a widening circle of fans and musicians in the traditional music community, John Hartford was a beacon of musical integrity and a whimsical spirit whose childlike enthusiasm for music and profound understanding of it nurtured the talents of others.

He appeared twice on the soundtrack for O BROTHER, WHERE ART THOU?, the multi-million-selling CD credited with inspiring a revival of interest in acoustic traditional music. One of his last concert appearances was filmed when D.A. Pennebaker shot Down From The Mountain in 2000. John emceed the concert at Nashville's Ryman Auditorium featuring artists who appeared with him on the O Brother soundtrack. After two decades of fighting his illness, he lost control of his hands while playing dates in Texas in the spring of 2001. Members of his band said he had to deliver his final show sitting with his fiddle cradled in his lap. More-or-less confined to his home, and unable to play his instruments, eclectic groups of musicians from super-fiddler Mark O'Connor to banjo legend Earl Scruggs would sit with Hartford, playing his favourite fiddle tunes. He died on June 4, 2001, at age 63.

A genuine stalwart and pioneer of contemporary-traditional acoustic music, John Hartford was also a gifted raconteur, one whose loping Midwestern baritone could enthral an audience either speaking or singing. A Music Row rebel outside of the tight-knit bluegrass and folk music communities he was an elusive, even obscure figure. Though his career rambled from Hollywood to Nashville, he was most at home on the intimate stage of the small folk and bluegrass clubs, or amongst his musical buddies at the informal bluegrass festivals, singing and playing his beloved traditional-slanted music.

Recommended Listening

Earthwords And Music (RCA 1967)
Aero-Plain (Warners 1971)
Morning Bugle (Rounder 1972)
Mark Twang (Flying Fish 1976)
Me Oh My, How The Time Does Fly (Flying Fish 1982)
Gum Tree Canoe (Flying Fish 1987)
Hartford & Hartford (Flying Fish 1991)
Good Ole Boys (Small Dog A-Barkin' 1997)
Speed Of the Old Long Bow (Small Dog A-Barkin' 1998)
Cadillac Rag (Small Dog A-Barkin' 2000)
John Hartford: RCA Country Legends (Buddha Records 2002)

Check out the John Hartford Web Site at www.johnhartford.com