First published in Country Music People, April 1976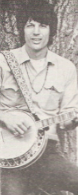 There are some artistes who are destined always to be ignored by the public. Up there alongside John Stewart, Mike Nesmith and Steve Goodman is John Hartford, a talented musician, writer and singer. His one crime, like the other three, is to produce music you cannot categorise.
The public, for some reason, like their music tied up in neat little boxes and carefully labelled. But it's impossible to try and label John Hartford. Apart from good, distinctive and original music, there is no label, and that for record buyers just isn't good enough.
There is not a person in the Western World who has not heard John's classic song,
Gentle On My
Mind
. Inspired by the film Dr. Zhivago and dedicated to his wife Betty, it is probably the most recorded song of the last ten years. The first country recording to make the charts was by Glen Campbell. In fact it was
Gentle On My Mind
that launched the Campbell career. Since then virtually every country singer has cut a version, and at the last count there are over 200 different versions of the song around the World.
John Hartford was born in New York, but moved to Missouri with his family when he was a youngster. His musical influences ranged from classical to square dance music, and it is this wide variety that so distinctly colours his own music.
Urged on by his parents, John learnt to play the mandolin, banjo, fiddle and guitar and in his early teens he played regularly at local square dances. Then he attended Washington University and his music had to take a secondary role to his studies. He became a commercial artist and his first job was as a signwriter, but John really was much more interested in songwriting.
He was playing regularly in folk clubs, the only place a solo artist armed with acoustic stringed instruments was likely to be found entertaining in the early 1960s. Eventually he decided Nashville was the place to be, and with his wife and baby son, moved to Music City in 1965. He hiked his songs around all of the Nashville record companies and publishing houses, but only the Glaser Brothers showed interest, and signed the short-haired banjo picker to a songwriting contract.
Playing the bars around Nashville led to a recording contract with RCA and though he never achieved any hit singles, he did come up with some fairly successful albums. They stood out from most of the Nashville product at the time, creating a new and fresh sound.
His first album, JOHN HARTFORD LOOKS AT LIFE, was a penetrating but entertaining set of his own songs regarding the various aspects of living, but it was his third release, EARTHWORDS AND MUSIC which really established him as a performer in the States.
His recordings were certainly unique and in a way it is not surprising that country fans never picked up on the work of John Hartford. His other albums like THE HOUSING PROJECT and THE LOVE ALBUM maintained his very own originality, the latter containing probably his best song,
A Simple Thing As Love.
After a short lay-off from recordings during which time John appeared as a guest musician on many other recordings, he signed with Warner Brothers and produced the legendary AEREO-PLAIN set. Recorded in 1971, it featured his own small band of musicians consisting of Tut Taylor, Vassar Clements and Norman Blake. The music they played was a strange concoction of bluegrass, string-band and mountain music given a contemporary lilt by the sheer magic of Hartford's writing.
This album contained the well-known
They're Gonna Tear Down The Grand Ole Opry
, alongside other goodies like
Steamboat Whistle Blues, Steam Powered Aereo-Plane
and
First Girl I Love
. For a few years the four toured around playing bluegrass festivals, folk venues and even rock venues. Basically it was almost a jam session containing superb country picking. The problem was that such musicians need and deserve a good and regular income, and their music didn't have the commercial possibilities to guarantee them a good fee.
During the last couple of years John Hartford has been content to play sessions, appear at bluegrass festivals and just jam with musicians who feel music the way he does. It seems criminal that a talent like his isn't featured more on recordings, but this is the true irony of the music business. Sheer talent overshadowed by sounds and commercial aspirations.