First published in Country Music People, November 1973
When the nominations were announced for the Billboard/Record Mirror Country Music Awards for the Top Song of 1973, I was pleasantly surprised to see that Take Me Home Country Roads was there alongside two Nashville-born songs
Help Me Make It Through The Night
and
It's Four In The Morning
. Many people wrongly assume that
Country Roads
is as much associated with Nashville as both Kristofferson's and Jerry Chestnut's ballads, but in fact John Denver the writer of
Country Roads
has no connections with Nashville, or for that matter the country music business in general.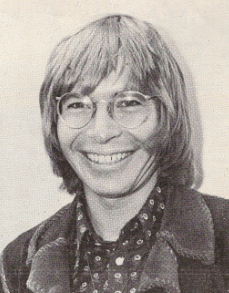 I suppose the first time I became slightly acquainted with the sound of John Denver was five or six years ago, when I heard his first big 'hit-song,'
Leaving On A Jet Plane
, a gentle folksy love ballad that was, during the late 1960s destined to capture the hearts of so many. This song, was the one song that established John Denver as a songwriter around the world, but it appeared for a time that he was to be one of the many one-hit songwriters that mushroomed during the post-Beatle era of pop music. Denver's success in commercial terms as a songwriter has been sporadic. He doesn't consider himself a prolific songwriter, but he more than compensates for this with the quality of his tunes.
John Denver with his thatch of blond hair and his laugh lines showing through his large smoke glasses, that have almost become his trademark, was in Britain during April to record six TV programmes for BBC-2. Talking to him, at the time of writing the song, he never thought of it as a hit song: "I think maybe
Country Roads
was as close as I've ever come to thinking: 'this sounds like something that would get played on radio stations." It's interesting to note, though Denver had a top ten hit himself with
Country Roads
in the States, it was almost eighteen months later before the British public caught onto the song, and then it was a cover version by Olivia Newton-John.
In the early 1960s, John was a member of the famous Chad Mitchell Trio, a contemporary folk group that was very popular Stateside, but meant nothing in Britain. This was followed by the hard grind to establish himself as a solo performer, he began appearing in night spots in Los Angeles, and made quite a name for himself playing six, and twelve string guitar and singing folk things like
Old Blue
and
Whisky In The Jar
, in that wonderful distinctive voice.
"I really think of myself as a performer," he said modestly. "More so than as a songwriter or as a guitar player." He carefully chooses other writers' songs to be included on his albums and even in his concert appearances he selects material from such diverse sources as John Prine, James Taylor, Lennon and McCartney, Steve Goodman and Buddy Holly.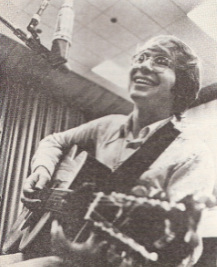 But beyond the humour and beyond the nostalgia of many of the songs selected from other writers there are Denver's own songs and a strong leaning towards peace, gentleness, tranquillity and the wide open spaces of America. Although John Denver is regarded as a pop singer by many, there is a homeliness about him that doesn't fit that sort of image. It could be said that he bridges gaps in musical styles, he can take a pop song and make it sound folk, a folk song and give it a country feel, and a country song can almost sound pop in his hands.
Many of his songs are about home—and that's in Aspen in Colorado that crops up on the commercial sounding
Rocky Mountain High, Aspenglow
and the beautiful
Starwood In Aspen
. The purity of his voice and the sensitive backing of acoustic guitars with just a touch of steel can transport the listener to the beauty of Colorado, a place that Denver really seems to have fallen in love with.
In 1967 John Denver came to the notice of RCA Victor Records who signed him to a solo career that has resulted in some quite beautiful, and sometimes captivating album releases, and eventually in 1971 to commercial success in the lucrative singles market.
Although John Denver himself is the first to admit that he has no connections with country music, his albums have always got a strong country flavour with the steel guitar work of Eric Weissberg being very complementary to tunes like
City Of New Orleans
and
Casey's Last Ride
both included on the outstanding AERIE album released in Britain last summer.