First published in Country Music People, February 1972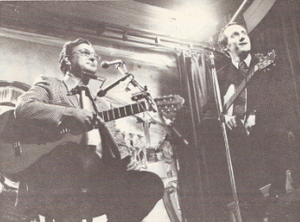 Back in the late 1950s when I first started collecting records, I took a great interest in the name in parenthesis below the song title, at that time it wasn't the songwriter who was important, it was the singer. Well, I never stopped my interest in songwriters, and even today I can name the songwriters for most of the pop hits from around 1957 till about 1963, and this is what John D. Loudermilk is all about. The first record I noticed his magical name on was
Sittin' In The Balcony
by the late rock singer Eddie Cochran. Since then he's turned out literally hundreds of songs many of which have been taken by the pop fraternity, but the majority have been rescued by country artists. This really is how it should be, because John D. Loudermilk is a plain and simple country boy.
John D. Loudermilk was born when his parents were past 40 in Durham, North Carolina, March 31, 1934. His older sisters were married and away from home, and in a sense he grew up as an only child. His father John D. Senior was a carpenter by trade and worked hard, in those days many were poor, and the Loudermilks were no exception. John can remember standing in queues at the local Salvation Army chapel waiting for sacks of food. The Loudermilks were avid members of the Salvation Army, and John was never allowed to miss a meeting. He received his first basic musical training from the Salvation Army band, and soon mastered the trumpet, saxophone, trombone and bass drum, and also built himself a ukulele, which his mother taught him to play. To earn extra spending money for himself, John played for local square dances. His mother made uniforms for the Salvation Army—and the whole family routine evolved around the church.
Two years after the end of the Second World War, John had his own radio programme on Radio WTIK in Durham. Johnny D run for 30 minutes every morning beginning at six, thus enabling John to finish his programme and return home and prepare for a day at school. He graduated from High School in Durham and won a scholarship to the University of North Carolina the same University that George Hamilton IV attended two years later.
Before graduating John tried several jobs in Durham, progressing from painting signs for a department store to painting scenery for a local TV station, WTVD. This eventually led to John playing bass on one of the musical programmes due to the regular bass player being indisposed, and very soon John D. Loudermilk was a regular and well-liked performer on WTVD.
While working on WTVD, John had dabbled at the art of songwriting, but his first attempts were rather amateurish but he wasn't deterred. Another young North Carolina native, George Hamilton IV was at this time trying to break into country music, and one Saturday evening he was due to appear on Jim Thornton's Saturday Night, Country Style, on popular WTVD in Durham. While rehearsing George bumped into this fellow from the art department who promptly played and sang his latest songwriting creation—
A Rose And A Baby Ruth
. George was totally unimpressed, and thought it was the corniest song ever. However, John D. Loudermilk is a determined fellow and eventually played his 'masterpiece' to Mr. Orville Campbell a music publisher and owner of Colonial Records, based in Chapel Hill, North Carolina. Events turned out that George Hamilton IV had been bothering Mr. Campbell for weeks to make a record and Mr. Campbell decided that this was just the song for lanky George. Unfortunately, John D. Loudermilk was not over-impressed with the way George had recorded the song, and George wasn't entirely happy with the song, but Orville Campbell plugged away at the record, which was so successful locally that ABC Paramount bought the master.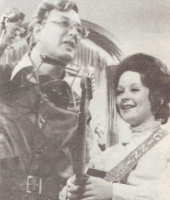 This initial success was a great boost to John D. Loudermilk who then settled in to writing more songs which were successful only in the pop market—
Sittin' In The Balcony
for Eddie Cochran,
Stayin' In
for Bobby Vee and
Half Breed
for Marvin Rainwater. All these early successes were simple, basic songs, with not much to say, but the kind of lyrics that appealed to the teenage market of the late 1950s.With this success as a writer of Top Ten pop material, John was hopping all over the States at the beck and call of A&R men, radio stations and TV chat shows. This hectic life didn't appeal to Loudermilk who had been used to the more sedate country life—and this he decided was really where he belonged.
Back home to Durham he went, joined the local Baptist church and sang first tenor in the choir. Gwynn Cooke, the pretty church organist soon caught the eye of John D. and in the summer of 1957 they were married. John still had a desire to be involved in the music business, so at the invitation of Fred Foster, who was then working for ABC Paramount he moved to Washington. There he was booked for various show dates and continued his songwriting activities, but without much success. In order to live he applied for a job as a ballroom dancing teacher and not only did he get the job, but eventually won a gold medal for being so proficient at both the girl and boy parts. This life though wasn't really suiting the Loudermilks, so John with his wife Gwynn and son John Junior returned to Durham, moved in with Gwynn's parents and John decided to try his luck in Nashville. He left his family with the promise: "I'll give that town one year, if I don't make it then. I'll return and settle down."
His manager and good friend Jim Denny booked John D. in Louisville, Kentucky, as star of the Kentucky Derby Festival in May, 1958. The whole show was networked across the States, and among the artists appearing were Ray Price, Carl Smith, George Morgan and John D. Loudermilk was the star! There he sat with his concert guitar, and then he sang with his beautiful high tenor voice—for some 12 thousand people. 19 year-old Pat Travis, daughter of ace guitarist Merle Travis, was Festival Queen, and she had the honour of escorting John onto the stage. The band chosen to play with John just wasn't prepared for his unusual style, and the whole of John's act just flopped. John D. Loudermilk made up his mind from that day that he would never perform again. Writing was his profession. Back to Nashville and writing. During that year he wrote over 100 songs, the most successful being
Waterloo
, on which he collaborated with Marijohn Wilkins, and provided Stonewall Jackson with his biggest hit. During the successful year, a second child, Ricky, was born in Durham, and soon afterwards the Loudermilks moved to Nashville.
John D. Loudermilk signed with the famous Acuff-Rose publishing house, and in early 1960 signed an exclusive recording contract with RCA Victor. Two years previously he'd been signed with Columbia but only a handful of recordings were ever released, and none met with success. His most successful period of songwriting was undoubtedly between 1959 and 1964, when he wrote such well-known songs as
Sad Movies, Norman
, and
Paper Tiger
for Sue Thompson,
Talk Back Trembling Lips, Torture, Thou Shalt Not Steal. Ebony Eyes
and many more. Like his earlier successes though, these songs again seemed aimed more at the teenage market, and it was on rare occasions that he wrote classics—
Tobacco Road
, written in early 1960,
Then You Can Tell Me Goodbye
, one of the finest love ballads of the early 1960s,
This Little Bird
which became a British hit in 1964 for Marianne Faithful.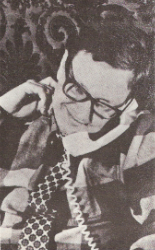 His first hit record for RCA was
The Road Hog
made in 1961, and he scored again with
Language of
Love
, but mainly his days with RCA were either as a session guitarist or as an album artist. He would often nurse one of his creations through the recording studios and worked together with George Hamilton IV on
Abilene, Break My Mind
and
It's My Time
, three of his well-known country songs which have become standards. George speaks of John D. as his best friend in the music business—a genius and one of the greatest songwriters of our time. During the past five or six years there's been much more thought in John's songs and many of them can be considered 'thinking material.' He wrote
No Playing In The Snow Today
after the report swept the States that snow could be affected by radio-active fallout. In fact, John D. Loudermilk was the first man in the world to build and patent an anti-fallout chamber in case of a nuclear attack.
The Jones
, from his interesting, THE OPEN MIND OF JOHN D. LOUDERMILK album (RCA LSP-4097) pokes a pointing finger at the mistakes of trying to keep up with "the Joneses.' Although John D. Loudermilk was always happy working for RCA, I personally don't feel they gave him the scope he needed.
When he made his infrequent personal appearances he always appeared with his classical guitar and harmonica strung around his neck, other musicians were not needed, John's adeptness on these instruments was so clever he created a full sound. Unfortunately, RCA never recorded John D. Loudermilk in his natural style. He was usually burdened by the obtrusive use of chorus and strings and even brass was used liberally on his recordings. The arrangements and production of his recordings cannot be entirely blamed on RCA Victor, as Loudermilk was for many years an assistant A&R man for Victor in Nashville, and as well as supervising many sessions, he was often featured as a guitarist or even back-up vocalist on recordings by people like Jim Reeves, Skeeter Davis and George Hamilton IV.
One of the most interesting songs that Loudermilk has written is
The Lament Of The Cherokee
Indian
, which gained success a couple of years ago as
Indian Reservation
. There is an interesting story behind this song, which John assures me is true. Back in the winter of 1962 he was returning to Nashville from North Carolina, and he was kidnapped by some Cherokee Indians led by their chief, Bloody Beartooth. It appears that the Cherokees kidnap some unsuspecting white man every year in order to draw attention to their plight forced upon them by successive American governments. At first John was mighty worried, expecting anytime to be scalped! Due to heavy snowfalls, John stayed with the Indians longer than former kidnappees, and during this time forged a great friendship with Bloody Beartooth. Also during this period he came to understand, and sympathise with the plight of Cherokee Indians, and his famous song came about because of these experiences. A year or so ago it became a big hit over here for Don Fardon.
Early last year, John D. Loudermilk left RCA Victor, and signed with Warner Brother, part of the Kinney Group. His first release on his new label has much more depth, and I feel much more of the real John D. Loudermilk than any previous recordings. Most of the songs are very well-known, and of course all are from the pen of Loudermilk, but the performances are very different to the well- known 'hit' versions. The whole album has a very comfortable feel to it, with John playing classical guitar, and harmonica, assisted at times by organ, mandolin, Dobro and bass.
VOLUME ONE - ELLOREE (Warner WS-1922) is one of the most interesting, and even enlightening, album releases of 1971. It's possible that John D. Loudermilk may at last find his place as a performer, certainly he has achieved great things as songwriter, and I know one of his aims in life is to appeal to a wider audience as a performer. I saw him perform down at the Elizabethan Barn in Tunbridge Wells, for the George Hamilton IV, TV series, and he really drew great applause from the audience—soon you will be able to see one of the greatest talents in country music on TV – whose philosophy of country music is that the music comes from the working class—when a country artist sings about heartache, it really means something: "If I feel out of touch, I'll go to the bus station and just sit and talk with some old wino awhile"—this is why John D. Loudermilk's songs have been so successful, he really associates with life.