John Berry - Traveller's Choice
First published in Country Music International, June 1996
John Berry, Georgian singer-songwriter and R&B fan, picks his favourite sounds for the long road ahead
"If I had the opportunity to make an album the way I wanted to make it, without anybody else interfering or without worrying whether country radio were going to play it, I'd, make an album like Jackson Browne's RUNNING ON EMPTY.
The whole album was recorded while Jackson was on tour and they cut some songs live, some in a hotel room, some backstage. It's an album which still works for me even though it was recorded in 1978, and I still have my vinyl copy of it at the house. The most well-known song on the record was probably their version of Maurice Williams' Stay, which I've been told was a hit in Europe as well as the States. They cut the record live wherever they could and with anyone that was around at the time, but I especially like the song Rosie where they get the tour photographer to sing backup. Give me the chance and I'd love to cut an acoustic record recorded on a tour bus with anybody that happened to b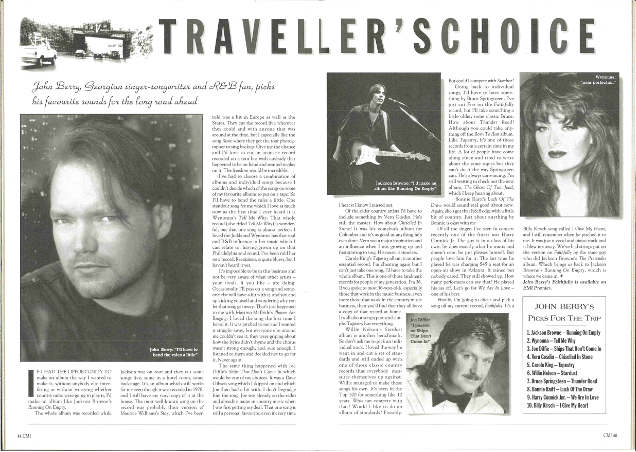 e on hand and wanted to play on it. The freedom would be incredible.
I've had to choose a combination of albums and individual songs because I couldn't decide which of the songs on some of my favourite albums to put on a tape. So I'll have to bend the rules a little. One standout song for me which I love as much now as the first time I ever heard it is Wynonna's Tell Me Why. That whole record (also titled TELL ME WHY) is wonderful, but that one song is almost perfect. I loved the Judds and Wynonna has that soul and R&B influence in her music which I can relate to, having grown up on that Philadelphia soul sound. I've been told her new record, REVELATIONS, is quite bluesy, but I haven't heard it yet.
It's impossible to be in this business and not be very aware of what other artists—your rivals, if you like—are doing. Occasionally I'll pass on a song and someone else will have a hit with it, and you end up kicking yourself and wondering why you let that song get away. That's just happened to me with Martina McBride's Phones Are Ringing. I loved the song the first time I heard it. It was pitched to me and I wanted it straight away, but everyone else around me couldn't see it; they were griping about how the lyrics didn't rhyme and the chorus wasn't strong enough, and, sure enough, I listened to them and decided not to go for it. Never again.
The same thing happened with Joe Diffie's Ships That Don't Come In, which would be one of my choices. It was a Dave Gibson song which I skipped on and which Joe then had a hit with. I don't begrudge him the song. Joe was already on the radio and already a name in country music when I was first getting my deal. That one song is still a personal favourite, even if every time I hear it I know I missed out.
Of the older country artists I'd have to include something by Vern Gosdin. He's still the master. How about Chiselled In Stone? It was his comeback album for Columbia and it's as good as anything he's ever done. Vern was a major inspiration and an influence when I was growing up and first starting to sing. His music is timeless.
Carole King's TAPESTRY album is another essential record. I'm cheating again but I can't just take one song, I'd have to take the whole album. This is one of those landmark records for people of my generation. I'm 36. If you spoke to most 36-year-olds, especially those that work in the music business, even more those that work in the country music business, then you'd find that they all have a copy of that record at home. It's all about songs; pure and simple. TAPESTRY has everything.
Willie Nelson's STARDUST album is another benchmark. So don't ask me to pick an individual track. I loved the way he went in and cut a set of standards and still ended up with one of those classic country records that everybody measures themselves up against. Willie managed to make those songs his own. It's been in the Top 100 for something like 10 years. Who can compete with that? Would I like to do an album of standards? Possibly. But could I compete with STARDUST?
Going back to individual songs, I'd have to have something by Bruce Springsteen. I've just cut Fire on the FAITHFULLY record, but I'll take something a little older; some classic Bruce. How about Thunder Road? Although you could take anything off the BORN TO RUN album. Like TAPESTRY, it's one of those records from a certain time in my life. A lot of people have come along since and tried to write about the same topics but they can't do it the way Springsteen can. He's always convincing. I'm still waiting to check out the new album, THE GHOST OF TOM JOAD, which I keep hearing about.
Bonnie Raitt's LUCK OF THE DRAW would sound real good about now. Again, she's got that R&B edge with a little bit of country. Just about anything by Bonnie is okay with me.
Of all the singers I've seen in concert recently one of the finest was Harry Connick Jr. The guy is in a class of his own; he does exactly what he wants and doesn't care, he just pleases himself. But people love him for it. The last time he played he was charging $45 a seat for an open-air show in Atlanta. It rained but nobody cared. They still showed up. How many performers can say that? He played his ass off. Let's go for We Are In Love—one of his best.
Finally, I'm going to cheat and pick a song off my current record, FAITHFULLY. It's a Billy Kirsch song called I Give My Heart, and I still remember when he pitched it to me. It was just a vocal and piano track and it blew me away. We've had strings put on the version on FAITHFULLY by the same guy who did Jackson Browne's THE PRETENDER album. Which brings us back to Jackson Browne's RUNNING ON EMPTY, which is where we came in.
JOHN BERRY's PICKS FOR THE TRIP
1. Jackson Browne -Running On Empty
2. Wynonna -Tell Me Why
3. Joe Diffie -Ships That Don't Come In
4. Vern Gosdin -Chiselled In Stone
5. Carole King -Tapestry
6. Willie Nelson -Stardust
7. Bruce Springsteen -Thunder Road
8. Bonnie Raitt -Luck Of The Draw
9. Harry Connick Jnr. -We Are In Love
10. Billy Kirsch -I Give My Heart