Joe Diffie, a dyed-in-the-wool country singer with a cutting rock edge, passed away on March 29, 2020 from complications of the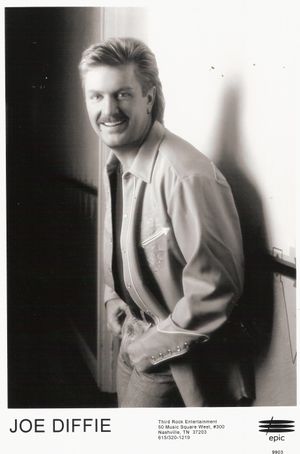 Coronavirus. He was 61 years old. Joe Diffie earned a reputation as a singer's singer, a master song craftsman and a flawless judge of great country lyrics. One of the major New Country stars of the 1990s, he scored top 10 hits with Home, If the Devil Danced (In Empty Pockets), Third Rock From the Sun, Pickup Man and Bigger Than the Beatles (all country number ones) plus New Way (To Light Up An Old Flame), Ships That Don't Come In, Honky Tonk Attitude, Prop Me Up Beside The Jukebox (If I Die), John Deere Green, So Help Me Girl, A Texas Size Heartache and A Night To Remember.
A member of the Grand Ole Opry since 1993, he was steeped in the traditions of country music. A Regular Joe who made music for a living, the former Oklahoma iron foundry worker had little time for the trappings of stardom. Signed to Epic Records in 1989, he was one of those middling acts who regularly sold lots of albums, gained radio play and toured incessantly, but never made that transition from big star to superstar status. In fact, he titled his second album REGULAR JOE in 1992 and many of his best-known hits were either drinkin' or working man anthems that reverberated with America's blue-collar country music audience.
"I've been very fortunate, made a great living and continue to do so," he told me a few years ago in an interview. "I really don't feel like I want to be a big, huge star kind of thing. I just make good music and want to be able to play it and make a decent living at it."
My first introduction to Joe Diffie and his music was in the autumn of 1990 when I heard Home, a slow reflective stone country ballad full of lyrical memories of better times that instantly resonated with me. With its almost autobiographical lyrics and the line 'a thousand winding roads,' the song captured the imagination of American country fans, many of whom had left the rural landscape described in the song to live in urban cities where the simple life style of their roots was no more than a fading memory.
The song was not only Joe Diffie's debut single, but also the first of his five chart-topping hits and led to me becoming a major fan of his music. Over the years I got to interview Joe several times, but only got to meet him face-to-face and see him in concert once, and he certainly didn't disappoint being courteous when we chatted about his music and a consummate performer with a wicked sense of humour.
Joe Logan Diffie, Jr. was born into a musical family in Tulsa, Oklahoma on December 28, 1958. His father, also named Joe, played guitar and banjo, his mother sang and extended-family back-porch picking sessions were a regular event. Following in his mother's footsteps, Joe Jr. began to sing at an early age, often listening to the albums in his father's record collection. His first musical performance came at age four, when he performed You Are My Sunshine with his aunt's country music band.
His childhood was spent moving around as his father, who worked as a teacher, rancher, truck driver and welder, sought regular work. His family moved to San Antonio, Texas while he was in the first grade, and subsequently to Washington state where he attended fourth and fifth grades. Later, they moved to Wisconsin for the years he was in sixth grade through his second year of high school, and back to Oklahoma where he attended high school in the town of Velma. In his last two years in high school, Joe played football, baseball and golf in addition to running track; in his senior year he was recognised as Best All-Around Male Athlete.
Throughout all these moves, the one constant in Joe's life was music. He got up to sing with his aunt Dawn Anita Diffie's band whenever he could. She has performed semi-professionally since the 1960s through to the 2000s, often with her husband all around Oklahoma and also released numerous albums over the years. Joe was a member of a high-school garage-rock group called Blitz that was influenced by rockers Deep Purple and ZZ Top. After graduating, he attended Cameron University in Lawton, Oklahoma. Although he initially earned credits towards medical school, he decided against a medical profession after marrying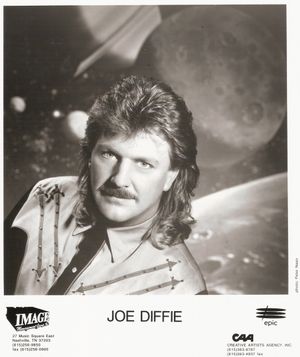 for the first time in 1977, and ultimately dropped out before college graduation.
To support his young family Joe first worked in oil fields, then drove a truck that pumped cement into oil wells in Alice, Texas, before he moved back to Duncan, Oklahoma to work in a foundry. Something of a hard-working handyman, alongside his father, Joe built a recording studio where he would fine-tune the songs he was creating and also record local acts.
During this period, he worked as a musician on the side, first in a gospel group called Higher Purpose, and then in a bluegrass band called Special Edition. In 1983 the five-piece band recorded the album SWEET ALLIS CHALMERS, a bluegrass-flavoured album
with Joe taking most of the lead vocals honours, including excellent renditions of George Jones' The Race Is On and When The Grass Grows Over Me. Two years later the band released ALL THE GOOD TIMES ARE PAST & GONE, that included Tennessee Tea and 'Til Death, a couple of songs that Joe co-wrote. Both albums were released on Grass Mountain Records and recorded at Joe's Southwind Recording Studio.
He had made some useful connections in Nashville and started sending demo recordings of his songs to publishers there. Hank Thompson recorded his Love On The Rocks, and Randy Travis put another one of Joe's songs on hold but ultimately did not record it. After the foundry closed in 1986, Joe was forced to declare bankruptcy and had to sell the studio out of financial necessity. His wife left him taking their two children with her leading to a divorce. Joe spent several months suffering from depression before deciding to follow up on his limited songwriting success and try his luck in Nashville.
He moved to Music City in late 1986 and initially took a job at the Gibson Guitar Nashville factory. While working at Gibson, he contacted several songwriters and recorded more demos, including songs that would later be recorded by Ricky Van Shelton, Billy Dean, Alabama and The Forester Sisters. Eventually, he signed a songwriter's contract with Forest Hills Publishing and for the next three years was busy co-writing and singing on demos while holding down his day-time job with Gibson Guitars. He sang future hit song demos, and had his compositions recorded by Charley Pride, Conway Twitty, Tracy Lawrence and Doug Stone.
His first major success as a writer was with There Goes My Heart, a number four hit for Holly Dunn in 1989, on which he sang back-up harmonies. This led to him leaving Gibson Guitars and at the same time he met Debbie Jones, a nurse technician, who became his second wife. Bob Montgomery, a songwriter and record producer known for working with Buddy Holly, was then the vice-president of A&R at Epic Records and he believed strongly in Joe Diffie's talent and signed him to the label. His conviction was rewarded when Joe's debut single, Home, spent two weeks at the top of the charts in late 1990.
Joe co-wrote his second single, If You Want Me To, a lachrymose country weeper with mournful steel guitar, fiddle and a soulful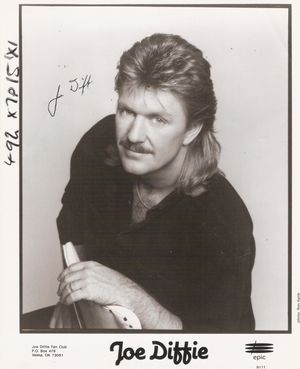 Diffie vocal that put him up there in the Jones, Gosdin and Watson league. Despite country radio's reluctance to play slow ballads, the song spent two weeks at number two on the charts and showed that Joe Diffie was no 'one-hit-wonder.' He cemented his growing success with the equally impressive If The Devil Danced (In Empty Pockets), which became his second number one hit in the summer of 1991.An irresistible two-step beat drives Joe's light-hearted vocal, but dig deeper you'll discover clever lyrics all about the age old yarn of a fool and his money are soon parted all dressed up in a trad-country arrangement of barroom piano and Texas styled fiddle.
Joe scored a another top five hit with New Way (To Light Up An Old Flame) a change of pace up-tempo song, also taken from A THOUSAND WINDING ROADS, his debut album which went on to gain him a platinum disc. Unlike most country albums, this one ran deep with one classic song and vocal performance after another. It was full of formidable heart-grabbing ballads and in addition to the singles, other standouts would have to include Almost Home, a heart-rending ballad that possibly featured his most powerful vocal performance. Then there was There Goes The Neighbourhood, a biting indictment of modern America where divorce and family break-up were commonplace. It was way too close to home for a release as a single, though Shania Twain recorded a watered-down version on her debut album a few years later. There were also several songs about booze, a taboo subject in modern country in the shape of Liquid Heartache and I Ain't Leavin' 'Til She's Gone, both in classic Jones' style.
Joe was also still making his mark as a songwriter having penned Livin' On What's Left of Your Love and Memory Lane for labelmate Keith Palmer's debut album, plus songs recorded by Tim McGraw, Jo Dee Messina and others. His second album was appropriately titled REGULAR JOE, in reference to his hard-working ethos and his skill as a first-rate interpreter of working-class woes. This comes through most strongly on the ballad Ships That Don't Come In, a song full of regret and optimism intertwined and sung in a conversational style that again reverberated with America's blue-collar country music audience. It was another huge hit, reaching number five on the country charts in 1992.
At this time, for some strange reason, Joe was invited to sing Not Too Much To Ask, a duet with Mary Chapin Carpenter for her album COME ON, COME ON. On paper it shouldn't have worked; Mary Chapin's measured folksy tones and Joe's powerful twangy vocals come together perfectly on the uplifting chorus on this gorgeous love song. The duet was released as a single at the same time as Next Thing Smokin' Joe's third single from REGULAR JOE. This led to split radio play and both singles ended up peaking at 15 and 16 respectively. Despite the relatively lower chart placing, the duet was nominated for a Grammy Award for Best Country Collaboration with Vocals at the 35th Grammy Awards in 1993.
The final single off the REGULAR JOE album was opening track Startin' Over Blues, an old-fashioned honky-tonker in a style mid-way between Hank Williams and Jimmie Rodgers. Traditional country fans were ecstatic that such a classic country sounding tune with a yodel intact should be released as a single, but radio programmers were not as enthusiastic and the single failed to crack the top 40. Despite this setback, REGULAR JOE gained Joe Diffie a second platinum disc, and he was soon back in the top ten with Honky Tonk Attitude, the title song from his third album. Joe co-wrote the turbo-charged ode to the line-dancing clubs that had popped up all over America in the wake of early 1990 Garth-mania and Brooks & Dunn's Boot Scootin' Boogie.
This became his most successful album with John Deere Green and Prop Me Up Beside The Jukebox (If I Die) both becoming huge top five hits. In 1993 he became a member of the Grand Ole Opry and was touring extensively with his Heartbreak Highway band. He continued to dominate the charts with such top ten successes as Third Rock From The Sun and Pickup Man (back-to-back chart-toppers), So Help Me Girl, a gorgeous ballad covered by British pop singer Gary Barlow and Bigger Than The Beatles, his last number one in 1996.
By the time he released his third album THIRD ROCK FROM THE SUN in the summer of 1994, Joe was sharing production with Johnny Slate. The album was something of a musical departure. Though his basic honky-tonk roots are there in songs like The Road Not Taken and Wild Blue Yonder he experimented a little more, adding more rock flourishes to his sound. Not all of his attempts were successful, but his ballads are frequently compelling. The humorous narrative of the title track pretty much sets up his perspective: 'Cause and effect, chain of events/All of the chaos makes perfect sense/When you're spinning 'round, things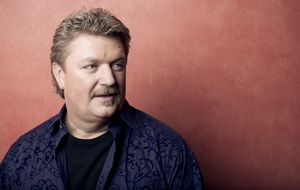 come undone/Welcome to Earth, third rock from the sun.'
One of his biggest hits, that rockin' song zoomed to the top on the back of an inventive video. Though he'd only written one song on the album, Diffie did sing about subjects dear to his heart: women (I'm In Love With A Capital 'U'); blue collar working man issues (I'd Like To Have A Problem Like That); country cookin' ('I used to think they were after me/But they're just after my recipe/For good brown gravy'); and honky tonks (Wild Blue Yonder).
Versatility had always been a by-word for Joe Diffie. Alongside his own impressive list of chart hits, he has guested on special albums and tribute recordings. His 1992 duet with Mary Chapin Carpenter, Not Too Much To Ask, was nominated for a Grammy and he picked up a CMA Award for his contribution to George Jones' I Don't Need Your Rockin' Chair. In 1998 he won a Grammy for his performance on Same Old Train, a Marty Stuart song from the TRIBUTE TO TRADITION all-star album. He also performed a stunning rendition of the Charlie Rich hit Behind Closed Doors on the same album.
When the Nashville Songwriter's Association were inducting the song's writer Kenny O'Dell into the writers' Hall Of Fame, Diffie was asked to sing the song at the ceremony. "It just got overwhelming response from the industry people," he told me a few years ago. "To get that kind of response, I thought I'd record it. It probably gets as much response now live as any song I do. I think it speaks well of the song that it can stand a couple of different treatments. I didn't try and vary too much from what Charlie did originally, although of course we both have our own vocal style. We looked at trying to change the arrangement a little bit but there's no way to get away from that introduction thing. When we do it live, the minute my piano player plays the first note, the audience are already clapping."
Diffie had considered including Behind Closed Doors on his TWICE UPON A TIME album in 1997. He got as far as laying down basic tracks and a scratch vocal, but then decided that it didn't really fit in with the rest of the album. "We kind of left it laying there unfinished," he explained. "Shortly thereafter they called and said they were going to do this Tribute To Tradition album. As I had most of the tracks already down, all I had to do was go in and finish of the vocal and put some background vocals and it worked out great."
Behind Closed Doors not only ended up on the TRIBUTE TO TRADITION album but was also selected as a single release to draw more attention to the album. Diffie was between singles at the time and more than happy to help promote it, not only during his concerts, but also doing guest spots on radio and TV. In 1999 he was honoured to be invited to be a part of Ralph Stanley's CLINCH MOUNTAIN COUNTRY all-star album, sharing the spotlight with such singers and musicians as Bob Dylan, Vince Gill, Patty Loveless and others, on which he got to sing Another Night with the legendary bluegrass performer.
In 1997 he took almost total control of his career when he formed his own Third Rock Entertainment. That same year the Country Radio Seminar presented him with the 1997 Artist Humanitarian Award. From 1992 to the early 2000s, Joe held a charity concert and golf tournament benefiting First Steps, a non-profit organisation for the education of mentally and physically impaired children. This was set up after his son Tyler was born with Down syndrome and nearly died in 1991. He also co-wrote and recorded World Of Difference for a compilation CD to benefit Special Olympics in Canada.
Joe's albums still mai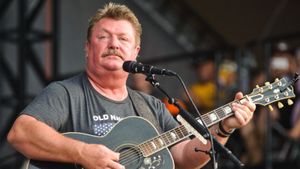 ntained the successful formula of a mixture of down-home-tear-jerkers and snappy up-tempo honky-tonk songs, though he did veer off into songs with more humorous undertones that proved highly popular with his blue-collar fans. As the 1990s drew to a close his top ten singles became harder to achieve. Superb ballads such as The Road Not Taken and Poor Me, failed to crack the top 40, and even catchy up-tempo songs like This Is Your Brain failed to make a big impact. To try and rectify this problem production was passed over to Don Cook and Lonnie Wilson. The result, A NIGHT TO REMEMBER, was one of the strongest albums that Joe recorded, there was no fluff, just solid hard-country tunes. For the first time in several years, the singer included several of his own songs, the best of which are You Can't Go Home and Are We Even Yet, the latter an emotional song about a troubled relationship that really hits home. After a three-year absence from the top ten he returned with Texas Size Heartache followed by A Night To Remember.
In 2001, Sony Nashville transferred Joe Diffie from its Epic division to the Monument Records division. This move was due to a corporate decision that Epic had too many artists and Monument had too few. It should have meant little change to the record buying public, but it did mean that the singer was dealing with a different team from top to bottom and it severely hampered the album IN ANOTHER WORLD. It was a well-produced set of mainly adult-themed relationship songs with none of the up-tempo humorous songs that Joe Diffie had become renowned for in the mid-1990s. The title song became his last top ten hit before Monument closed its Nashville division in 2002 and Joe Diffie was without a label.
He signed to the independent Broken Bow Records in 2003, but TOUGHER THAN NAILS, his only album for the label failed to produce any major hits. Two years later Jo Dee Messina released My Give A Damn's Busted, which Joe co-wrote, and took it to number one on the country charts. By this time Joe was running his own management company and in 2008 compiled and released a live album. The following year he joined Rounder Records and re-recorded his classic hits for THE ULTIMATE COLLECTION. Then he returned to his early musical roots for 2010's HOMECOMING: THE BLUEGRASS ALBUM, which featured guest appearances by The Grascals, Rhonda Vincent and other bluegrass musicians.
Joe was always a skilled vocalist who could perform any type of music, but traditional, honky-tonk country was where he excelled. Honky-tonk music has had a close affinity to bluegrass, and it was the bluegrass influence of his early days that has always coloured his music over the years, so to record a bluegrass album for him was a no-brainer. The album opened with a mighty fine rendition of Earl Scruggs' Somewhere Tonight, but also mixed in newer, more contemporary tunes like Shawn Camp's Stormy Weather Once Again, a mid-tempo number that sounds as good a bluegrass tune as that old Foggy Mountain Breakdown. Camp is also co-writer, along with Mel Tillis Jr and Matt Lindsey of Lonesome And Dry As A Bone which could have been lifted out of a Bill Monroe songbook. The late Harley Allen provided both Free And Easy and Tall Cornstalk—and also added harmonies in one of his last sessions. Larry Cordle was responsible for the plaintive and moving I Know How It Feels and veteran Carl Jackson who adds harmonies (along with Rhonda Vincent) to Route 5 Box 109, wrote the gospel-styled Fit For A King. HOMECOMING is not only a fine bluegrass album but also marked with crystalline clarity the difference between a bright-but-fleeting star and an enduring, lifetime talent.
Coinciding with that release he was invited to add guest vocals to Colt Ford's No Trash In My Trailer. In early 2013 Joe teamed up with fellow 1990s hitmakers Sammy Kershaw and Aaron Tippin to tour and record the album ALL IN THE SAME BOAT. Following Jason Aldean's success with 1994, a song that credited Joe's influence on Aldean, Joe was invited by hick-hop sensations the Jawga Boyz to work on Girl Ridin' Shotgun, a fun, up-tempo romp that returned Joe Diffie to the country charts for the first time in almost ten years.
He signed to Silverado Records in 2018 and released the singles I Got This, Quit You and As Long As There's a Bar with an album of new material planned for the summer of 2020. In November 2019 he had released his first-ever vinyl LP, JOE, JOE, JOE DIFFIE, featuring updated versions of 11 of his older hits and a cover of the Stevie Ray Vaughan tune Pride and Joy. The singer also became a country music radio broadcaster himself, fronting a midday program for Tulsa radio station KXBL.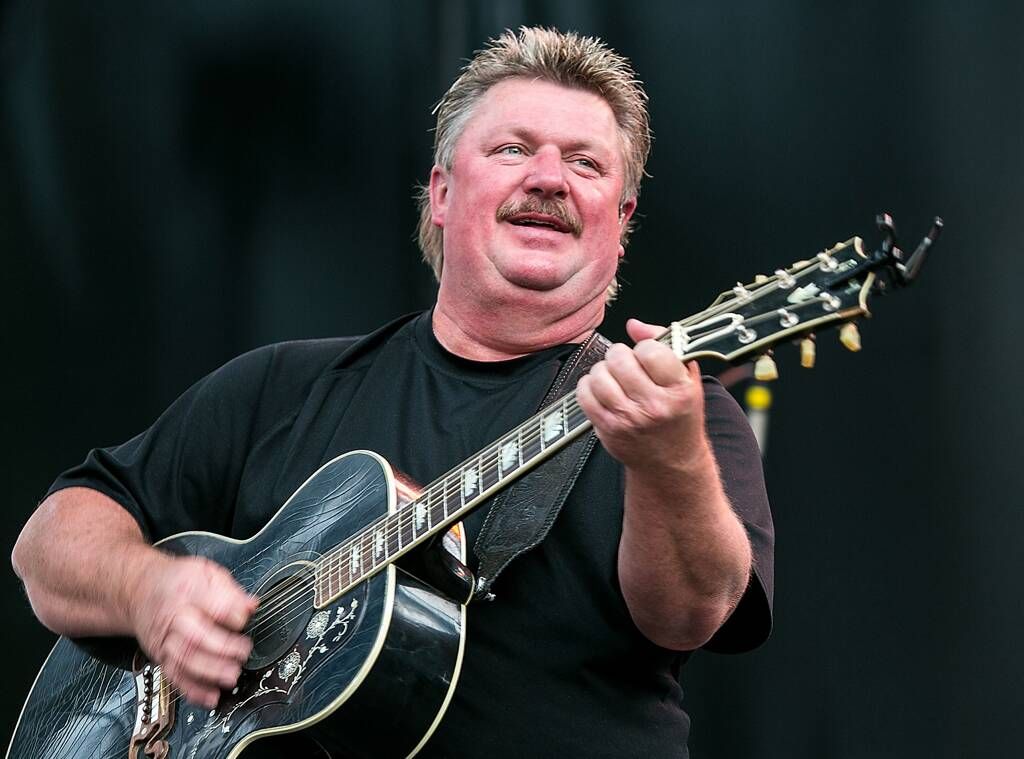 In 2000, Joe married Theresa (nee Crump), whom he met at a concert, at the Opryland Hotel in Nashville and on May 26, 2018 he was married for a fourth time to Tara Terpening at The Musicians Hall of Fame in Nashville. On March 27, 2020, Joe announced that he had tested positive for coronavirus in the midst of the 2019-2020 coronavirus pandemic and died two days later on March 29 in Nashville.
Joe Diffie was a somewhat underrated balladeer, who with his natural hillbilly phrasing specialised in classic honky-tonk at a time when pop country ruled the charts and country radio. The modern country he excelled at was not the kind of heavy-rock styled country favoured by the likes of Tim McGraw, Trace Adkins, Kenny Chesney. Kip Moore, Luke Combs or Eric Church. Oh no, it was always traditional honky-tonk with a contemporary edge that retained the pure roots of country and delighted those more mature traditionalists who were weaned on Merle, Buck and Vern.  Throughout his career he showed a master's hand at everything from heart-tugging, classic ballads to side-splitting and seriously rocking, country cookers. He gained three gold, two platinum and one double platinum album awards, testament to his stature as one of the most consistent honky-tonk country singers of all time.