First published in Country Music People, August 1976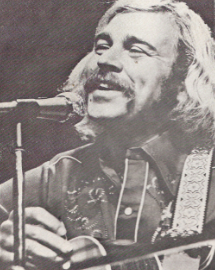 Everyone has his own particular favourite unheralded artists, musicians and songwriters, who for some reason or another, have not quite crossed the borderline from cult figure obscurity to generally recognised 'stardom.' My own particular favourites (John Stewart, Steve Goodman and Jesse Winchester) have not yet received the level of appreciation they all deserve; but to be honest, there is a tremendously good feeling about being into an artist before that success comes.
Another is Jimmy Buffett, a singer-songwriter who seems destined to become a great provider of songs for the mainstream of country as well as a solo singer of immense style and range. But Buffett is one of those artists who produce music that defies categorisation.
The sandy-haired singer with his permanently sun-burnt skin, distinctive moustache and long flowing locks was born some twenty-nine years ago in Mobile, Alabama. "I heard plenty of country music, but didn't take too much notice of it. Much too busy enjoying myself."
Eventually Buffett did get involved in music, and after a few years hanging around New Orleans, he finally travelled to Nashville in 1969 looking for any easy route to success. "The Glasers were the most helpful, but with their own careers and various business activities they didn't really have time to look after another hopeful songwriter."
Buffett did get to make an album, DOWN TO EARTH, released on the Barnaby label. That was my first introduction to the man's talents. The production was not too sympathetic to the songs, which were very good, and there was something about his voice that I found appealing. That was in 1970. The album vanished without trace, and as far as I knew, so did Jimmy Buffett.
"I did another one for Barnaby but the master tapes were 'misplaced.' The first had bombed anyway, so my career as a new country artist really seemed doomed. I decided to leave Nashville, find a new environment where I could think without all the hassles. I settled in Key West, an island paradise off the coast of Florida." There Jimmy was able to write some new songs and urged on by people like Steve Goodman, Jerry Jeff Walker and Buzz Cason, he returnd to Nashville to cut one album of his new songs for ABC Dunhill. A WHITE SPORT COAT AND A PINK CRUSTACEAN displayed the knowledge gained in the process of maturation. Lyrics are Buffett's strongpoint, especially in the classic
Railroad Lady
, covered by the late Lefty Frizzell. It matches Steve Goodman's
City Of New Orleans
as one of the finest train songs in recent years. There are echoes of the legendary Jimmie Rodgers running through the song, the ideal vehicle for Frizzell. The humorous
Peanut Butter Conspiracy
and
The Great Filling Station Hold-up
still sound fresh and amusing after numerous plays. But for me it is Buffett's soft, lyrical songs that impress most.
He Went To Paris
recalls a story told to Buffett by an ageing war veteran who was involved in the First World War.
I Found Me A Home
and
My Lovely Lady
have the writer in reflective mood, both written out in Key West after his retreat from the hassles of Nashville in the early 1970s. "I don't know why I didn't fit into Nashville. Maybe it was the continuous battle for success. The place seemed a little weird to me. I wanted space and time to evaluate people and places, this is what I found at Key West."
Don Gant's skilful arranging produced a remarkable richness and variety of tone colour and texture. Recorded in the Glaser Sound Studios, this was an album that created a new, unique sound. The fusion of Doyle Grishan's steel and Greg Taylor's harmonica was perfect. With electric and acoustic lead and Vassar Clements' fiddle, there was a strong country feel, but the overall result was much wider.
The album received critical acclaim and
The Great Filling Station Hold-up
crept into the lower reaches of the country charts. This one-off album created enough noise to demand more and Buffett has continued to release albums at the rate of one a year.
Come Monday, a track from his second album, LIVING AND DYING IN ¾ TIME, is a moody atmospheric piece that shows better than anything the way that Buffett will gain the most reward, both artistically and commercially. The summer of 1974 saw Jimmy in the Ameican pop charts, but the success of
Come Monday
was an isolated affair. It did bring him to a wider audience, enabling him to tour initially as a solo artist, armed only with his Martin guitar. "To begin with I was not too interested in the hassles of keeping a band together. That's why on each album it's been The First Coral Reefer Band, then Second and Third. I didn't want to be tied down, but I realise that people that have listened to the albums may miss the punch of the pedal steel or the throbbing beat of a bass guitar. So last fall I organised The Coral Reefer Band, just a group to fill out my sound in concert."
Buffett is now firmly entrenched in the 'well travelled troubadour' genre. He sings with a big, friendly voice and he deals with topics peculiar to the everyday experience of the little man. Like the superb
The Wino And I Know
, a perceptive song about music, freedom, and people, the wry sense of humour portrayed in
Brand New Country Star
and the simple melodic charm of
Livingstone's Gone To Texas
. He performs music for listening in a unique style which makes the most of his calm, but determined attitude. Often the tunes have that Caribbean feel that comes from living by the Atlantic Ocean, like the gently, rolling
Tin Cup Chalice
recorded by Tompall and the Glasers, or
The Captain And The Kid
, recalling days spent on boats with his grandfather.
The real strength though is in Buffett's lyrical ability. His imagery is masterful, yet he never overstates himself, leaving something for the listener's imagination to work on. Largely autobiographical in tone, his heart-warming albums should be appealing to a wide audience. Fine vocal and instrumental arrangements with harmony singing winding deftly in and out of the music and the music fitting perfectly to the mood of each song.
To date not many of Jimmy Buffett's songs have been picked up by country artists, I can only recall about a dozen, though his own recording of
Door Number Three
did make the charts during the autumn of 1975. He has written some classics, but at the moment country audiences seem slow to latch on to his new and unique music. But I'm a stubborn person and cannot accept that a man of Buffett's talent can go unnoticed for much longer—so just watch out for songs like
Life Is Just A Tire Swing, Something So Feminine About A Mandolin, Death Of An Unpopular Poet
and
Ringling
Ringling
, just four of Buffett's songs destined to become classics of the 1970s.