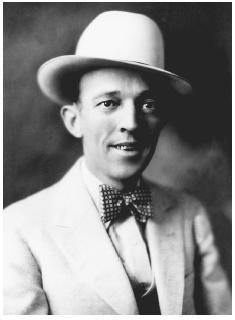 Although his hometown of Meridian, Mississippi, was then known as a hotbed for traditional blues, Jimmie Rodgers emerged during the late 1920s as country music's first singing star and was subsequently heralded as the 'Father Of Country Music.' The singing brakeman made his first recordings for Victor Records at the legendary 1927 sessions held in Bristol on the Virginia - Tennessee border, that also heralded the initial recordings of the famed Carter Family. His amalgam of blues, country, folk music and down-to-earth songs had instant appeal and throughout the depression era he became America's biggest-selling recording artist. He went on to achieve world-wide appeal, becoming popular throughout Europe, Australia, Africa, Japan and even India. Rodgers' warm, lazy style has since charmed generations of listeners. He abandoned the simple acoustic guitar accompaniments of his earliest recordings and turned to jazz, dance bands and even Hawaiian music for accompaniment—all in order to appeal to a more 'uptown' audience. Openly relieved to be past his parentally enforced days as a singing sometime-brakeman, Rodgers had scant enthusiasm for playing the 'old-timey stuff' which made seminal inroads in the 1920s as an early commercial country prototype. He preferred novelty numbers. Though he was only a so-so musician, and had a poor sense of meter, Rodgers was a great singer, gifted with an intuitive genius for re-arranging a tune's structural ingredients so that its personal intimacy became impossible to ignore. He avoided other old-fashioned estimations of country's stylistic boundaries by appropriating his trademark blue yodel from the black blues, and collaborated with jazzman Louis Armstrong on recordings like Any Old Time yet he is held up as the epitome of traditional country music. When you listen to the jug-band stylings of Jimmie's Mean Mama Blues and My Good Gal's Gone Blues, you realise that for his time, he was little different than today's Martina McBride, Shania Twain or Keith Urban in taking the roots of the music and embellishing them with the current sounds and styles of the day.

James Charles Rodgers was born on September 8, 1897, the son of a railway worker on the Mobile and Ohio Railroad. Always in ill health (his mother died of TB when Jimmie was four), he left school in 1911 becoming a water carrier on the M&O. He later moved on to perform other tasks on the railroad until ill health forced him to seek a less strenuous occupation. An amateur entertainer for many years, he became a serious performer in 1925, appearing the following year as a yodeller assisted by guitarist Ernest Helton. That same year he moved with his wife Carrie to Asheville, North Carolina, where he organised the Jimmie Rodgers' Entertainers, a hillbilly band comprising Jack Pierce (guitar), Jack Grant (mandolin, banjo), Claude Grant (banjo) and Rodgers himself (banjo). They broadcast on Ashville's WWNC radio and performed locally. Upon hearing that Ralph Peer of Victor Records was setting up a portable recording studio in Bristol, they headed there, but due to a dispute, Rodgers recorded as a solo artist. His first record, The Soldier's Sweetheart coupled with Sleep, Baby Sleep, became an instant success leading to Victor recording more sides, including T For Texas. The latter was originally released as Blue Yodel and became a million-seller.
By the middle of 1928, two more Blue Yodels were released (the series was eventually to include 13 titles) and Jimmie Rodgers had become America's 'Blue Yodeller.' His popularity grew and grew. Brakeman's Blues became his third million-seller. Even though the Depression had hit America, his records sold by the tens of thousands. Shunning his poor white man upbringing, he soon dropped the pinstriped overalls and other trappings of his brakeman persona—even though the railroads were then considered a hip new form of transport—in favour of well-tailored tuxedos and other upscale modes of sharp dress, much preferring his own modern fabrication of the bluesman as a 'dapper white boy.' As he progressed, so his record sales soared, but Rodgers was an ill man. He had contracted TB whilst working on the railways, and often his illness forced him to cancel concerts. He wrote several songs about his illness, including T.B. Blues and Whipping That Old T.B. He completed his final recording session in New York during May 1933 when he was so ill, he had to be propped up in a cot. He died a few days later, on May 26, but left behind a legacy of classic recordings that have not only stood the test of time, but have proved influential to countless modern-day performers.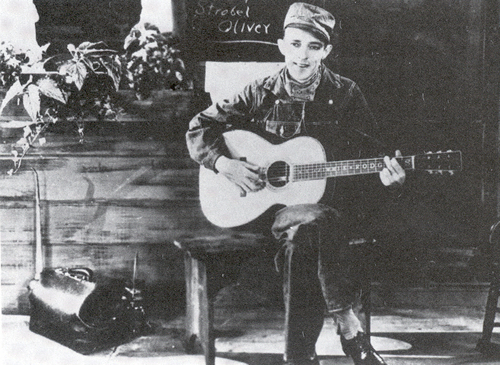 Jimmie Rodgers in a movie still from "The Singing Brakeman," a short film made in 1929 by Columbia-Victor Gems.



He never appeared on any major radio show, or even played the Grand Ole Opry, but he, Fred Rose and Hank Williams, were the first to be elected into the Country Music Hall of Fame in 1961. His recordings have been repackaged again and again over the years, initially on long-play albums and now on CDs. Numerous tribute recordings have been made, with Ernest Tubb, Hank Snow, Lefty Frizzell and Merle Haggard being the most notable country performers who were heavily influenced by him. Amongst those who've either been influenced by him or recorded versions of his songs are such early Rodgers disciples such as Gene Autry, Cliff Carlisle, Dwight Butcher, Ernest Tubb, Jimmie Davis through post-war devotees like Lefty Frizzell, Merle Haggard, Webb Pierce, Wilf Carter, Jimmie Skinner, to more recent recordings by the likes of Alison Krauss, Bob Dylan, Steve Earle, Van Morrison, Dwight Yoakam and even Bono. Even such diverse singers and performers as Dolly Parton, Jim Reeves, Rick Nelson, Harry Belafonte, Roy Rogers, Connie Francis, skiffler Lonnie Donegan and such folkies as Pete Seeger and Jack Elliott have all come under the Rodgers' influence. Seventy years after his first recording session and more than 60 years after his death, THE SONGS OF JIMMIE RODGERS: A TRIBUTE, featuring a host of contemporary artists, hit the American country and pop album charts—keeping alive the music of country music pioneer Jimmie Rodgers for future generations.

Recommended Listening

First Sessions 1927-28 (Rounder 1990)
Early Sessions 1928-29 (Rounder 1990)
America's Blue Yodeler 1930-31 (Rounder 1991)
Down The Old Road 1931-32 (Rounder 1991)
Last Sessions 1933 (Rounder 1992)
The Singing Brakeman (Bear Family box set 1992)
Jimmie Rodgers: RCA Country Legends
(RCA/BMG Heritage 2002)

The Songs Of Jimmie Rodgers: A Tribute
(Columbia-Egyptian 1998)
Merle Haggard - Same Train, Different Time (Capitol 1969)
Lefty Frizzell Sings The Songs Of Jimmie Rodgers
(Columbia 1973)
Hank Snow - The Jimmie Rodgers Story (RCA 1972)
Let Me Be Your Sweetheart: The Influence of Jimmie Rodgers Bear Family 2008)

Check out the Jimmie Rodgers Web Site at http://www.jimmierodgers.com