Jim Reeves - Sounds Familiar
 First Published in Country Music International – October 1996
Distant Drums by Jim Reeves and Roy Orbison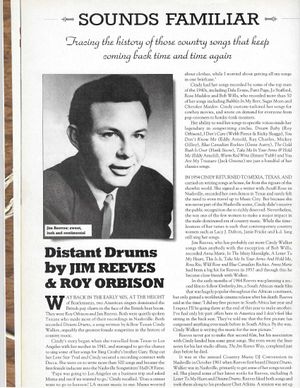 Way back in the early 1960s, at the height of Beatlemania, two American singers dominated the British pop charts in the face of the British beat boom. They were Roy Orbison and Jim Reeves. Both were quietly spoken Texans who made most of their recordings in Nashville. Both recorded Distant Drums, a song written by fellow Texan Cindy Walker, arguably the greatest female songwriter in the history of country music.
Cindy's story began when she travelled from Texas to Los Angeles with her mother in 1941, and managed to get the chance to sing some oof her songs for Bing Crosby's brother Gary. Bing cut her Lone Star Trail and Cindy secured a recording contract with Decca. She went on to write more than 500 songs and became the first female inductee into the Nashville Songwriters' Hall Of Fame.
"Papa was going to Los Angeles on a business trip and asked Mama and me if we wanted to go," Cindy recalled. "Does a sinner want me to go to heaven? Los Angeles meant music to me. Mama worried about clothes, while I worried about getting all my songs in one briefcase."
Cindy had her songs recorded by some of the top stars of the 1940s, including Dale Evans, Patti Page, Jo Stafford, Rose Maddox and Bob Wills, who recorded more than 50 of the songs including Bubbles In My Bear, Sugar Moon and Cherokee Maiden. Cindy custom-tailored her songs for cowboy movies, and wrote on demand for everyone from pop-crooners to honky-tonk moaners.
Her ability to wed her songs to specific voices made her legendary in songwriting circles. Dream Baby (Roy Orbison), I Don't Care (Webb Pierce & Ricky Skaggs), You Don't Know Me (Eddy Arnold, Ray Charles, Mickey Gilley), Blue Canadian Rockies (Gene Auntry), The Gold Rush Is Over (Hank Snow), Take Me In Your Arms And Hold Me (Eddy Arnold), Warm Red Wine (Ernest Tubb) and You Are My Treasure (Jack Greene) are just a handful of her classic songs.
In 1954 Cindy returned to Mexia, Texas and carried on writing songs at home, far from the rigours of the showbiz world. She signed as a writer with Acuff-Rose in Nashville, recorded her own demos in Texas and rarely felt the need to even travel up to Music City. But because she was never part of the Nashville scene, Cindy didn't receive the public recognition she so richly deserved. Nevertheless, she was one of the few women to make a major impact in the male-dominated era of country music. While the timelessness of her tunes is such that contemporary country women such as Lacy J. Dalton, Janie Fricke and k d lang still sing her songs.
Jim Reeves, who has probably cut more Cindy Walker songs than anybody with the exception of Bob Wills, recorded Anna Marie, In The Misty Moonlight, A Letter To Rosa Rio, Wild Rose and Blue Canadian Rockies. Anna Marie had been a big hit for Reeves in 1957 and through this he became close friends with Walker.
In the early months of 1964 Reeves was planning a second film to follow Kimberly Jim, a South African-made film that was hugely popular throughout the African continent, but only gained a worldwide cinema release after his death. Reeves said at the time: "I did my first picture in South Africa last year and I expect I'll be going there at the end of this year to make another. I've had only bit-part offers here in America and I don't feel like sitting in the back seat. They've told me that the first picture has outgrossed anything ever made before in South Africa. By the way, Cindy Walker is writing the music for the new picture."
Reeves never got to make that second film, but his association with Cindy landed him some great songs. She even wrote the liner notes for his last studio album, THE JIM REEVES WAY, completed just days before he died.
It was at the annual Country Music DJ Convention in Nashville in October 1961 when Reeves first heard Distant Drums.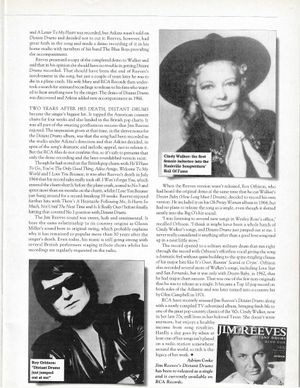 Walker was in Nashville, primarily to get some of her songs recorded. She played some of her latest works for Reeves, including A Letter To My Heart and Distant Drums. Reeves liked both songs and took them along to his producer Chet Atkins. A session was set up and A Letter To My Heart was recorded, but Atkins wasn't sold on Distant Drums and decided not to cut it. Reeves, however, had great faith in the song and made a demo recording of it in his home studio with members of his band The Blue Boys providing the accompaniment.
Reeves presented a copy of the completed demo to Walker and said that in his opinion she should have no trouble in getting Distant Drums recorded. That should have been the end of Reeves' involvement in the song, but just a couple of years later he was to die in a plane crash. His wife Mary and RCA Records then undertook a search for unissued recordings to release to his fans who wanted to hear anything new by the singer. The demo of Distant Drums was discovered and Atkins added new accompaniment in 1966.
Two years after his death, Distant Drums became the singer's biggest hit. It topped the American country charts for four weeks and also landed in the British pop charts. It was all part of the amazing posthumous success that Jim Reeves enjoyed. The impression given at that time, in the sleeve notes for the DISTANT DRUMS album, was that the song had been recorded in the studio under Atkins' direction and that Atkins decided, in spite of the song's dramatic and melodic appeal, not to release it. But the RCA files do not confirm this, so it's safe to presume that only the demo recording and the later overdubbed version exist.
Though he had scored on the British pop charts with He'll Have To Go, You're The Only Good Thing, Adios Amigo, Welcome To My World and I Love You Because, it was after Reeves's death in July 1964 that his record sales really took off. I Won't Forget You, which entered the charts shortly before the plane crash, soared to Number 3 and spent more than six months on the charts, whilst I Love You Because just hung around for a record-breaking 39 weeks. Reeves enjoyed further hits with There's A Heartache Following Me, It Hurts So Much, Not Until The Next Time and Is It Really Over? before finally hitting that coveted Number 1 position with Distant Drums.
The Jim Reeves' sound was sweet, lush and sentimental. It bore the same relationship to its country origins as Glenn Miller's sound bore to original swing, which probably explains why it has remained so popular more than 30 years after the singer's death. Even today, his music is still going strong with several British performers staging tribute shows whilst his recordings are regularly requested on the radio.
When the Reeves' version wasn't released, Roy Orbison, who had heard the original demo at the same time that he cut Walker's Dream Baby (How Long Must I Dream), decided to record his own version. He included it on his OH PRETTY WOMAN album in 1964, but had no plans to release the song as a single, even though it slotted neatly into the Big O's hit sound.
'I was listening to several new songs in Wesley Rose's office,' recalled Orbison. 'I think it might have been a whole batch of Cindy Walker's songs, and Distant Drums just jumped out at me. I never really considered it anything other than a good love song tied up in a neat little story.'
The record opened to a solitary military drum that ran right through the record with Orbison's effortless vocal giving the song a dramatic feel without quite building to the spine-tingling climax of his major hits like It's Over, Runnin' Scared or Cryin'. Orbison also recorded several more of Walker's songs, including Love Star and San Fernando, but it was only with Dream Baby, in 1962, that he had a major chart success. That was one of the few non-originals that he was to release as a single. It became a Top 10 pop record on both sides of the Atlantic and was later turned into a country hit by Glen Campbell in 1971.
RCA have recently reissued Jim Reeves' Distant Drums along with a newly compiled TV-advertised album, bringing fresh life to one of the great pop-country classics of the 1960s. Cindy Walker, now in her late 70s, still lives in her beloved Texas. She doesn't write anymore, but enjoys a healthy income from song royalties. Hardly a day goes by when at least one of her songs isn't played on a radio station somewhere around the world, so rich is the legacy of her work.