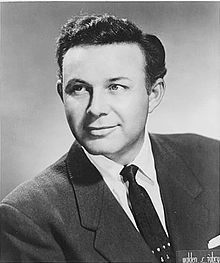 Jim Reeves was a true anomaly. He grew up in Texas in the 1920s and 1930s, but didn't sing western swing or Texas beer joint music. Instead, he sang smooth and sweet country music and country-flavoured pop music, thereby pioneering the Nashville Sound. 'Gentleman Jim' Reeves, the crooner with the velvet voice transcended his country music roots and continued to captivate fans worldwide, more than 40 years after dying in a plane crash at the peak of his career. In India, his Christmas album still finds its way onto best seller lists each December. In the Netherlands, three of his hits were among radio listeners' favourite songs of 2003. When nearly all his contemporaries were trying to rock'n'roll, Jim Reeves had the courage to go low and slow. His big country-pop hit, Four Walls, was not only a great record, but a groundbreaking one, as it influenced many country music recordings that followed in its wake. For many years, he was the only country artist selling overseas, especially in the UK and Europe.

Originally a stone country singer, smooth-toned Jim Reeves reached amazing heights of popularity as a country-pop singer and since his death his fame has burgeoned into cult proportions. 'Gentleman Jim' was perhaps the biggest star to emerge from the 'Nashville Sound.' His mellow baritone voice and muted velvet orchestration combined to create a sound that echoed around the world and has lasted to this day. Detractors will probably call the sound country-pop, but none can argue against the large audience his music continues to command. He became one of the very first country music stars to go international, with pioneering visits and tours to Europe and South Africa. In the UK, especially, he has stood head and shoulders above all-comers as the most successful and consistent country music singer. Throughout the 1960s he was rarely out of the British pop charts, remaining one of the few solo American acts to maintain chart success against the onslaught of the Beatles and Merseybeat. His records have continued to sell years after his death, his number one hits outnumbering those made while he was alive.

James Travis Reeves was born on August 20, 1924 in Galloway, Panola County, Texas. His father died when he was young and his mother supported a large family by working in the fields. Early in his life he heard the sound of Jimmie Rodgers. He acquired a guitar at the age of five, it had strings missing, but an oil construction worker fixed it up for him and taught him some basic chords. At nine he made his first radio broadcast, a 15-minute programme on a Shreveport station. At high school in Carthage, Texas, he was just as interested in sport as in music and became the star of the school baseball team, although he still performed at local events. Winning an athletic scholarship to the University of Texas, he enrolled at the school to study speech and drama, but dropped out after six weeks to work at the shipyards in Houston. He returned to baseball, playing in the semi-professional leagues before signing with the St. Louis Cardinals in 1944. An unlucky fall gave him an ankle injury that was to halt his career.

For the next few years, he went through a number of blue-collar jobs while trying to decide on a profession. In 1947 he met and married schoolteacher Mary White, who encouraged his musical interest. He began singing as an amateur, appearing both as a solo artist and as the frontman for Moon Mullican's band. In 1949, Reeves cut a number of songs for the small independent Macy label, none of which were particularly successful. He decided to pursue a career in broadcasting, becoming a DJ and newsreader at station KGRI in Henderson, moving to KWKH in Shreveport, Louisiana in 1952, becoming host of the popular Louisana Hayride. One night Hank Williams failed to arrive and Jim was asked to fill in. In the audience was Fabor Robinson, owner of Abbott Records, who immediately signed Reeves to a contract.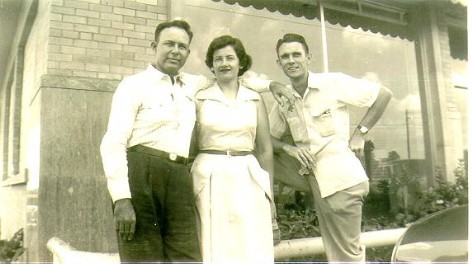 Jim Reeves, his wife Mary, and Tom Perryman are standing in front of radio station KSIJ, Gladewater, Texas. Cecil Greer took this picture, probably in 1949 or 1950.

His Abbott deal soon began bearing fruit, Mexican Joe, his second release making number one in the country charts in 1953. That same year he also released Bimbo¸ another massive hit that led to RCA showing interest and finally signing him in 1955.
That same year, he joined the Grand Ole Opry. Starting with Yonder Comes A Sucker, in 1955 through to 1969, Reeves name was rarely absent from the charts. He began to develop the distinctively smooth, lush and pop-oriented style of country that made him a superstar and earned him the nickname 'Gentleman Jim.' Four Walls, a change-of-pace smooth ballad proved to be a major turning point. Released early in 1957, the singer was on a European tour and was unaware that the song had hit both the pop and country charts. He was soon on national television and radio and also hosted his own weekly ABC-TV show. Early in his career he abandoned cowboy outfits for uptown suits. In the process, he brought country music to a new, urban audience, especially with such album collections of popular standards like GIRLS I HAVE KNOWN, INTIMATE and TOUCH OF VELVET. But he also recorded some classic 'straight' country albums. Two of the best were TALL TALES AND SHORT TEMPERS and TALKIN' TO YOUR HEART. Though out of character, these feature some of Reeves' finest interpretations. The first lives up to its title with compelling yarns about The Mighty Everglades, Rodger Young, The Fool's Paradise and The Tie That Binds. Reeves compelling voice suits these songs so perfectly. The latter is a collection of recitations, and again the one-time DJ handles the narrations as well as anyone I've heard doing this kind of stuff. The Shifting Whispering Sands and The Spell Of The Yukon are quite eerie. Both of these albums are masterful collections.

In 1960 came the chart-topping He'll Have To Go, another smooth, intimate ballad that made number two on the pop charts. With Reeves' dark, intimate velvet tones gliding over a muted backing, this was something quite different for country music. The result brought him international stardom. Over the next few years he travelled to every State in America. During 1963 he returned to South Africa to star in his only film, Kimberley Jim. The following year he visited Britain for TV dates to promote his single, I Love You Because.

In demand around the world, he was on a busy, hectic schedule. On July 31, 1964, on a flight back to Nashville from Arkansas, in his own single-engine plane, he ran into a thunderstorm just a few miles from Nashville's Berry Field airport and the plane crashed, killing Jim and his manager-pianist Dean Manuel. After his death, his fan base grew larger and larger. Several of his posthumous hits actually outsold his earlier singles. No less than six number one singles arrived in the three years following his burial. He left behind a rich legacy of recordings, including more than one hundred songs that hadn't been released during his lifetime. It has been a substantial revenue generator to the tune of at least $400,000 per year even today. Of the singer's posthumous hits, among the more remarkable is Distant Drums, a ballad about a soldier asking his girlfriend, Mary, to 'love me now, for now is all the time there may be.' The song struck a chord in 1966 during the height of the Vietnam War and reached number one in the United States that spring. It topped the British charts that autumn, ahead of the Beatles' Yellow Submarine.

He was inducted into the Country Music Hall Of Fame in 1967. The studio vaults were raided for new material, and even demo recordings were enhanced with full string arrangements to satisfy the somewhat morbid demand for Jim Reeves' records. He continued to make the charts into the 1980s, with electronically-created duets with Deborah Allen (Take Me In Your Arms And Hold me) and Patsy Cline (Have You Ever Been Lonely?). Though the flood of unreleased material ceased in the mid-1980s, the cult surrounding Jim Reeves never declined. Countless compilations have been issued and in the 1990s, Bear Family released WELCOME TO MY WORLD, a 16-disc box set containing his entire recorded works. But even that collection didn't end the never-ending supply of Jim Reeves releases, with live recordings surfacing in the new millennium.

Recommended Listening

Live At The Opry (Country Music Foundation 1993)
Welcome To My World (Bear Family complete box set 1994)
The Essential Jim Reeves (RCA 1995)
The Ultimate Collection (RCA 1996)
Jim Reeves – Radio Days Vol. 1 (Bear Family box set 2000)
Jim Reeves and Friends – Radio Days Vol. 2 (Bear Family box set 2001)
Distant Drums The Collection (Music Club Deluxe 2007)
He'll Have To Go/Tall Tales And Short Tempers (RCA 2004)
Moonlight And Roses/The Jim Reeves Way (RCA 2004)
Talkin' To Your Heart/A Touch of Velvet (RCA 2004)