Jim Lauderdale - Game Changer
Sky Crunch Records
****1/2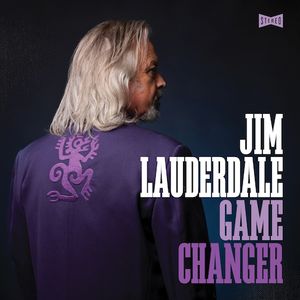 There may be none more quintessentially 'country' than Jim Lauderdale. His infectious enthusiasm for country music remains a deep well of inspiration that I draw on if I ever feel down. I can always close my eyes and see him point to me. Since making his recording debut in 1979 with a then-unreleased duo album with Roland White, the prolific singer-songwriter has released 35 albums ranging from straight country through bluegrass to soul-r&b to singer-songwriter fare. He has steadfastly maintained a rootsy approach to everything he tackles making him something of an Americana icon. Contemporary country music production works around the concept of making everything loud. Lauderdale goes in the other direction, turning down the music volume so that his vocals pop, but also so that it doesn't feel like he's coming at you through a bullhorn. GAME CHANGER is chock full of the clever wordplay that we expect from him, and the similarly low-key delivery that has marked his music for more than 40 years. And while there's no decisive change of tack, this collection further affirms why he's such an important player in an essential idiom. He settles into a comfortable groove across the entire album that pulls together pieces of the Bakersfield sound, slices of 1950s throwback country, honky-tonkin' and hints of his bluegrass roots with music that just feels like it was meant to be played and listened to in a heaving dancehall or the corner of some dim-lit bar. He manages something timeless with his newest work, reframing well-worn sounds and styles through the rose coloured lens of nostalgia. Even today, it sounds fresh and vital. He may just be impossible to not love, even if you normally hate trad-country or anything even slightly country. This is a record that stays with you, popping into the subconscious throughout the day. Jim's lyrics are there with a knowing wink.
Bookending the record with slices of pedal steel-infused music, a whole lot of country territory gets covered in between, with the tracks unified by Jim's distinctive Southern-influenced, Telecaster-heavy sound ... soft and twangy. A breath of fresh, yet familiar air, the album's lead track, That Kind Of Life (That Kind Of Day) spins an ode to friendship, creativity and above all else an homage to the power of music. An impossibly jangly song with Kenny Vaughan and Chris Scruggs sharing electric lead guitar duties with Will Van Horn's pedal steel for a steady and unstoppable rush of a grand melody and enthusiastic vocal delivery. He showcases a masterclass in country music pathos with Our Happy Hour. The beautiful and prominent steel guitar styling of Steve Hinson sets the tone as Jim
traverses lyrics of hope and love, that bare his soul with hints of a forlorn George Jones, with Ellie Mae Rische providing heartfelt harmonies.
Wishbone, a co-write with Aussie country singer Adam Harvey, is a similar tear-jerker, this time Tim Crouch's fiddle blending perfectly with Russ Pahl's weeping steel and Chris Scruggs' intuitive electric guitar hanging tastefully in the background. Jim never lets the tune degenerate into a big chorus, almost as if he's afraid to be too happy, a sentiment reflected in the lyrics. The simple blend of Pahl's pedal steel and Scrugg's electric lead maintain a gentle pace on We're All We Got as Jim sings of the transience of relationships and the healing needed to make for a better world. Few artists do simple as well as Jim Lauderdale. A gently strummed acoustic, plainspoken lyrics about a new beginning, and that easy-going croon made for a hopeful future with the smooth swing of Let's Make Some Memories. A wonderfully romantic tune, it's a great song because it makes you feel something and it's very clear lyrically. A must for the next George Strait hit.
August 2022