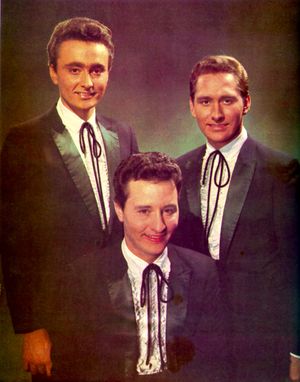 Jim Glaser, the high tenor singer of the renowned Tompall & The Glaser Brothers, passed away on April 6, 2019 following a heart attack. He was 81. In a career that stretched back to the mid-1950s he enjoyed success as a songwriter, most notably as the co-writer with Jimmy Payne of the 1960s pop hit Woman, Woman, an in-demand session singer and in addition to his long stint with the Glaser Brothers he had a successful solo career recording for Starday, Monument, RCA, MCA,  MGM, Noble Vision and Solitaire scoring his biggest hit with the chart-topping You're Getting' To Me in 1984.
I was lucky enough to meet and interview Jim Glaser many times over the years. A true gentleman, he remained passionate about his music to the end. He was a smooth vocalist with an innate emotional edge and an easy-going persona. In many respects he remained in the shadows of his more flamboyant older brother Tompall Glaser, but the reality is that he was at the forefront of the of country music's development and trends in the late 1960s and early 1970s that saw artists taking more control of their music and careers leading to the Outlaw Movement that forever changed Nashville and country music.
James William Glaser was born on December 16, 1937 in Spalding, Nebraska. Alongside his brothers Tompall and Chuck, he was one of six children of guitarist Louis Glaser and his wife Marie. Louis taught his children music in the course of raising them on a ranch and helped them launch their musical act Tompall & The Glaser Brothers in the mid-1950s. Comprising Tompall (lead vocals). Jim (high tenor) and Chuck (baritone) they played local clubs and dancehalls. As their reputation spread, they signed a thirteen-week series on KHAS, Hastings, Nebraska. Following a win on the Arthur Godfrey Talent Show, they came to the attention of Marty Robbins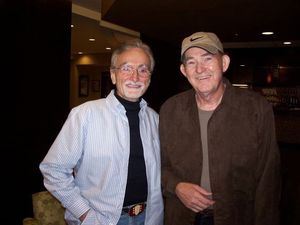 who having seen them in Nebraska added them to his touring show and signed the brothers to his label, Robbins Records, releasing the single Five Penny Nickel in 1958. When this record failed to make any impact, and with Robbins unable to devote much attention to promoting their career, he sold their contract to Decca Records (later MCA) in 1959.
By that time, the brothers had relocated to Nashville, but Music City couldn't quite figure out a way to market the sibling singers, attempting to fashion them as a folk group with little success. During this period, the Glaser Brothers found frequent studio work as background singers, the most notable example of this being their trio work on El Paso and other songs on Marty Robbins' big-selling GUNFIGHTER BALLADS AND TRAIL SONGS. Tompall and Jim Glaser wrote Running Gun one of the standout songs on the album. They also sang on recordings by Hank Snow, Jimmie Driftwood, Patsy Cline and many others and toured with Cline and Johnny Cash, including prestigious shows in Las Vegas and Carnegie Hall.
Jim Glaser undertook some recordings for Starday Records in Nashville in 1961 under the moniker of Jim Glaser & Americana Folk Trio. These were mainly traditional folk songs such as Tom Dooley, Midnight Special, Boll Weevil and Worried Man Blues. Over the years these recordings have been reissued countless times under different names including the Charleston Trio. Three years later, as the Jim Glaser Singers, he recorded another album of folk songs for Wyncote Records. This set included Foggy Foggy Dew, Blue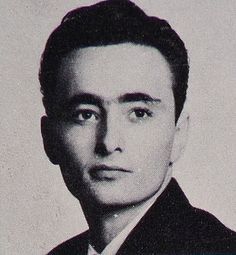 Tail Fly and Barbara Allen. These have also been reissued on various budget labels under numerous names. 
October 1965 Jim was signed to Monument Records and recorded his first bona fide solo records working with Ray Stevens. Over the next 18 months he released three singles—I'd Rather Not Know, The Wonderful World Of Love and Thanks A Lot For Trying Anyway—but they all failed to make the charts.
The Glasers had become members of the Grand Ole Opry in 1962 and immediately made an impression with audiences for their dynamic live appearances on the old Ryman stage and followed a country direction from then on. The Cash connection led to them meeting Jack Clement, a songwriter and producer who often worked with the Man in Black. He secured a recording contract for Tompall & the Glaser Brothers with MGM Records in 1966 and by the end of the year they scored their first country hit with Gone On The Other Hand. The B-side was The Streets Of Baltimore a song that Tompall had co-written with Harlan Howard. Earlier that year Bobby Bare had taken the song into the country top ten and it has since become a country standard.
Jim Glaser was also making his mark as a songwriter. During his Army Service Chuck Glaser had met up with Jimmy Payne, a budding singer and songwriter. He introduced him to Jim and the pair became friends and started writing songs together. Jim's first success as a writer came with Sittin' In An All Nite Café, a top 5 country hit in early 1965 for Warner Mack. That was followed by Thanks A Lot for Tryin' Anyway for Liz Anderson. A couple of co-writes with Jimmy Payne – What Does It Take (To Keep A Man Like You Satisfied) a top 5 country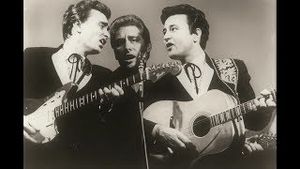 hit for Skeeter Davis in 1967 and Woman, Woman a huge pop hit for Gary Puckett and the Union Gap the following year cemented Jim Glaser's songwriting credentials. He has also had his songs recorded by Jan Howard, Tammy Wynette, Connie Smith, Wilma Burgess, Jimmy Payne and Daniel O'Donnell.
Following his short stint with Monument Records, Jim was signed to RCA Records in 1968 making his debut on the country charts as a solo act with God Help You Woman that autumn. More successes the following year included Please Take Me Back, I'm Not Through Loving You Yet and Molly, but none got any higher than No. 32 on the charts. This lack of major hits was probably down to Jim being busy working with Tompall and Chuck on the Glaser Brothers career.
Despite the success of their amazing jaw-dropping live performances and the release of excellent singles such as Wicked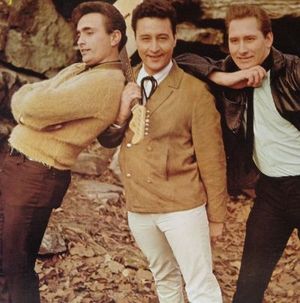 California, All That Keeps Ya Goin', California Girl (And The Tennessee Square) and Gone Girl, it wasn't until 1971 that Tompall and the Glaser Brothers finally cracked the top ten with their twelfth MGM single, Rings. Co-written by Eddie Reeves and Alex Harvey (they also wrote Delta Dawn and many other classic songs), it was in fact a superior cover of a pop hit by Memphis-based group Cymarron.     
The Glaser Brothers became Nashville pioneers, establishing their own Glaser Sound Studio, a state-of-the-art recording complex on Music Row that became a hangout for heroes of the Nashville-backlash movement, who would come to be called the 'Outlaws,' which included Waylon Jennings and Willie Nelson. They also set up their own vibrant publishing company that saw them working with new 'contemporary' writers such as John Hartford, Jimmy Buffett, Hoover, Bill Holmes, Kinky Friedman and Jon Corneal, a musical buddy of Gram Parsons and an original member of the International Submarine Band and the Flying Burrito Brothers.   
One of the first albums that the Glasers recorded at the new studio was the ground-breaking THE AWARD WINNERS that featured their Nashville Studio Band comprising top session players who were given much more creative freedom than was usual in Nashville at that time.
Released in 1972, it was one of the first albums in the burgeoning Outlaw and Contemporary country movement of the early 1970s. 
The pressures of working in so many different roles started taking its toll on the group. Tompall was beginning to feel constricted by the brothers' close harmony sound and was experimenting in the studios with some solo recordings. Chuck and Jim were not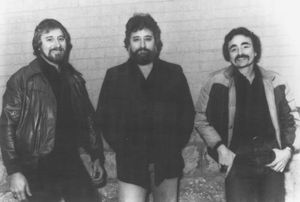 happy with this development and in 1973 they decided to split the group.
Jim had undertaken a couple of solo recordings for MGM Records in-between Glaser Brother sessions in 1967 and 1971 but these were never released. With the group now disbanded he was signed to MGM in his own right and his first single, I See His Love All Over You, a co-write with Jimmy Payne, made No. 67 on the country charts in the autumn of 1973. More minor country hits followed with Fool Passin' Through, Forgettin' 'bout You, One, Two Three (Never Gonna Fall In Love Again) and Woman, Woman.
Having failed to make the expected impact on the charts he left MGM and signed with MCA Records in the summer of 1976. Over the next year he released a series of minor country hits including She's Free, But She's Not Easy, Chasin' My Tail and Don't Let My Love Stand In Your Way. There were plans for an album, but with no major hit single those plans were shelved.
In 1978 Jim record the one-off single Who Were You Thinkin' Of (When We Were Making Love Last Night) which became a minor UK hit for him before being covered more successfully by Dandy & The Doolittle Band and the Texas Tornadoes. Jim continued touring throughout the 1970s, especially in the UK where he was held in high esteem.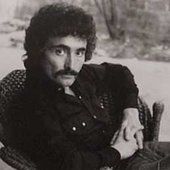 Quitting while you're on top automatically creates a mystique and an aura, and the Glasers weren't long in becoming elevated to immortality. Dedicated fans made them gods and built a reputation that surely would have frightened them off, even had they any desire to come back. But some five years later the whispers started and in 1978, the three brothers got back together again, resuming their recording career on Elektra and chalking up a number two country hit with Kris Kristofferson's Lovin' Her Was Easier (Than Anything I'll Ever Do Again) in 1981.
The comeback album, named after the hit single, was the permanent and irrefutable proof that their loyal fan's dreams and illusions about the Glasers had been triumphantly vindicated. They came back and however low-key they wanted it to be, they'd lost not a speck of greatness. Quite possibly you could've presented a worthy cause for the album overall not being as strong as some of the things they'd put out earlier. But comparative strengths and weaknesses are not based on the group's performance and are simply down to personal tastes regarding individual songs.
The trio were always the perfect compromise between showmanship and musicianship. Each member was more than a special solo, but there were things that they could do best only when united. Their strength was in their vocal harmonies and fully rounded arrangements. The magic of their music remains only a sweet remembrance, rather than the standard by which good music can be measured.
Sadly, they split again the following year, this second split being much more acrimonious with Jim and Tompall not speaking to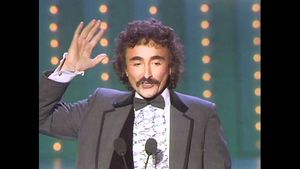 each other for years. Both Jim and Tompall returned to their respective solo careers. Jim signed with the Atlanta-based Noble Vision Records in the autumn of 1982. Initially a singles-only deal, but when that first single, When You're Not A Lady, spent months on the charts and gave Jim his first top 20 solo hit he was soon signed to a long-term deal.
Further top 20 successes came with You Got Me Running, The Man In the Mirror and If I Could Only Dance With You, leading to the release of MAN IN THE MIRROR his first solo album. It was an excellent collection of modern country that perfectly captured his clear and pure vocal styling.
His next single, You're Gettin' To Me Again spent six months on the country charts climbing all the way to the top to give him his first and only number one hit. This success led to MCA Records stepping back into the picture. Shortly after the release of Let Me Down Easy¸ which reached number 16 on the charts in early 1984, the major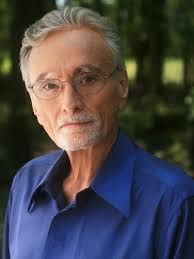 label took over the fledgling Noble Vision Records and Jim's contract with all subsequent recordings released under the MCA/Noble Vision moniker.
With the additional promotion and distribution clout of a bigger company Jim Glaser should have been set up for even bigger success. It wasn't to be. MCA had a large country roster of acts and Jim Glaser was just one of those, and not a high priority. I'll Be Your Fool Tonight, the first single for his new label reached a lowly number 54 on the charts in the summer of 1985 following the release of his second album, the aptly titled PAST THE POINT OF NO RETURN.
He was named Best New Male Vocalist at the 1986 Academy of Country Music Awards, but MCA still failed to get behind his records. There were three more singles released—In Another Minute, which reached number 27, If I Didn't Love You and The Lights Of Albuquerque, both of which failed to crack the top 40. In the summer of 1986 a third album, EVERYBODY KNOWS I'M YOURS was released to complete his contract. Disappointed and disgusted at how it had all ended up with the MCA/Noble Vision deal Jim didn't record again for almost 20 years.
He continued to tour and perform regularly and rekindled his long-time friendship with pedal steel guitarist Doyle Grisham who had been an integral part of the Glaser Brothers Nashville Studio band. With Doyle's support and encouragement in 2004 he recorded ME AND MY DREAM for Solitaire Records. The then sixty-six-year-old showed that he was still in great voice as he reprised such past successes as She's Free But She's Not Easy, I See His Love All Over You, and Who Were You Thinking Of. He al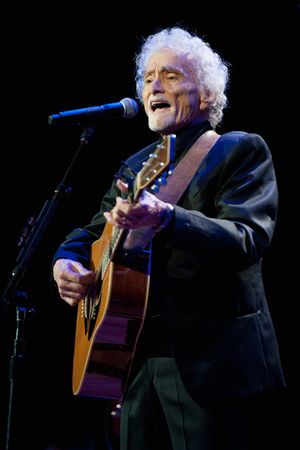 so included some great new songs, United Airlines, When Will It be My Turn and Georgia Sunshine, showing that he still possessed songwriting flair. Production was uncluttered, allowing Jim's lead and harmony vocals to shine. Daughter Lynn Glaser Harr added the harmonies to the delightful reworking of She's Free But She's No Easy.
The album's release coincided with Jim getting back with his wife Jane. They had married in the early 1960s but broke-up in 1970 due to the pressures of Jim's heavy touring schedule. Parents of four children—James William III, Jeffrey, Lynn and Connie—they set up home again just outside of Nashville to be near where their daughters and grandchildren lived.
A quiet, unassuming gentle human being Jim spent much of his spare time writing novels and studying astronomy and foreign languages. Though he rarely toured in his later years, he would guest on various television shows and played annually at the Dollywood theme park.
Though he will always be remembered as the high tenor harmony singer of the legendary Tompall & the Glaser Brothers, Jim Glaser was a distinctive vocalist, acclaimed and successful songwriter and somewhat overlooked performer in his own right. His voice and songs have touched me over the years, especially memorable are his high harmonies on Marty Robbins' El Paso, Claude King's The Comancheros and Hank Snow's From A Beggar To King. Then there are Tompall & the Glaser Brothers' legendary appearances at the Wembley Country Music Festivals which are almost impossible to describe in mere words … you just had to be there. Without sounding like an old worn-out record, we'll never see or hear the likes of a singer like Jim Glaser again… A one-of-a-kind performer.