Jill Rogers & Crying Time - Many Worlds Theory
Wisconsin Chair Company
***1/2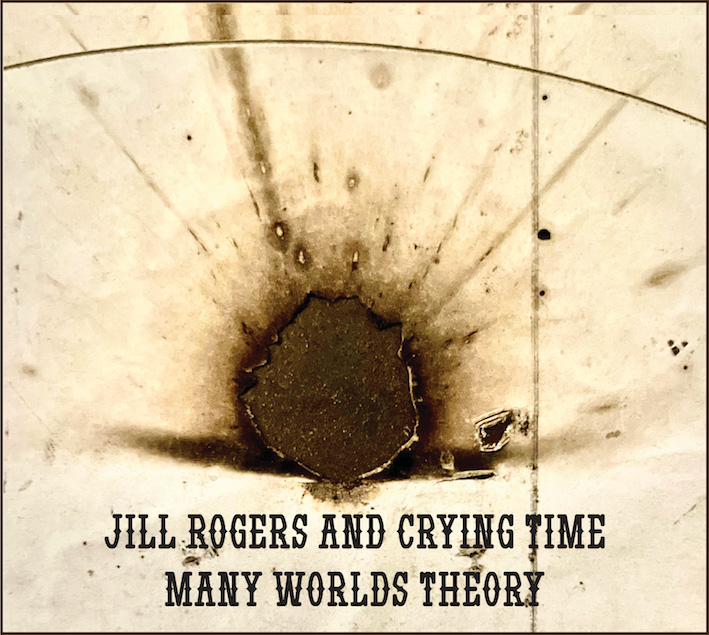 This San Francisco-based quintet is proof that good-time, classic country is neither dead nor passé. The team offers an array of diverse material with hints of bluegrass, Memphis soul, Mexican rhythms, boogie and honky-tonk, gathering like old friends in the the band's burnished tunes. Their fifth album combines inventive arrangements and sublime songwriting with their powerful live exuberance, into their most cohesive and most exciting sounding album yet. Jill Rogers, who wrote most of the songs, has such an ease with melody. Tuned into all the little intricacies that make for solid earworms, she also captures a sense of creative mischief—the sort of live-wire creativity that keeps music careers going longer than early skeptics could have imagined. The album title is taken from quantum mechanics as several of the songs hone-in on the theory that there can be more than one outcome to any situation, especially, when it comes to the intricacies of relationships. While the music has its Americana influences, the veteran West Coast musicians' trend towards bringing a smooth sense of confidence to the songs. ... a rich soundscape to explore some stormy circumstances, creating a sonic world that feels light and airy. More importantly, they have preserved the legacy of classic country in the best way possible.
Jill and her longtime band members—Myles Boisen (lead guitar), Tim Rowe (drums), Russell Kiel (bass) and Tony Marcus (violin)—are joined by guest players Ian Taylor Sutton (pedal steel), Jeanine Richardson (tambourine), Scott Larson (trombone), Chris Grady (trumpet) and Maurice Tani (backing vocals) to further enhance their overall sound. Bird Song, the opener, features intense lyricism sung with a vibrant casualness, Jill's voice, confident and unrelenting, as she frees herself from a dying relationship that has more than run its course. The tearjerker Tears, Time And Ink further displays Jill's deep empathy as a songwriter. It's country-western but with this skilled vocalist at the mic, you just can't filter out her bluesy soul tones, with the tasteful horns adding a Memphis vibe to this classy ballad. 
Myles Boisen's tears-in-your-beer heartbreakerI Only Cry When I'm Drinkin', is wrapped up in a bright and breezy Polka arrangement completely at odds with the sad lyrics. The band shines through with Jill bopping along to a cool, high-steppin' groove deep enough to get down and wallow in, as she invites you to tap your feet, singalong and then finally makes you smile. The scampering, relentlessly driving The Mess (That Used To Be Me) is a vibrant, chest-beating tune on which Jill's lyrics cut both ways. It's admirable how catchy this song is, and it shows a sense of strength and daring to put her vocals front and centre on this barroom honky-tonker. The album's sole rollicking instrumental, Devil In The Details, adds a touch of western swing with Tony Marcus' fiddle sawing away atop a boogie rhythm which is quite hypnotic, especially with the brief nod to Irving Berlin's Blue Skies.
They turn in a tense, even dark rendition of Del McCoury's More Often Than Once In A While. Musically, there is something timeless to the song that might be due in part to the stripped-down combination of mournful fiddle and Jill's guilt-ridden vocals blended with the evocative harmonies. The lesser-known Willie Nelson heartbreaker You Left Me A Long Time Ago, is given a soulful Tex-Mex arrangement. Attuned so sensitively to the rhythms of feeling, Jill makes the most terrible depths of heartbreak seem, to start to be bearable. Further displays of the band's inventiveness shine through with River Songs, as they seamlessly blend in snippets of Johnny Cash's Big River and other 'River' songs into this cleverly constructed tale of lost love with such forthright clarity.
April 2023