First published in Country Music People, February 1978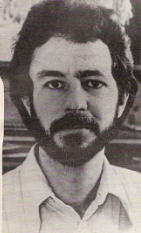 With singer-songwriters a dime a dozen, it takes a mean talent to command attention these days. Myself, I've always been fascinated by singers who write their own material. It's a case of eavesdropping on their personal feelings, whereas with just a singer it is only his interpretation of another person's feelings.
Jesse Winchester is a product of the South. He is one of those rare writers with the knack of writing timeless, seemingly American melodies that have the distinct flavour of his home region; a kind of wistful French charm that blends with a lazy country life you would associate with a hot sticky climate. Yet, surprisingly, Winchester, and much of his music, has been completely ignored by country music.
The Brand New Tennessee Waltz, Mississippi You're On My Mind
and
Yankee Lady
are all so real and vivid that it is somehow inconceivable that they never existed before he put them there. Each one's an instant standard—at least they would be thus recognised if ever they are heard by the mass public. The problem is that the public has yet to hear Winchester or his songs. A few have been covered by the likes of Joan Baez, The Everly Brothers, Stoney Edwards, Brian Golbey and Ian Matthews, but Winchester is still a relatively obscure singer and writer.
He was born in Shreveport, Louisiana in 1945, but grew up in Memphis, Tennessee. His family had a strong church background, his great-grandfather was the bishop of Arkansas and a cousin is the Bishop of Chicago. It was through this that he found his way into music, beginning initially on piano and graduating to church organ.
Eventually he found himself involved in rock'n'roll, playing guitar in high school bands and being turned on by Hank Williams, Elvis Presley and Jerry Lee Lewis. His parents believed in a solid education for their children and Jesse was sent off to Massachusetts for a higher form of education. From there he ended up in Germany studying German and philosophy. This was the beginning of 1966 and whilst in Munich he joined a German band, playing rhythm guitar.
With his studies completed, he then returned to Memphis and spent several months doing nothing more impressive than playing a piano in a bar. Then Jesse received his call-up papers for service in Vietnam. He decided that was not to be his immediate life, and on moral grounds, set about evading military serve, eventually seeking political asylum in Canada.
He settled in Montreal and immediately became involved in music, working with a French-Canadian dance group; a short-lived but interesting collaboration. With this outfit, which bore the unlikely name of The Astronauts, Jesse learnt a smattering of French and also took up a hobby of writing songs. Within six months he was working the bars by himself, covering a wide range of well-known songs and also featuring several of his own creations.
This continued for a couple of years, working with bands or as a solo artist, and gradually building up a repertoire of original songs. Eventually his talent was noticed when Robbie Robertson of The Band took him in hand, made a demo tape of Jesse's songs and introduced him to Albert Grossman, who signed the writer to the short-lived Ampex label.
The result was the album, JESSE WINCHESTER, which, with the presence of people like Levon Helm and Robbie Robertson of The Band and fiddle player Al Cherny, conspired to turn Jesse into something of a cult figure, head—if not quite shoulders—above the competition. From the thigh-slapping rockabilly of
Payday
to the pathos of the loser's tale of
The Brand New Tennessee Waltz
, Jesse's touch is that of a master.
During the past six years Jesse Winchester has recorded three more superb albums, all of which are now available in the UK. He is not a singer and writer who rushes things. For starters, he has not had the kind of commercial success that demands two or three albums a year, and for another it is completely against the grain of the man. His music is leisured, predominantly acoustic as it exudes a certain confidence and charm. The standard throughout is unfailingly high, with light, spare arrangements and songs of arresting simplicity. Jesse has an oblique, wry vision of the world complemented by a brittle edge to his voice with a few of his songs approaching tantalisingly close to grandiose. He possesses a delicious understanding of the foibles of life and love and is prone to dwell on the domestic and rural joys, subjects which have proved to be the graveyard of greater men.
There's a certain nostalgic feel to songs like
Biloxi
and
Mississippi You're On My Mind
as Jesse returns to his childhood dreams of how life used to be. Being a draft-dodger in Canada, these songs have become more meaningful, with the strands of home sickness carefully woven into the song textures, but it would appear that Jesse is quite happy in Canada, as to date, he has made no effort to return to Mississippi now that all the draft dodgers have been pardoned.
Another strain noticeable in Jesse's work is the gospel touches that colour all of his albums. Several of his finer songs—material like
Isn't That So, Damned If You Do
and
Every Word You Say
—make use of the idiom to great effect and to reinforce Jesse's religious feelings he takes Martha Carson's
You Can't Stand Up Alone
and makes a convincing plea for unity in today's life.
Jesse Winchester is very much a romantic. Whether he is recalling childhood memories and old love affairs or hoping for a better life for himself and his family, he has the unique knack of touching you deeply; making you feel sad, but good at the same time. He has that rare ability to write the kind of melody which lingers on after the memory of the song itself has faded.
Throughout his work there is much to interest country music lovers. In time, I'm sure many of his songs will become standards in the country music songbook. Country singer Stoney Edwards has already begun with sensitive and meaningful versions of
Mississippi You're On My Mind, Yankee
Lady
and
The Brand New Tennessee Waltz
. The rest will follow soon, mark my words!
Truly, Jesse Winchester merits all the superlatives, and you owe it to yourself to check out his albums. 
LISTEN TO:
"Two Originals Of Jesse Winchester" (Bearsville K85507)
"Learn To Love It" (Bearsville K55506)
"Let The Rough Side Drag (Bearsville K55512)